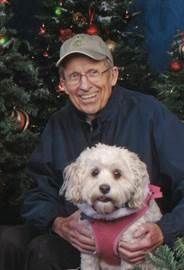 Jack, 79, of Shoreline, WA died on June 4th, 2014 of pulmonary edema.
He was a UW graduate and worked for many years with the US Corps of Engineers as Chief of the Survey Branch, also as a Cartographer.
 
Jack loved many sports and enjoyed skiing, sailing and golf. He was an avid follower of Women's Basketball, with the UW Huskies and with the former Seattle Reign; he was also a founding member of the Seattle Storm and loved their two national championship wins.
 
Jack is survived by Claudine, his wife of 55 years, his son, Marc John Erlandson (wife Gail), his daughter Anne Lydia Erlandson (husband Allan and  his 11 year-old grandson Aidan), his brother Tom Erlandson (wife Judy), his sister Joan Kellum, by many nieces and nephews and many wonderful friends. Jack also loved the numerous Cats and Dogs' companions rescued over the years.
 
Donations in Jack's honor maybe made to Group Health Foundation or to your favorite Animal Organization.
Jack will be deeply missed. Happy Father's Day Papa with Love!
---
Comments
Marlene Hancock
Posted June 15, 2014 at 7:51 am
Claudine, 'I'm sorry for your loss' doesn't cover how sad I am for you. I worked with Jack for 29 years. He taught me many valuable lessons about life, work and golf. I miss the annual Christmas lunches with Jack, you and the others. Take care. I know you'll find some solace in your pets and family, too.
Brenda Moriarty
Posted June 15, 2014 at 10:44 am
Deepest sympathy for the Erlandsons.
Jack will continue to participate in every act, thought and decision as Jack left an indelible imprint in our memories. May you find comfort in knowing that his life touch and enriched many. I worked at Seattle Corps of Engineers and worked with his staff. Jack was a good man, always a life lesson and he will be missed.
David Herr
Posted June 15, 2014 at 2:21 pm
Jack – you will be missed. It was great to share one last football game with you and Marc last season. brought back a lot of memories from many years ago.
Joyce Rolstad
Posted June 16, 2014 at 7:20 am
Claudine, My thoughts and prayers go out to you and the family. We here at the Corps of Engineers will miss Jack tremendously. He was always our center of attention and affection.
Michael Scuderi
Posted June 16, 2014 at 8:35 am
As a fellow geographer from the UW, I loved working with Jack at the Corps. I valued his common sense approach to things and his calm demeanor. I share your saddness in your loss. He was a good man and I will always remember him.
Kurt Noble
Posted June 16, 2014 at 9:51 am
Jack was a tremendously warm person and will be greatly missed. I enjoyed and appreciated his mentoring beginning in 1984 when I started at the Corps under his leadership of Survey Branch. I will miss his robust laugh and his friendship, and I extend my sympathies to the Erlandson family.
Al & Annette Brent
Posted June 16, 2014 at 5:16 pm
Claudine,
First met you & Jack at the Reign & Storm games, we sat near you at the Key. So very sorry for your loss. God Bless your family.
Audrey and Rich Shaw
Posted June 17, 2014 at 10:27 am
Claudine, we are so sorry to hear of Jack's passing. We worked together at the Corps many years ago. He and Rich golfed together over the years after their retirement. Lots of fun times. We will miss him.
Annie Bowie
Posted June 19, 2014 at 12:18 pm
I worked for Jack in Survey Branch for many years, he was a great supervisor and he was great to work for. I am sorry about loss and he will be missed at the Retiree Luncheon.
God Bless you all
---