Marie-Louise Thaxter Dietrichson
January 17 1925-October 28 2021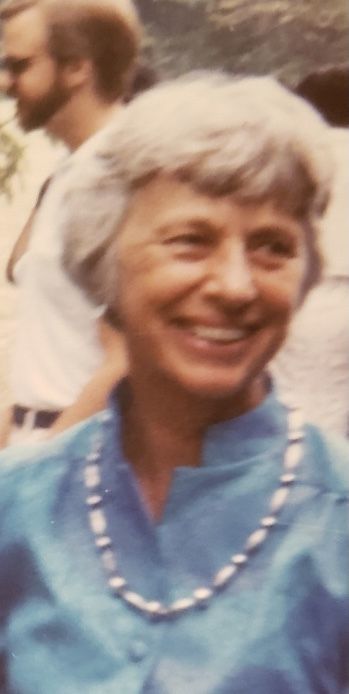 Marie-Louise was born in Portland Maine, the youngest child of Sidney St Felix and Marie Phyllis Schuyler Thaxter. Her father was a Judge who eventually sat on the Supreme Court in Maine. Her mother, an adventurous sort, was an actress who later wrote about theater and Hollywood for the local newspaper and even traveled alone to the Soviet Union in the 1930's to write about theater there.
Marie-Louise attended the National Cathedral School in Washington DC and at 16 went to Bennington College in Vermont, graduating with a degree in political science.
The theater was in Marie-Louise's blood. She often regaled her family with stories of how as a child, she was Toto (the dog) in the Wizard of Oz in a neighborhood play. In 1955 she played Eliza Doolittle in George Bernard Shaw's Pygmalion and would often quote lines in a perfect Cockney accent to family and friends. Unlike her sister, Phyllis Thaxter, Marie-Louise did not pursue acting as a career, although she did appear with Rita Moreno in Arthur Miller's A View From The Bridge at Seattle's Cirque Theater in 1959. She w­­as a lifelong subscriber to the Seattle Repertory Theater and the Seattle Opera.
At the age of 11 Marie-Louise spent the summer in Norway as the guest of her Norwegian nanny Agnes. She developed a love for that country and followed the events there during WW2 closely. Like many women of her generation, Marie-Louise went to work during the war. She loved to joke about her job title: "The finance unit of the enforcement section of the blockade division of special areas branch of bureau of areas of the foreign economic administration," She told her children that she never really knew what she was doing there.
At the end of the war at age 20, Marie-Louise returned to Norway, sent by the Foreign Economic Administration. It turned out she was the first American civilian to visit Norway after the war ended. Much fanfare was made of her visit. She was asked to interview for a new magazine called Ungdom (Youth in Norwegian) that had just been started by some young veterans of the Norwegian underground resistance to the Nazi occupation. She talked about meeting all these Norwegian young men who, shaking her hand, politely introduced themselves to her. They asked questions like "tell us about youth in America."
That evening, one of them (at the time she had no idea which one) called her saying, "Marie-Louise, I want to see more of you." She accepted the invitation to go out to the theater with him and they really hit it off—he forgot the tickets for the play so they ended up walking all over Oslo talking until late into the night. His name was Paul Dietrichson.
She loved to tell her family the story of how at one point she and Paul were at a party in a cabin in the mountains in Norway and some reporter put a mic in her hand and asked her to "sing an American song". Oblivious to the fact that this was Norwegian national radio, she later learned that her rendition of "I'm a Yankee Doodle Dandy" could be heard all over the entire country.
At her encouragement, Paul applied to attend college in America and their relationship developed. While traveling around the country in a car (a daring thing for a young unmarried couple to do back then), with Paul's sister and her husband, Paul proposed to Marie-Louise while crossing a street in New Orleans. She had been waiting for this for so long and he hadn't planned it at that moment, but he was so taken by the hat she was wearing that he proposed in the crosswalk. On August 16th 1947, they were married on Cushings Island in Casco Bay outside of Portland, Maine, a place where Marie-Louise had spent many summers while growing up.
Paul eventually got a PhD in philosophy from Yale, but not without the help of Marie-Louise, who typed his dissertation twice. After some teaching stints in New England, he got a job offer at the University of Washington. They moved to Seattle in 1955 with their two young children Deirdre and Tor. In 1956 they bought a house where they lived and raised their family and stayed until 2008 when they moved into assisted living. Their youngest daughter Eliza was born in Seattle in 1958. Their children's friends loved visiting their warm, loving, humor-filled home and were charmed by Paul's lifelong very thick Norwegian accent.
During the 1950's Marie-Louise, like so many women, bought into the propaganda from the government that now was the time for the women to leave the workforce, return to their traditional role of wife and mother, and make way for the men returning home from the war to find jobs and "provide for their families." A crisis erupted in the household when Marie-Louise read Betty Friedan's 1963 book "The Feminine Mystique" and confronted the question "Is being a wife and mother all that my life should be about?"
Paul, who was very non-patriarchal for those times, encouraged her break from the confines of the home. As she did this, she repeatedly stood up to the patriarchal ways of the workplace in those days. Think Mad Men. She demanded respect from her male bosses and would not let anyone push her around. She worked at the University of Washington in several departments and when she retired, she was an academic advisor in Civil Engineering. She also taught Norwegian in the Scandinavian department for many years. All of our family in Norway would say that her Norwegian was so good, one couldn't tell she wasn't a Norwegian.
Marie-Louise was a warm, selfless and caring person. In 1997, when she was in her 70's, Marie-Louise moved across the country to take care of her daughter Deirdre for 9 months during her treatment for cancer. Marie-Louise was active with the Democratic Party and she and Paul supported ma­ny progressive causes like the ACLU and Amnesty International.
Marie-Louise had a great sense of humor and a dry wit that often took people by surprise, coming from such a classy woman.
In 2008 Marie-Louise and Paul moved into assisted living. Paul died in 2010. For the past 7 years Marie-Louise lived in an adult family home, Longhouse AFH. Despite her progressive dementia, Marie-Louise maintained her warm, friendly, polite demeanor and her wonderful sense of humor until her death. Her children are so thankful for the wonderful caregivers who took such good care of her in her declining years.
She was preceded in death by her husband of 65 years and her son-in-law Wayne "Chuck" Webb. She is survived by her children—Deirdre, Tor and Eliza Dietrichson; her daughter-in-law Julia Boyd; her grandchildren—Monty Ostrander (Jeanie), Erik Ostrander (Elizabeth) and Soren Dietrichson (Yuka) and 5 great grandchildren. She will be missed by them, many nieces and nephews from both sides of the family and many more.
A zoom memorial is being planned. Plans are being laid to scatter both Marie-Louise and Paul's ashes next summer at Cushings Island in Maine, the place they were married.
---
Comments
Marie Louise was my grandmother, I will remember her as one of the kindest, most generous, patient, funny, smartest person I knew. She was silly and made me laugh my entire life. She loved giraffes and musicals, she loved her family, her husband and children. She was extremely smart, her French was perfect. She understood and articulated to me advanced concepts in Philosophy that her brilliant husband taught but she had a way of empathically communicating with me at age 6, at age 12, at age 36. I loved her very much and am sad to say goodbye. She had so many unique aspects that her voice, the tone and words will always be unmistakably Mar-luisi. She called everyone "deary' and would wake up at 5:30 to prep the house for when her family wakes up. I would stay with her for weeks at a time and she took great care of my brother and I, making "7uppies" and the absolute best roast beef sandwiches on dark forest rye bread. She always made me laugh and I always looked forward to seeing her. Marie Louise was a truly special soul, full of love and kindness, full of understanding and empathy, full of joy and always giving. I will miss her.
- Monty Ostrander
---
A beautiful tribute to a very rare, special unforgettable lady. All who met her walked away with indelible memories of her charm, grace and wit. I'm so thankful for the many years Paul and Mary Louise were my neighbors. Sincere condolences to Deirdre, Tor, Liza and all Mary Louise's loving family and friends. We we all so much better for knowing her.
- Mary Lane
---
I am so incredibly lucky to have had Marie-Louise Reynaud Thaxter Dietrichson be my mother!! I promise to try to spend the rest of life asking myself "what would my mother want me to do?" when any important question comes up. I learned so much from her. Some of the lessons I learned took a very long time to really incorporate into my life but I am happy to say I have learned well now.
Tor Thaxter Dietrichson
---
Will Send to family
Lovely as she was

John Thaxter
---
Marie Louise and Paul were such joy to have as a. Aunt and Uncle, Paul so full of song and love of life, and open to the suffering of those left out or oppressed. They were aware of civil rights before the civil rights movement, They helped me emerge from the 50s into the social justice movements still critical for our survival. Such joy to have been part of their lives.
Sandra Thaxter
---
Sending condolences, love, peace and best wishes to Tor (and the entire family) as you celebrate the wonderful life and amazing spirit of Marie-Louise Thaxter Dietrichson. She definitely made the world a better place!
 
Jeff Busch
---
Thank you for letting me know about Marie Louise. I so enjoyed seeing her smile every day. She was a delight in the house! My best to all her family!!
Janet Rhode, ARNP, ret.
---
Such a great story of a well lived life. Our condolences to the family & all who knew and loved her.
 
Ernesto Pediangco
---
I grew up across the street from this wonderful family! I spent many many many hours in this very kind and gracious woman's home! I have many, many memories of great times spent in this loving home! I will treasure them forever!! I regret becoming a teenager and moving out of the neighborhood and losing contact!! This lady was a top-notch human being with so much class!! I am so proud to say I knew her!!
Katherine Bursett
---
What a wonderful woman and what a loving and giving woman. It was my honor to be her son in law for a very important part of my life. And what a full life she lived!
My heartfelt condolences to Tor, Liza and Deirdre: her grandchildren and great grandchildren. She will always be in my memory.

Ostrander Peter
---
When I was eight years old, my family spent a year in Seattle and lived about five houses away from Marie-Louise and her family. Tor was a close friend, and Marie-Louise and Paul welcomed my parents to the neighborhood and became lifelong friends of theirs. From childhood, I mostly remember Paul's wonderful accent, but from more recent visits, I remember how Marie-Louise welcomed my wife and our children so warmly and joyfully that we felt loved. What a lot of happiness she must have spread over such a long life.
 
John Linder
---
I have many wonderful memories of Jim. He had a wonderful smile and was so patient and kind and so loving to our shared granddaughters. A memory that stands out is one trip before Halloween after buying large pumpkins at the pumpkin farm in Eugene, Jim set out to carve one using what I recall as a chainsaw but perhaps more like a hedge trimmer. He said "stand back" as he fired it up and we all watched him lop off the top. The girls thought he was wonderful! He also, perhaps partly because of his vocation, provided the little girls with all things a young doctor would love; stethoscopes, bandages, thermometers, and he was such a patient patient! They loved his quiet, funny, willingness to play, sharing and caring nature. We all loved Jim and he will be missed and always remembered.
 
Carol Smith
---
In the 1970s when I was teaching and completing my PhD in the UW Scandinavian Department, Marie-Louise was a bright light in my life during a time of much struggle and had work. She ran the departmental office and every day her warm smile, good humor and quick wit lifted my spirits and made me laugh. Reading her beautiful obituary, being reminded of her perfect Cockney accent and dramatic flair, filled my head (and heart) with her voice. My friendship with Marie-Louise and with Paul remains a treasured memory. Heartfelt condolences to her family.

Katherine Hanson
---