Randolph Lee Baunton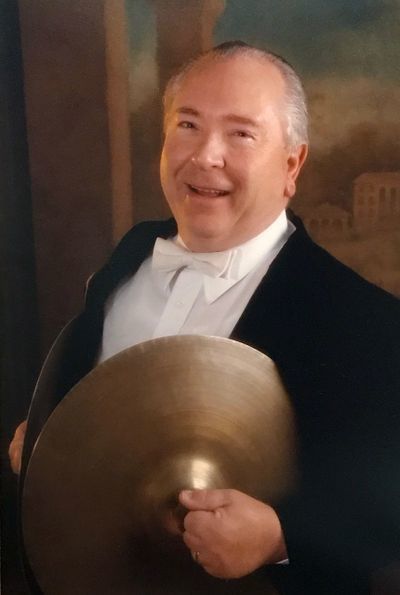 Born in Seattle, WA to Elsie and Harold Baunton on Dec 25th, 1934.
Passed away peacefully at home surrounded by loved ones on October 19, 2021.
Randy grew up in Ballard and played percussion in the Seattle Youth Symphony. While at Ballard High School he had a dance band called Randy Baunton and the Syncopators. By age 16 he was playing part-time in the Seattle Symphony Orchestra.
Arthur Fiedler guest conducted the SSO and invited Randy who was then 19 to play in the upcoming Boston Pops summer touring orchestra. He received a scholarship to the Curtis Institute of Music where he studied with Fred Hinger, the renowned timpanist of the Philadelphia Orchestra. After that he served 2 years in the Edgewood Army Band near Baltimore and went on to perform in the New Orleans Philharmonic.
Upon his return to Seattle, Randy became the Principal Percussionist in the SSO until his retirement. For more than 50 years he performed in the SSO. He was sought after as a percussion teacher and some of his students became symphony percussionists. One of his lifelong dreams was fulfilled by playing in Carnegie Hall with the SSO. As part of his legacy a room will be named in his honor at Benaroya Hall.
From 1974-76 he was the chairman of the negotiating committee with the Seattle Symphony, Opera and PNW Ballet on behalf of the American Federation of Musicians Union Local 76. He ultimately became the driving force in forming a new union, the International Guild of Symphony, Opera and Ballet Musicians.
With a lifetime love of boating he explored the San Juan Islands and inside passage to Alaska.
He bought waterfront property on Cortes Island in Desolation Sound and the family spent summers there at Seaford living in and fixing up the cabin. He later formed a business partnership with two friends and their families to purchase, re-build and manage the Gorge Harbor Marina and store.
Randy loved big projects and was known for his lists and getting things done. He managed extensive renovations of at least 12 houses, not including the many remodeling projects for friends and family.
Randy and Jan loved to entertain and hosted many parties full of laughter and good food. The philosophy was to celebrate everything. He included friends in ways that made them feel like family too.
He was a very charismatic person with a big heart that touched many lives.
He will be greatly missed.
Randy had 3 children with Joanne Baunton.
Stacey Baunton
Brett Baunton, spouse Denise Snyder
Clay Baunton
He later married Janet Hayes and helped raise her two sons.
Stepson Lance Hayes, spouse Selena Hayes
Grandchildren Alex, Dominic, and M
Stepson V. Christopher Hayes, spouse Tracy Ann Hayes
Grandchild Nathaniel
We hope to have an in-person celebration of life for both Randy and Jan sometime later next spring.
---
Comments
I first met Randy in the late 60's through my dad, Bill Boyd, who also played in the SSO at that time. In high school when I had the opportunity to study with Randy I jumped on it. Since I went to Queen Anne High I only had to walk a block and half to get to his house. I loved his basement. It was clear he was totally immersed into being a percussionist. What made him an exceptional teacher was his honesty about where you were at. He was always on me for not practicing enough. When he realized my reading wasn't where it should be he gave me 'Reading Can Be Odd' by Joel Rothman and after finishing the entire book, boy did it make a difference. He made it possible for me to take a very long lesson with Fred Hinger at his home in New Jersey in the summer of 1972. I will always be grateful to Randy for doing that as it was such an uplifting and priceless learning experience. What I learned from him carried with me into the instrument I now play. Throughout all the years after that, among the numerous concerts I went to where Randy was featured in some manner or other (drum set included), the most memorable one I remember was watching him perform L'Histoire du soldat. How lucky we all were to have one of the nation's top elite players and teachers living here in Seattle. Because so many of his students went on to become professional percussionists it speaks to the powerful impact he had on all those who studied with him. Over the past 20 years or so every time I saw Randy he always gave me a big hug. Randy was so unique in the way he communicated. The one thing that I just have to point out was that look he gave you when you said something and instead of saying anything back he would just stare at you with a look of exasperation. I have such precious memories of that look. To me that look defined him. The last time I saw him was at Costco shopping with his son. He was pushing the cart. I saw him and shouted out his name. His eyes lit up and he gave me hug. Cheers and ditto to what Mike Clark said about Randy Baunton. I love you, Randy. Rest in Peace.
- Kevin Boyd
---
For several years, Randy was an active participant in the water aerobics class that my husband Bill and I attended. We became good friends over our mutual love of music, gardens, and humor. Randy gifted Bill with so many wonderful spring flower bulbs from his garden to ours, many of which continue to bloom, reminding us his generosity. We shared several special occasions with Randy and felt honored to be included in those celebrations.
We know how much Randy loved his family, and we will miss his smile, his great sense of humor, and most of all, his friendship.
- Jody Lemke
---
Randy gave me my first drum lesson, my first professional job and a lifetime of friendship, mentorship and inspiration. Randy embraced life and music making with a joy and enthusiasm that lifted all those around him. Fun fact: While at Ballard High School, my dad, Norm Jensen was his band director, including the year I was born. Rest In peace, dear friend, your spirit lives on in those fortunate to have you in their lives
- Dick Jensen
---
This obit says a lot about Randy, but the vision he had will last long into the future. He changed the recording industry in Seattle and the fortune its musicians as well as the institution loved, The Seattle Symphony. This doesn't tell the whole story. Upend my coming to work for the Seattle Symphony, I was invited to breakfast by Randy...someone I really didn't know. He presented me with a package of coffee, names of doctors, dentists, a map of the city, but more, friendship. My wife and I got to know Randy and Jan and truly considered them friends during our time in Seattle and after. Randy, thank you. You are in our hearts. You are missed in body, but remembered in spirit.
- Rise and Larry Tucker
---
I am Bruce Bailey, SSO cellist, currently in my 58th season although at home on precautionary sick leave thanks to COVID-19. Randy, Jan and I were good friends for many years. When Randy lost patience with local 76 of the AFM (the national musicians' union), he advocated breaking away and forming our own Guild. The major issue was that working SSO musicians were subsidizing non-working union members through our dues. I led the opposition to that move.
There were and still are legitimate arguments on both sides but Randy's views carried the day and the Guild was formed. I congratulated him on bringing it off. The Guild is the negotiating entity for the SSO members to this day. It is a memorial to an exceptional man, Randy Baunton, Principal Percussionist for many years in the SSO.
Randy always stood up for his section. One day in rehearsal an unnamed conductor became mildly abusive towards a wayward percussionist. Randy immediately lept into the dispute, telling the conductor in no uncertain terms to take up any such complaints with him, the section leader. The conductor backed off. Well done, Randy! Rest in Peace.
- Bruce Bailey
---
Randy will always be the man!!!!!
- michael clark
---
Randy's laugh I will carry with me always. He was so kind to me, supportive, and treated me with unconditional caring. He nurtured me in more ways then many know and I will always be indebted to both he and Jan.
Richard Buckley
---
Dear Chris and families,
I am truly saddened by the news of Randy's passing. He was an inspiration beyond words to me, responsible for my getting involved in the orchestra contract world and all things union. The first time I met Randy and Jan at their home, Randy was gleefully prepping an entire flat of strawberries. Knowing we were invited to lunch, I told how excited I was to enjoy the obvious feast coming our way. He said, "No. These are for tonight's party. You're getting hotdogs!". Best hotdogs ever.
Being a percussionist made for a quick bond with Randy, and he soon had my head spinning with thoughts on how we can make orchestra musician life better. There were times I felt I couldn't continue pushing for the goals Randy so often articulated. At those times, he would say, "Well. You can quit. But, someone else will take your place and they most likely won't do things in the way you would like. That always got me back the horse and we spent many years plotting maneuvers, eating lots of food, and laughing till our sides ached.
I will miss Randy.
 
Tom Hemphill
---
You probably wouldn't have remembered me, it has been seventy plus years since I last saw you. I considered you my first "boyfriend" in my early teens. What a magnificent career you had and wonderful family. I am happy to have known you.
Lynn G. Meyer
---
I had the privilege of working on Baunton weekend and summer jobsites for 7 years. I learned the importance of lists written with sharpies on yellow legal pads. I learned the quickest route to every dump within 50 miles of Ballard. I learned and participated in every jobsite shenanigan imaginable, and learned the importance of always sitting down with everyone for lunch.
I'll never forget Randy, Jan, or all the great times I got to share with them.
 
Sam Cole
---
Randy was a greatly valued musician in Seattle, respected for his playing and his long experience, and also for his noteworthy contribution to the orchestra's collective bargaining structure. During my many years as Seattle Times classical music critic, I learned that Randy could be relied on for frankness, honesty, and expertise. He cared deeply about music, about the orchestra and his colleagues, and about the audiences who came to hear the band play. His collection of percussion instruments (some of them probably unique) was amazing, and he enjoyed demonstrating them. I learned a lot from him, and liked and respected both him and Jan very much.

Melinda Bargreen
---
If you were Randy's friend, you had the best friend possible! An extremely intelligent, talented and caring friend,devoted to friends and family! An Extraordinary human being!

Bill Kotick
---
I met Randy in the Youth Symphony when we were in high school. We met in a church on Capitol Hill in Seattle. Our director at that time was Frances Aranyi, a taskmaster for high school students who was a no-nonsense kind of conductor! We did not dare to talk or do ANYTHING that was not focused on the music. Randy was a remarkable percussionist even then and I loved his part in the orchestra. I also enjoyed the dedication of his parents and loved how they loved all of us! We stayed friends throughout the years and many a performance in various venues I would head down to the "pit" to see if he was sitting there amongst the many tympani plus instruments he was playing. It was always as much fun and rewarding for me to see him again as was watching the evening's performance. I send my deepest love and respect to all of his family and hope to see you in person at some point. I am sure you carry much of him in your talents, values and influences. It would be interesting to see which of any of you carried on with his inherent talent for music in playing instruments or just loving it as he did.
 
Leona (Elsner, Dalrymple, Kaufman-Larson
---
I began studying percussion with Randy when I was in high school, and he later encouraged me to pursue further studies with Fred Hinger, Randy's own Curtis Institute teacher who now taught at Manhattan School of Music. Without Randy's encouragement, guidance and mentorship, it is unlikely I would have had the orchestral career I enjoyed for nearly 40 years. Randy's exuberance for life was evident not only on stage, but also in his kitchen and in his gardens which became a passion of his in later years. After I retired and moved back to the Seattle area with Pam, we were honored to be considered part of Randy's "family" and often included in some of the well-orchestrated productions that were celebrations and gatherings directed by Randy on his yellow-pad lists. Evidence of one such Valentine's gathering is pictured below. Randy never did anything in a small way. Why have a party without a costume requirement? Why buy a dozen tulip bulbs when you can buy 200 and share with friends? Our flower beds are filled with remembrances of his garden plant generosity, and our memories of Randy we will cherish for the rest of our lives.

Bill Wanser
---
I still am so saddened and disbelieving that Randy is gone - what a force he was, and a truly amazing person, so loving of family, friends, and the Seattle Symphony. He accomplished so very much in his life and left the world a better place.
- Zart
---
When I think of Randy Baunton a big smile crosses my face. What a remarkable man he was. A great musician, leader, colleague, husband and father. A man with great charm and brilliance.
I first knew him as a musician. I used to say that he could hit anything and make it sound wonderful. Of course, it started with his superb cymbal playing. He spoiled me for every time I heard a cymbal crash after hearing him. But it wasn't only cymbals, it was absolutely everything he hit. And he was a wonderful leader of his section and a teacher as well. He wasn't interested in the new direction the world of percussion was going in. He cared about Tchaikovsky, Mahler, Strauss and all of the more traditional composers. He was happy to give the new works to his section and they always rose to the occasion. His timing and deep sensitivity was always there, and as a conductor, I can say that he was the perfect musician to make music with.
His leadership of his section was excellent, but it is his leadership of the orchestra that had the greatest long-term impact. I have always said to have a successful orchestra the ensemble needs leadership from the conductor, board chair, executive director, and orchestra chairperson. If one had three of the four, I believe things could still be successful. Randy was the orchestra chairperson for most of my 28 years in Seattle. We always had the same dreams for the orchestra and its future. I believe that his leadership was the most important element to the great growth and success of the orchestra during those years. He really wanted the orchestra to be great. He wasn't content with the status quo. He cared deeply about every player but wanted everyone to give 100% and to continue to grow artistically. During my years in Seattle, we made over 100 recordings, and they are a testament to Randy's vision for the orchestra. I often hear them on the radio and know how proud he would be to hear his great orchestra.
He knew how important the building of Benaroya hall would be for the future of the orchestra and the future of cultural life in Seattle. There were some musicians who felt we didn't care about them but only the building of the hall. We both did our best to explain how wonderful our future could be with better acoustics and a much better schedule. He believed that the future, with a new excellent hall, would greatly help our artistic growth and ultimately a much better contract for the players. He did everything he could to support the building of Benaroya Hall and, as everyone knows, he was absolutely correct.
Our whole family saw Randy as a great husband to Jan. We loved them both and missed them so much from the day we left Seattle. He has had a remarkable influence on all of Seattle and the Seattle Symphony and I still have so many wonderful memories of our time together. He remains in my heart always.
Gerard Schwarz Conductor Laureate, Seattle Symphony
---