Willy Masao Iritani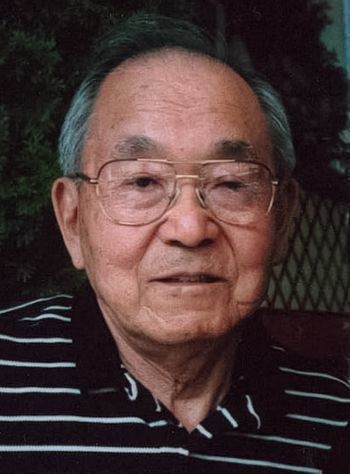 Willy Iritani, an internationally known horticulture professor and beloved husband, father, grandfather and great-grandfather, died on August 18, 2021 in Seattle.  He was 98 years old. 
Willy was the third son of Saichi and Chitose Iritani, immigrants from Japan who operated a vegetable farm on the outskirts of Denver, Colo. When they weren't in school, Willy and his siblings worked in the fields where they learned the meaning of hard work and frugal living at an early age.
During World War II, his widowed mother asked Willy to stay at home and help run the farm while his siblings enlisted in the military. Roy joined the highly-decorated 442nd Regimental Combat Team, Dan enlisted in the Army Air Forces, Frank joined the Military Intelligence Service and Frances enlisted in the Women's Army Corps. 
After the war, Willy pursued a career that combined his interest in farming and science.  His studies took him to Colorado State University, the University of Minnesota, the University of Idaho and the University of Illinois at Champaign-Urbana.  
In 1954, he was awarded a Fulbright scholarship to study at the University of Kyoto in Japan. While teaching English at a local church, Willy met Eiko, the outgoing young woman who would become his wife. Shortly after their wedding, the couple sailed to the United States. After completing his PhD, Willy took a job at the University of Idaho's research station in Aberdeen, Idaho and Eiko focused on raising their children: Evelyn, Katherine and Brian.  
In 1968 Willy joined the faculty at Washington State University in Pullman. Over the next two decades, he became one of the world's preeminent potato experts, helping farmers improve crop yields and storage capabilities. McDonalds and other companies sought his expertise to improve their French fries and other potato products. In 1985, he was elected president of the Potato Association of America. He and Eiko traveled to international meetings and took extended sabbaticals to Scotland and the Netherlands.  
Willy spent his free time golfing and fishing, enduring many cold mornings chasing steelhead trout on the Clearwater and Snake Rivers. After retiring from WSU, the couple moved to Seattle, where they joined the Blaine Memorial United Methodist Church.  For more than a decade, Willy volunteered at the Federal Trade Commission and Senior Services of Washington.  In his spare time, he loved to garden, read books and work on his house. 
Willy and Eiko shared a passion for travel and they visited dozens of countries, often on cruise ships.  Spending time with family, particularly his growing brood of grandchildren and great-grandchildren, was one of Willy's greatest joys. He is survived by his wife, Eiko, his daughter, Evelyn (husband Roger Ainsley), daughter Katherine (husband Barry Wong) and son, Brian (wife Sally Iritani), all of Seattle. He is also survived by seven grandchildren: Shaara, Nicholas, Kela, Melia, Brandon, Alexander (Tad) and Rachel, and two great-grandchildren, Oliver and Emily (and third on the way). 
Plans for a celebration of life are still pending. In lieu of flowers, the family suggests donations to a research scholarship for horticulture students. Contributions may be mailed to the WSU Foundation, PO Box 641925, Pullman, WA 99164-1925 with a note for the gift to go to the WM Iritani Scholarship and Research Fellowship. 
---
Comments
---