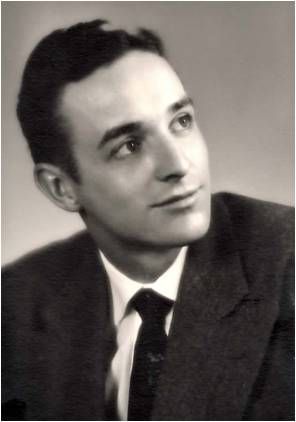 William Jerome (Jerry) Zimmerman, was the 3rd of 5 children of Art and Blanch (Bonnet) Zimmerman, born on February 13, 1928 in Harvel, Illinois.   Jerry grew up on the family farm in Harvel.  Though times were tough the Zimmerman children were brought up knowing the values of hard work, education, faith and compassion. They also instilled in each of their children a love of learning. He would remember that on the first day of school, during the morning recess, he thought the school day had been long enough, Jerry started walking home across the park.  An older girl saw him and dragged him back to the schoolroom.  Jerry shouted, "The teacher is not my boss." The teacher sat him down at his desk and gave him a little shake to show she was the boss and called his mother.  When Jerry got home after school, his mother agreed that the teacher was his boss.   Jerry didn't think he was learning enough in school so he entered college before he completed high school.  As his father thought it very important that all his children have a high school diploma Jerry sent back enough college credits so he could actually graduate from High School.  A pivotal moment in Jerry's life was when his older brother Paul registered as a conscientious objector at the beginning of World War 2.  Jerry was aware of his brother's alternative work during the war years.  When it was his time to register Jerry also applied to be a CO.
Jerry entered Phillips University in Enid, Oklahoma where he began a lifelong pursuit of education. After the war his mother became involved with CROP – the Christian Rural Overseas Program which organized Midwestern farmers to raise money and food for the needs of people in war devastated areas following the war.  Little did they know then that Jerry would be one of the leaders in the CROP walks through his church in Renton for over 30 years. At University of Colorado, Jerry found direction in the words of Dr. Leslie Weatherhead: "Where one's strengths and desires intersect with the needs of society, there he would find his life work." Thus Jerry began his focus on elementary education.  During his years at the University of Colorado he was very involved with church activities as well as hiking, skiing and participation in Alpha Phi Omega, a service fraternity.  In 1949 he applied to the Methodist Mission Board for a short term mission project.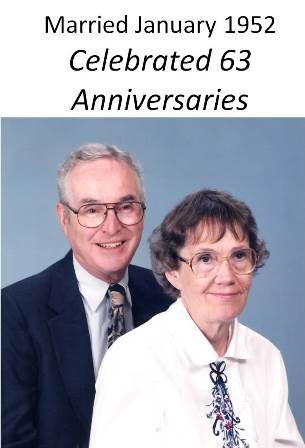 On the first day of training Jerry sat next to Vera Reebs.  Together they tackled Spanish in preparation for their assignments.  Vera and Jerry kept in touch as she was assigned in Chihuahua, Mexico.  A visit to Mexico found the couple engaged.  Jerry was assigned to Bolivia - and with a bit of negotiation they were assigned there together.  It was in La Plaz Bolivia they were married January 22, 1952 in a church wedding, all in Spanish!
Pursuing course work Jerry received his Masters at Vanderbilt and his Ed. D. at Stanford.  He and Vera welcomed their first child, Carole in 1963 and then their son, Bill in 1964.   The family moved to Oregon where Jerry did post-doctoral work at the University of Oregon.
By 1967 the family moved to a new area being developed in Fairwood Greens near Renton.  They had lived in 14 different places in 17 years. They had finally come to stay.  Jerry worked in the Kent School district – starting as assistant superintendent and then becoming an elementary school principal as he wanted to work closer with students.  He retired in 1991.  He continued to be an educator in retirement, tutoring students in math.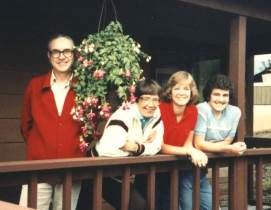 In retirement he and Vera traveled the world including 20 Elderhostel adventures.  The family was treated to many camping vacations and hikes.  They were active in the local Methodist Church – Fairwood Community – of which they were charter members.  In retirement you could often find them working in the church yard, organizing events, and Jerry, always, singing in the choir.   He also was a regular volunteer in tutoring middle school children in math. For their work in the United Methodist Church – local and conference – Jerry and Vera were honored in 1995 with the "Bishop's Award" for outstanding service to the church.  Jerry embodied what he had heard a woman once say: I don't remember reading anywhere in the Bible about retiring from doing good works. 
Jerry was a wise and gentle man who continued to live the way of Christ's service and compassion his whole life.  On March 15, 2015 he died in Renton at the age of 87 of stroke complications.  He is survived by his wife of 63 years, Vera; his daughter Carole (Ed Favilla); son Bill Zimmerman; granddaughter Annie Zimmerman. Jerry is also survived by his sisters Ruth Roll and Zeal Brock (Bud), brother Ron Zimmerman(Trudy) and many nieces, nephews and extended family.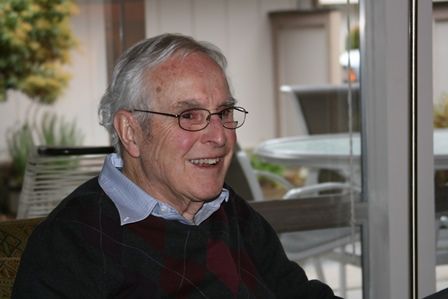 ---
Comments
Jerry was a great family man, mentor and teacher to all. He will be missed deeply. His many students will carry his knowledge forward. --Ed
---
I couldn't have asked for a better father - so loving, patient and kind. Dad, I love you and miss you. --Carole
---
Jerry was so kind and gentle. I have such fond memories of hiking in the Cascades, riding the ferry across the Sound,and "visiting" with the family. We already miss him. --Joel Brock
---