James Carlin Jr.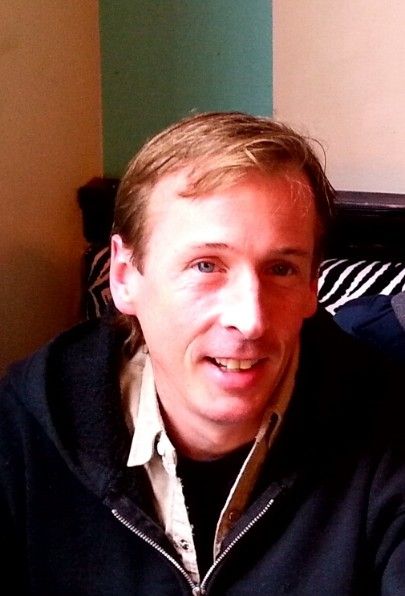 Our wonderful and loving friend James Francis Carlin, Jr., 46, passed peacefully from this life on Friday morning October 20, 2017, following a blessedly brief struggle with cancer. His final moments were spent in his beloved home with his husband Ben Munoz by his side. As in every other adventure in his life, Jim triumphed with every breath he was given, choosing not to focus on his illness and impending death but to gratefully celebrate his full and fantastic life. Although Jim leaves behind many who love him, he is now free to reap his God's rewards for his deep kindness and caring, his fun-loving spirit, and his boundless creativity.
Born in Worcester, Massachusetts, Jim grew up in Shrewsbury, where he graduated from Worcester Tech School. In 1992, he struck out across the country to make a life for himself in Seattle, Washington, where he grew and thrived. Jim's gifts and talents were abundant and diverse, centering on an appreciation of food, beauty, hospitality, nature, and the joy of creation. Whether he was working as a gardener, landscaper, master baker, master chocolatier, sugar artist, culinary professor or passionate chef, Jim loved to design beautiful things that tasted amazing, and he loved to make things grow. His accomplishments were many: he ran his own landscaping business, Carlin's Garden's, and his own "edible art" company, Dreamysweet. Jim's awe-inspiring sugar art and cake designs brought delight to many a wedding and special event, and won him many city awards: he was an annual fixture at Seattle's prestigious Chocolate for Choice contest benefiting Planned Parenthood, where his legendary creations won various prizes including People's Choice. Always motivated to learn and grow, Jim earned a culinary degree from Seattle Central Community College (baking and pastry), studied at Seattle Culinary Academy (specialty desserts and breads), and topped it all off with his study of chocolate manufacturing at Escuela de Chocolateria Calebaut in Quebec, from which he emerged proudly with the title he was born for: Master Chocolatier. Jim was an integral team member at many of Seattle's best markets, including PCC Market (head master baker and decorator), Metropolitan Market (assistant bakery manager), and Whole Foods (regional merchandiser and florist). He thrived on the deeply gratifying work of teaching and mentoring students at Seattle's Le Cordon Bleu College of Culinary Arts, where Chef Carlin will be deeply missed.
Jim is preceded in death by his beloved mother Mary A. Carlin; he was excited at the thought of being with her again and with his husband Ben's dear sister, Lisa Munoz. Jim leaves behind his husband Benjamin Munoz of Seattle, WA; his father James F. Carlin, Sr. (Mary Greene-Carlin) of Shrewsbury, MA, and his two brothers, Christopher Carlin (Anh Nugyen-Carlin) of Webster, MA and Shawn Carlin (Alyssa Carlin) of Fitchburg; his beautiful nieces, Gabby, Alivia and Kayla, and his nephew Dylan; many aunts, uncles, cousins and step-siblings; his beloved cat Harvey; and countless friends, including his longtime "Seattle family" lucky enough to have reveled in his friendship for twenty-five glorious years. Jim was an incredibly loving, generous and thoughtful friend who found beauty and worth in nearly everything. He was loyal, honest, brave and true. He had the nurturing soul of a great gardener, the inspired imagination of a true artiste, and the heart of a lion. We love you, Jim.
---
Comments
Jim was the ONE in my life. That one who was so kind-hearted, the one you can trust and that one who'd give anything for a friend. The one who stood up for what he knew was right, that one rock sure of himself. The one who found beauty in so many things.
Benjamin Munoz
---
I remember Jim as an amazingly kind, patient and talented man. Great chocolates and wild Halloween costumes. I wish our paths had run parallel longer. So glad you found each other, Ben. Much love to you.
Bruce Goggins
---
Chef Carlin was an awesome instructor and mentor. He will be truly missed.
    
Brandon Miller
---