Charlotte H. Johnson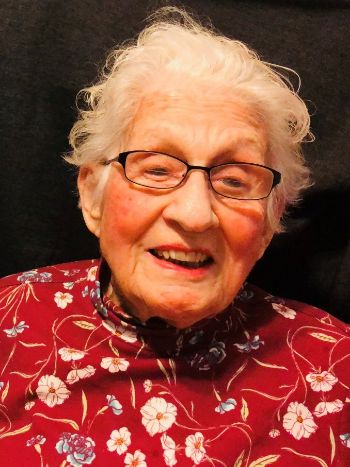 Charlotte H. Johnson, 99, passed away peacefully on July 11, 2019 surrounded by her loving family and dedicated caregivers.  She is predeceased by her loving husband of 62 years, Dale E. Johnson, and leaves behind her daughters Rebecca, Pamela, and Laura (Sultan Mohamed).
Charlotte was born in East St. Louis on May 30, 1920 to Joseph and Blanche Hamilton.  Her father died when Charlotte was only five, and 2 years later, her mother put her in The Masonic Children's Orphanage in La Grange, IL where she lived until the age of 17.  After that, her dear Uncle Henry welcomed her into his home in East St. Louis so that she could finish high school and get a start in life.  
She worked for a couple of years as a Secretary for DuPont.  After that, in an effort to earn a better income, and have a new adventure, Charlotte moved to Alaska and worked for several years in Whitehorse and Anchorage on the Alcan Highway project.  Charlotte garnered many friendships from those years and one particular friend and mentor encouraged her to go to college.  Towards that end, she then moved to Richland, WA and worked at the Hanford Project for a couple of years, then she enrolled into the then named Washington State College.
Charlotte loved to dance, and at a college dance class, she met the love of her life, Dale E. Johnson, another student, whom she married on April 4, 1949.  After they both graduated from college, she in Dietetics and Dale, Entomology, they spent a year in Minneapolis, MN where Charlotte did an Internship, and Dale took graduate courses.  They moved to Yakima, WA in 1951, and shortly thereafter Charlotte got a full time job as a Registered Dietician with the Sisters of Providence St. Elizabeth Hospital where she worked for 37 years including managing their Diabetic Clinic.  Charlotte had a very satisfying professional career, and positively influenced and mentored many young student Dietetic Interns and employees over the years.
During the early part of her career, Charlotte took several years sabbatical from work in order to be a full time mother and homemaker. These years were particularly special for her daughters, as she was a wonderful mother who was truly interested in their artistic and musical endeavors, and nurtured, encouraged, and influenced them in many positive and lasting ways.  When her daughters sought her help with anything, she taught and guided them along, and in the process helped them to help themselves and in doing so encouraged them to become self-sufficient.
Dale and Charlotte were lifelong active members of the Unitarian Universalist Church of Yakima, where they developed many lasting friendships over the years.  Charlotte was a member of ACLU and the League of Women Voters where she actively worked campaigning for civil rights. Charlotte and Dale were active members of the Democratic Party and attended many fund raising events, and participated in many caucuses and conferences over the years.
Charlotte was an avid reader, and enjoyed walking, hiking in the woods, playing tennis, and ping-pong.  She had many little known talents such as being able to pick out a song by ear on the piano, and had a natural talent for pen drawn figures and pastels.  She was a wonderful seamstress who sewed clothing for herself and her young daughters.  Charlotte loved to travel, and the Johnson family made many memorable trips to the Oregon and Washington coasts, Canada, and to Klamath Falls, Oregon to visit Dale's family over the years. 
After her husband, Dale, passed away in 2011, Charlotte spent the last years of her life living with her daughter, Laura, and son-in-law, Sultan Mohamed in Seattle, WA.  This was to be a blessing in disguise, as the entire family had the privilege to spend precious time with Charlotte, and get to know her in a different way. Over these last years of her life, we traveled around the Pacific Northwest and Canada, and even took a fun trip to Reno, NV.  As Charlotte's health diminished over the last 2 years, although she could not get around as well as before, Charlotte was content, comfortable, well cared for, and surrounded by those who loved her most.  
Although Charlotte had a rough start as a young child, early on she learned how to cope, persevere, and carry on, which served her well throughout her long life.  Charlotte cherished and nurtured many lifelong friends throughout her life, and anyone who had an opportunity to get to know Charlotte was lucky indeed.  Charlotte was an intelligent and intuitive person, and also very logical and pragmatic.  She had a wonderfully dry sense of humor, and was a truly kind, gracious, loving, and patient human being, mother, wife, and friend. Charlotte was a blessed woman in many ways, as she had a long and healthy life and a peaceful and comfortable end.  
Special thanks go to Sultan who lovingly welcomed Charlotte into their home, after Dale died, without batting an eye, where we lived together happily for the last several years of her life; she made our house a happy home.  A very special thank you go to all of Charlotte's in-home caregivers, Mahi, Yalem, Hilina, and Aurelia, who for the last 2 years of her life cared for our mother lovingly and professionally.  The family could not have managed things without their help. Also, thank you to Evergreen Hospice for their care and expertise.
"To the world you may be one person; but to one person you may be the world."  Charlotte was indeed the world to her husband, Dale, and to each one of her daughters, we miss her dearly.
No service is planned, but to those of you who knew and loved Charlotte, please raise your glass in her honor for a life well lived.  The family suggests that remembrances be made to a charity of choice.
---
Comments
---