Gabriel Ferrera Golla
(funeral mass and burial TBD)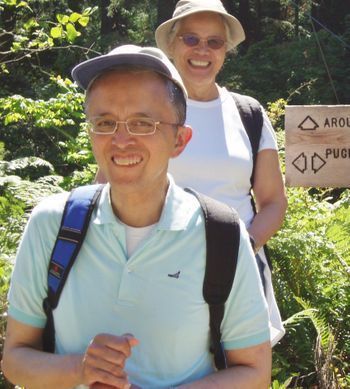 Gabriel F. Golla, age 67, passed away on 11/5/2020 at an adult care facility.  Although he was at the care facility for nearly three years, his death was unexpected.  He was predeceased by his mother, Francisca F. 1970, brother Norman 2008, father Nick S. 2016, step-mother Roberta P. 2019.  Gabriel is survived by siblings Michael, Edna (husband Tony), and Nicholas (wife Anna), numerous nephews, nieces, and cousins.  The nieces and nephews include, Nina, Norman, Michelle, Mikey, Tiana, Aubrey, Sammy, Danielle, Angelina, Max, and Rio.  There are many, many cousins.
Gabriel was born on February 1, 1953 in Salinas CA.  After spending time in Ft. Meyers, Virginia, his family moved to Seattle in 1960. There, Gabriel attended St. Edward School and O'Dea High School.   He also attended Highline Community College and South Seattle Community College.
Gabriel worked in the food service industry, starting at the Butcher Restaurant with his brothers Mike and Norman, then later at Schwartz Brothers, Cucina Cucina, and Gretchen's.  Interestingly, at family celebrations, the younger people would ask what did Uncle Gabe order and order the same.  Gabriel liked pasta dishes.  He made beef stroganoff and chicken parmesan at home.  He made fruit trays, cranberry sauce from scratch and at Christmas time, he was in charge of the baked ham.
As a teenager, he would listen to rock and roll music on the KJR radio station.  They had a free root beer promotion.  The first caller to name the song being played won.  He won many six packs of Hires Root Beer which he shared with the family.  Gabriel was an avid sports fan of the local teams, i.e. Seattle Supersonics, Huskies and Seattle Seahawks.  He enjoyed attending UW football and UW Women's Basketball games with Edna and Tony.  
Gabriel was a generous man with his time and his money.    He seemed always available to baby sit his nieces, Tiana and Aubrey and his little brother Nicky.   He was available to drive you to an appointment, to watch your house etc.  If he overheard you saying you liked a such and such item, come your birthday or Christmas, he would give it to you.  At celebrations, birthday, anniversary, Christmas, Gabriel seemed always to have a nice gift for that celebrant(s).
Gabriel walked a lot, spending many hours walking the Beacon Hill neighborhood.  This walking skill carried over.  In 2007, while hiking the Rattlesnake Ledge Trail, he walked way ahead leaving Roberta gasping and ready to call it a day.  At the summit of the hike, several younger hikers who kept pace with Gabriel commented, "We just kept following this gentleman".  Gabriel was nor particularly fast but slow and steady.
In 2008, Gabriel was deemed qualified for disability by the Social Security Administration.  Gabriel had suffered from various medical issues since a young age.
In his later years, Gabriel became unstable.  There were times when he would leave (driving his car) on some errand and return much later than usual.  A couple of times, it got so late, the police were summoned.  His excuses, for being away, seemed unlikely.  After an accident, he stopped driving altogether.
While walking, he fell near Rainier Beach.  A Good Samaritan called for aid.  He ended up in the ER.  After that incident, he was told to walk closer to home and on a known route.  He seemed to ignore that advice and still ventured off the "known" route causing worry among family members.   With his diminished mobility, his exercise was limited to chores around the house and yard.  Even then, he would fall and be unable to get up. Roberta would find him on the ground after some undetermined amount of time.  He did not call for help.   It became increasingly difficult to leave Gabriel unattended and it was decided to have him go to a full time care facility.
---
Comments
Gabe was a friend of mine at O'Dea High School. He learned to play the trombone for the pep band which played at football and basketball games. I'm sorry to have lost contact with him after those days.

Rick Heinbaugh
---
Gabe was a good, generous man.
Eric Martenson, chef Schwartz Bros.
---
Gabe was a quiet and gentle person. Following his mother's death in 1970 I met his family while helping him with a term paper when we were attending O'Dea.
 
Terrence Brown
---
Rip Gabe, worked with him at the butcher restaurant 80-84.
Walter Charles
---
Dear Edna and the extended family of Gabe Golla..
Heartfelt sympathy on your unexpected loss of your beloved Gabe. You may already know that Gabe is the derivative of GABRIEL.. translation from the Hebrew ...GOD IS MY STRENGTH.
Gabe certainly demonstrated that.
Love and prayers always
TERI LAU
---
My condolences to the Golla family, I worked with Gabe at The Seattle Butcher Restaurant, he was kind, and very nice. I enjoyed working with Gabe.
Jeff Charles
---
Gabriel was cremated tonight. Funeral Mass will be on Wednesday, 12/2/2020 at 10:30am at St. George Parish. Due to Covid restrictions, attendance is limited to 30 guests. Edna is doing the guest list. Only those on the list can attend. Burial is on 12/2/2020 at 1pm at Abbey View Memorial Park in Brier, WA and the covid restrictions also apply.
Tony Chinn
---