Mary Ida Jeffers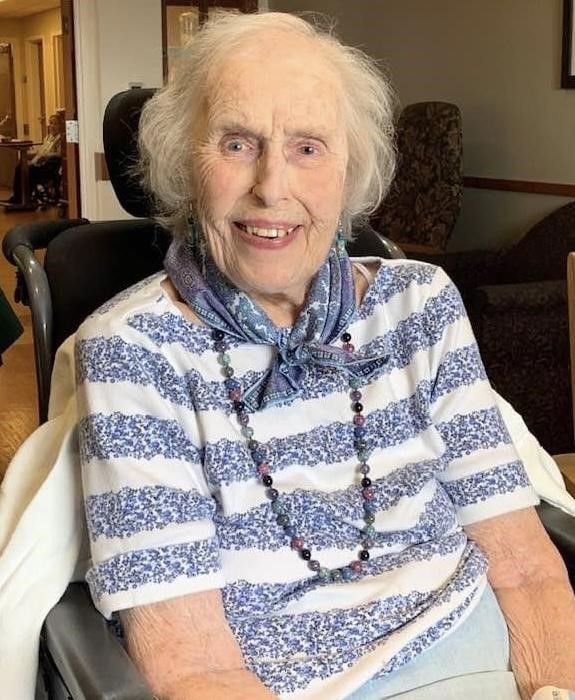 Mary Ida was born to Birdie Thelma and Finnell Simons on March 25, 1924 in San Francisco, California, where she spent her childhood and her young adult life.  She had many fond memories of living in "The City", one of which was a day in 1937 when the Golden Gate Bridge opened.  It was fiesta day and she wore a pretty sombrero and walked the beautiful new bridge with her Nana and Aunt Mary.   She frequently talked of her summer adventures at camp and horseback riding at Russian River.  Mary Ida attended Balboa High School where she worked on the school newspaper and developed a keen interest in books and writing which followed her throughout her life. She graduated from high school in 1942 at the age of 18.  
One of Mary Ida's first loves was to dance.  She frequently attended USO dances during World War II.  At one of these dances she spotted a young, handsome sailor named Robert (aka Bob).  She danced with him, and soon they fell in love.  Bob and Mary Ida adored each other and were married June 5, 1943. They had 5 children together.  They enjoyed family vacations to Yosemite and later in life to Hawaii.  Mary Ida made her first trip to Hawaii in 1968 when she won a contest with a local news syndicate.  Both Mary Ida and Bob loved the islands and traveled there frequently.  Mary Ida was also a woman of faith.  She had a daily practice of reading her devotional and was a regular attendee of church. 
Mary Ida pursued her love of books by graduating from San Jose State College with a Bachelor's in Library Science.  Her first library job was as a library assistant with the Menlo Park Public Library.  She worked at various libraries throughout her adult life.  She eventually pursued a Masters of Library Science at the University of Washington. One of her life goals, after completing her education, was to someday have her own library. After seeing an advertisement for a Librarian in San Juan County, she achieved that goal. She and Bob relocated to Friday Harbor, and she ran the Friday Harbor Public Library. They loved everything about living on the island and it was a happy chapter in their lives.
Mary Ida had many interests and hobbies.  She was an avid reader and enjoyed a wide variety of books and periodicals including a daily reading of the New York Times.  Her favorite author was Nevil Shute.  She also love acting and was part of several local community theater groups.  She frequently recalled her favorite acting role was that of the Reverend Mother in The Sound of Music.  Mary Ida was an accomplished pianist and loved to sing.  Later in her adult life she studied painting and was able to create some beautiful artwork. She also enjoyed sewing, cross stitch, and working with yarn. 
On May 8th, 2022, on Mother's Day, at the age of 98 Mary Ida Jeffers passed away peacefully at Horizon House, as her daughter Margaret read her the 23rd Psalm. She is survived by her 5 children, Dianne (Wayne) Fix, Mary Jeffers, Margaret Gibbons, David Jeffers, and Alice (Diane) St Clare. Also her grandchildren, Michael Fix, Christine (Peter) Chow, Eileen (Art) Lyon, Andrew (Anya) Jeffers, and Aaron (Regina) Jeffers.  She is also survived by 10 great grandchildren and one great great grandson.  She will be laid to rest with her beloved husband, Robert Landis Jeffers, at The National Cemetery of the Pacific in Honolulu, Hawaii.
A celebration of her life will be held later this summer.
---
Comments
Bright eyed and beautiful...!!! My deepest condolences go out to family. She was a good friend (and a good step-grandmother). She was so fun to talk with having lived such an experienced and full life. It was truly a gift to have her on this Earth with us for such a long time! I know each time I see her children I get to see some of the best parts of Mary Ida. I will miss her greatly.

Cindy Schroder
---