Joan O'Byrne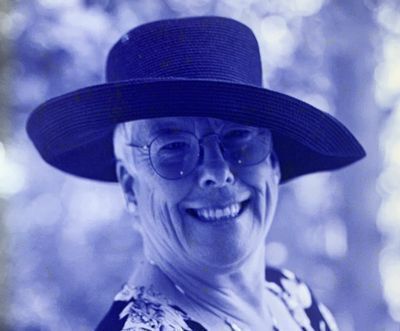 Joan "Baba" O'Byrne passed away the morning of Tuesday, June 7th in Seattle surrounded by her family.  She is survived by her children, Kathleen and Michael, their spouses Todd and Bhavesha, and her grandchildren Indira, Myles, Molly, Keira, and Conor and her sister, Maggie and her husband Graeme.  
Joan was born in Ballinlough, Co. Roscommon, Ireland, on March 8, 1944, and had a long career as a registered nurse.  The youngest of five girls, her sisters described the premature Joan as a "little doll".  She grew up in the Irish countryside playing in the fields, swimming, and participating in all kinds of mischief with her older sisters.  
Her childhood in Ireland inspired a great love of the outdoors that continued throughout her life.  She loved to sleep outside, and often put a cot on her bedroom balcony in the summer.  There were many camping trips to the Olympic and Cascade mountains of Washington State, where she loved to fish in the rivers and lakes.  Breakfasts at the campsite always featured fresh river trout on the campfire that she had caught early that morning.  
She met her husband, Myles O'Byrne, at a pub in Ireland (of course!).  When he moved to Seattle to work for The Boeing Company, he sent her a ticket to come visit.  She stayed, they married, and that ticket is still pinned to the wall in their home.  Having studied nursing in Ireland, she continued her career in Seattle, and was one of the original employees of the first 24-Nurse Hotline.  Some of her best stories were of the crazy calls that would come in at night!  Joan was known for being calm under pressure, which made her an excellent nurse, caretaker, and friend.  
Joan and Myles had a fantastic life together in Seattle with a great network of friends, many of whom were from Ireland, England, or Scotland.  Some of our best memories with our parents and their crazy friends are from the annual trips to Sun Lakes. They traveled together all over the world - and Joan always had a sketchbook in her hands.
Joan loved to paint in watercolor, and her love of nature was reflected in her artwork.  Many people don't know that she originally painted with oils.  However, after being inspired by another watercolor artist, she embraced the versatility of watercolor and never looked back.  After retiring from her career as a registered nurse, Joan spent the majority of her time expanding her art community, and her active participation with Seattle Co-Arts and The Motley's/The Artist Group were some of the highlights of her retirement.  
The biggest highlight of her retirement, however, was her grandchildren.  Affectionately called "Baba", she was happiest when all five of them were together.  It was really important to her that the five kids grew up together and she loved to plan family gatherings.  She painted with them, cooked with them, and even made up silly plays for them to act out.  She was an incredible grandmother.  
We are truly heartbroken at the loss of our mother, and so soon after the loss of our father.  If you would like to make a donation in her memory, please consider the scholarship fund at Seattle Co-Arts (indicate "in memory of Joan O'Byrne"):  https://form.jotform.com/220436265520145
More information on this organization can be found at: https://seattlecoarts.com
To view Joan's artwork:  https://joanobyrne.com
Joan and Myles's ashes will be buried together in a family-only ceremony on Saturday, June 25th in Hollywood, Co. Wicklow.  A celebration of their lives will be held at the community hall in Donard at 2pm that day, to which all are welcome.  A Seattle gathering will be planned for the fall, assuming Covid allows.
PLEASE leave us your stories of our mother (and our father), below.  We consider your stories and notes a gift to her grandchildren. The kids have started it off with their own fond memories of Baba.
---
Comments
Soooooo overwhelming sad to get this news tonight….. Joan and Miles…. 6 star GEMS!!!!!!
Now both gone…..
Kind, lovely, funny…… just the absolute BEST in humanity!!!!!
This hurts….. they are so missed!!!!
xoxo Gillian
---
John and I send our deepest sympathy -- words are inadequate to express my sorrow that you've lost both your parents. I can immediately bring up fond images of your mom! May your memories of Myles and Joan comfort you. Love, Melinda
---