Alden (Jack) J. Fischer, Jr.
November 13, 1930 – April 11, 2019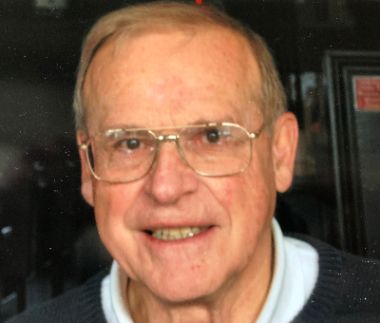 Jack passed away peacefully in his sleep on the morning of April 11th. Born and raised in Seattle, he graduated from Garfield High School and the University of Washington, where he was president of Sigma Chi Fraternity. It was there that he met his wife, Anne. They shared many laughs and fun adventures during their 65 year marriage.
Jack was quite an athlete. He skied with his family and spent hours playing catch and coaching his children's baseball teams. He played softball on an "over the hill team" as well. Jack was a board member at the Seattle downtown YMCA, and president of the Y's Men group. At age 50 he started competing in senior track meets, winning awards in 50 and 100 yard races, the long and high jump. He was still competing into his 80's. An avid golfer, Jack belonged to Sand Point, Useless Bay, and Seattle Golf clubs. He was very proud of the hole-in-one he (finally…) shot at Seattle Golf.
Jack spent 27 years as an Army Reserve officer, served in the Korea War, and achieved the rank of Colonel. After a long career as a mortgage banker, Jack retired from Home Street Bank in the mid 1990's.  He was active in the Seattle Mortgage Bankers Assn. and served as President in 1984. Jack was also involved in Rotary and a member of the Rainier Club.
Once retired, he met weekly for lunch with friends to discuss investments (his new hobby). Anne and Jack also loved to travel. They visited Maui every winter for forty years, and drove to Arizona in the fall. One of his favorite places to be was their beach house on Whidbey Island, where he spent almost every weekend.
Jack comes from an established Seattle family. His grandfather, George W. Fischer, moved to Seattle in 1887 and co-founded the first wholesale grocery business in Washington Territory (originally Fischer and MacDonald, later Fischer Brothers). They were the foremost wholesale grocery outlet in Seattle for several years, expanding throughout Washington and Alaska through the Gold Rush years. George was president of the Western Washington Wholesale Grocers Association for many years, an official of the Seattle Social Welfare League, and one of the founders of St. Nicholas School. The Fischer Studio Building, built in 1912 and located in the downtown business district, was designated as a Seattle Landmark in 2008.
Jack is survived by his wife, Anne; his children Kathryn, John and David; five grandsons; three great grandchildren; and many close friends. He was liked and respected by everyone he met. With an easy and friendly look to him, he once mentioned that strangers would smile at him on the street all the time. Jack was preceded in death by his parents (Alden J. Fischer and Anna Althouse) and sister (Anne Hicks).
Per Jack's request, there will be no service. In lieu of flowers, please consider donating to Seattle Cancer Care Alliance, Attn: Donations, P.O. Box 19023, Seattle, WA 98109-1023.
---
Comments
Jack you were a fabulous uncle. I will miss you so much. Much love to you and all of my family.
Temple Martin
---
We are sorry to hear about Jack's passing. We enjoyed the time we spend with Jack while we lived on Whidbey Island. Loved listening to his long jump competition, his stories from the past, his investments adventures and sharing many spontaneous dinners together. When we moved to Maui we looked forward to he and Anne's winter visits. He enjoyed his kids, grandkids and great grandkids. We will miss their annual Christmas card with the grand babies. Jack is leaving an empty void in the lives of many. Jack was a special friend. We will miss him.
Sherry and Pat McGilvray
---