Howard Glenn Gray Jr.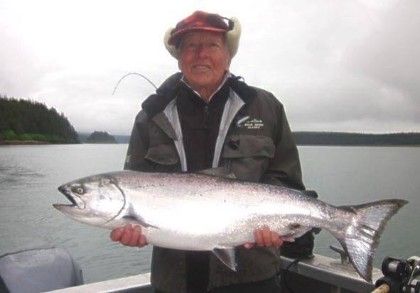 Howard Glenn Gray Jr. was born in Providence, Rhode Island on July 5, 1930 to Howard and Virginia (Arsenault) Gray. His family moved around during the depression, but eventually settled in Puyallup, where he attended Lincoln High School. There, he met Lolita, his High School sweetheart. After graduation he enlisted in the Army as a cryptographer in the Signal Corps and went to Korea. He was honorably discharged in 1953. 
Glenn and Lolita married in 1955. Their first home was a houseboat on Lake Union. This experience set them on a path "on the water." With help from a boat builder, they built their first boat in 1958, the first of several.
Glenn was a very hard worker. He was up at 2:30 AM every morning for work. He had Wednesdays and Sundays off. His family would be ready to go upon his return from work and they would cruise to south Whidbey Island for the day or weekend. Every summer they would cruise the San Juan Islands for two weeks. They enjoyed of crabbing, fishing, clam digging, and spending time with family. Glenn retired from Gai's French Bakery after more than 35 years.
After retirement, every year the whole family went to Long Beach for the Kite Festival. The family enjoyed kite flying, horseback riding and swimming in the pool. A lifelong goal was realized when he purchased his retirement boat, a 32' Bayliner with "twin diesels and a flying bridge," something he had told his young children to dream about. Much fun was had by all on the boat especially his grandchildren. 
One of the highlights of his life was the fishing in Yakutat, Alaska with his son Howard and the gang, usually over Father's Day. He would start packing months in advance adding and subtracting things from his bag. He also learned to tie flies for the trips. It started as a father and son trip and turned into an annual event that included many of Howard's great friends and Fathers. They would fish all day, eat late dinner and play poker till early morning. His last trip was the best fishing they ever experienced with 46 king salmon, the group limit, and only a few hours of fishing each day. 
He enjoyed Helium balloons so much; he bought his own helium tank which he painted orange. He enjoyed giving family and friends Mylar balloons for all occasions. This eventually resulted in him dressing up as a clown at a friend's annual fall event called Pumpkin Day. For 22 years, he was the clown handing out his trademark balloons.
Dad was very athletic, physically fit and active for his age. He loved puttering outside in his garden, and being productive. Two days before his first stroke he planted 77 tulip bulbs. 
Glenn had a great sense of humor and was always trying to keep the action going!! He loved the color orange: clothes, flowers; most everything was orange.
Glenn Gray Jr. passed away peacefully at home surrounded by his family on August 10th. He is survived by his wife Lolita; Sister Jackie (Jack); his children Debbie (Eric) and Howard; and his grandchildren Adam, Chanel and Ryan. He is preceded in death by Granddaughter Hailey Marie Gray and Sister Jean.
In lieu of flowers, donations may be made in his name to A-T Children's Project. https://www.atcp.org
A memorial service will be held on Wednesday August 16th at University Lutheran Church
1604 NE 50th St, Seattle Washington.
---
Comments
---