Mary Louise Sebrey Totten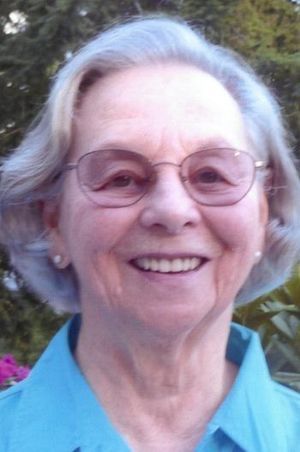 5/8/1924 - 9/9/2021
Mary was the first of 8 children born to Leona C (Landers) Sebrey and Harry A Sebrey in Louisville, Kentucky. She and her family moved to a farm in Indiana just as she entered elementary school.
As a teenager, Mary was influenced by a favorite aunt, Sister Mary Victoria, to join the Sisters of Mercy. She attended Edgecliff College, run by the Sisters. After WWII, government scholarships became available and Mary attended nursing school. She earned a BSN from Edgecliff College in Cincinnati, Ohio and an MS in Nursing at Catholic University of America in Washington DC. In 1963, she left the Sisters and joined the faculty of the University of Washington School of Nursing (Dept of Maternal-Child Health,1963–1981).
Mary was a long time member of St. James Parish in Seattle. She joined the Women's University Club in 1971 and served on the Board of Trustees for two years. She chaired several committees at Horizon House and the Women's University Club and enjoyed their art and literature classes and presentations. Mary married Bill Totten in 1971 and over the years they traveled abroad and in the US, many times with their children and grandchildren. Supporters of the arts, they regularly attended the Seattle Symphony and Opera. Bill and Mary moved to Horizon House in 1983.  Bill passed away in 2005.
Mary's family includes her sister Carlene Armatta (Will), brother Patrick Sebrey (Leann), two godsons (Robert and Paul); Bill's two daughters, Pat Totten and Cherie Grant, grandchildren Courtney Schoenwald (Josh) and Darcy Grant (Kevin Scarbery), and four great grandchildren (Elliot, Albert, Theo, and Tilda). Mary also considers her nephew Randy Chase (Nancy) as part of her close family. Remembrances of Mary can be sent to People's Memorial Co-op and donations in her memory can be made to St. James Family Kitchen, Horizon House Resident Assistance Fund, or Women's University Club. Mary's memorial mass will be held on January 7th 10:30 St. James Cathedral in Seattle.
Baby Mary

Wedding Day with Vera Fink

Bill and Mary

Christmas 2014

Kevin, Darcy, Matilda and Theo

Pat and Cherie

Albert and Elliot

Carlene and Patrick

Randy and Nancy Chase and Pat
---
Comments
---