Celebrating the life of
Roudaba Davido
February 4, 1934 - August 19, 2018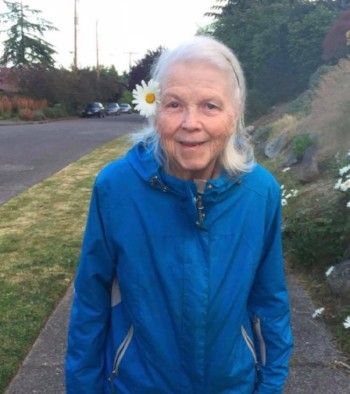 ROUDABA (BUNTING) DAVIDO was born in Tenerife,  Canary Islands on February 4th, 1934. Her father was Basil Bunting, a famous British poet. Her mother was Marion Culver, an American English school teacher. Roudaba has an elder sister named Bourtai, who lives in Olympia, Washington. She had a younger brother named Rustam who predeceased her in 1952. The name Roudaba was given to her by her father, who admired Persian poetry. In particular, he liked the Shahnameh which included the Sohrab and Rustum fable. Rudaba is the mother of Rustum, the warrior and main hero in the fable. She was the mother of all mothers, kind-hearted, generous and beautiful; an ideal our very own Roudaba lived up to.
Roudaba held many jobs in her lifetime, once being a DJ on Kauai, a bizzy bee costumed health aide on Kauai,  a substitute teacher, a waitress, a nurse and later on becoming a Nurse Practitioner. She has lived in many places as well, including: the Canary Islands, England, Madison, Wisconsin, Waimea, Kauai, Kailua, Oahu, Republic, Washington and Seattle, Washington. She went to nursing school in Hawaii and returned to Wisconsin where she worked as a Psych nurse. She then moved to Seattle where she worked at Harborview's mental health clinic and graduated from the first Medic program at the University of Washington. 
She worked at the Harborview walk-in clinic, the Pioneer Square clinic treating the homeless and addicts, the Monroe Prison sex offender unit, and various other locations. She continued her education to become a Nurse Practitioner retiring in 1996.
After retirement, she was a founding and very active member of the Rainier Valley Unitarian Universalist Congregation, where she was a member of the marimba group and the choir. She loved spending time with her grandchildren, taking them on camping trips, to plays and museums, and on many other wonderful adventures especially to her ranch every summer. She was politically active and enjoyed singing, reading, painting, socializing, hiking, bicycling, gardening, animals, traveling, and enjoying life to the fullest. She was a vivacious, free-spirited, strong, compassionate person with a big heart who was passionate about fighting for the rights of everyone and always willing to help others. She loved her family and will always be remembered for her quirky, loving and giving nature.
She married 4 times, and through those marriages she produced a beautiful diverse family consisting of every ethnicity and various cultures, which she loved and was very proud of. She transitioned peacefully surrounded by family on the morning of August 19th, 2018 and is now a shining star completing her life cycle. She is survived by her children Finn, Daphne, Rustam, Monica, Anna, Dennis, James and Manuel as well as her many grandchildren and great- grandchildren. Seward Park, La Push, her ranch in Republic and Hawai'i are some of her favorite places where she spent a lot of her time visiting. Her ashes will be scattered among those places she was so fond of.
---
Comments
---