Christopher John Middleton
12 January 1965 – 23 September 2023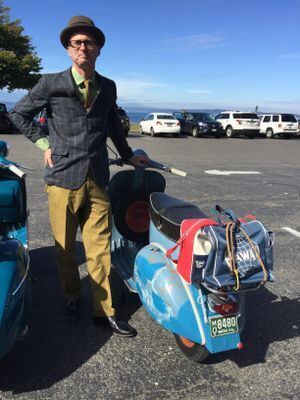 Christopher John Middleton rolled off the assembly line on January 12, 1965, in the very first month of post-boomer releases. This model upgrade is known for its elegant engineering, inspired artistry, consummate craftsmanship, deceptive capacity, and smooth shifting. 
As the product of a Boeing aircraft engineer and a Danish nurse with exceptional design sensibility and crafty know-how, Chris spent his life in the pursuit of beauty and constant design improvements, making the world he touched more functional and elegant.
Chris thrived under the loving care of his parents and two older sisters, Sally & Jane. By the age of five he met many of his best friends in his neighborhood or in kindergarten, and the group was always welcome over at the Middleton's. Fifty years later, those friendships remain deeply connected and they still recall the homemade bread, blackberry jam, marmalade, and garden vegetables that Mrs. Middleton doled out to fuel model-building, soccer games, and playing with Meccano. The highlight of Chris's childhood birthday parties featured 16-mm movies of Boeing aircraft tests with the fan favorite feature being a strip of the 747 aircraft wings being bent to catastrophic failure, which is probably still the highest cost to produce film he ever viewed. His tastes for obscure art-house and European cinema never had near the same budget as Boeing had for aircraft testing.
The Middleton home continued as the base for a wide variety of projects through the high school years. They had a rule that the kids could drink beer…if they brewed it themselves and didn't drive. This led to robust and devoted fermentation study, developing different "homeskis" including a storied batch of rose petal wine that fueled some legendary high school parties. Chris also introduced his friends to great music. His sister Sally lived in London and introduced him to 1980s British ska music. In 1981, Chris skipped a day his sophomore year and took the money his buddies pooled together to stand in line to buy Rolling Stones tickets at the Kingdome. Around this time, he and his buddies began their annual trips to Hood Canal, which continued into the present, sometimes including spouses.
Chris' design sense and project acumen grew at Chinook Middle School and Bellevue High School under the tutelage of his shop teachers.  In his other classes, his notebooks were scanty on note taking and more likely to feature sketches of sailboats. His parents surrendered the garage for a variety of car projects, including the Corvair with the rebuilt engine. The body was also stamped with Chris's unconventional tastes: he painted Michelangelo's "Hand of God" on the hood and the Two-Tone records ska man logo on the trunk. 
Chris continued his education for a short while at the University of Washington and for a lifetime at the Seattle Public Library, on the airwaves of KEXP, in the pages of The Seattle Times, The New Yorker and The Economist, and by chatting with the experts he encountered. His hands-on approach led to a lot of experiential learning and only a few under-engineered mishaps, most notably one in which the Coast Guard plucked him and a friend out of Lake Washington when his racing sailboat broke apart and began to sink on a blustery day.
Chris discovered one of his life's great loves and vocations with the purchase of his first Citroen, a 1965 DS19M Pallas. He became a disciple of its design and a student of its engineering. The aerodynamic, futuristic design coupled with the smooth ride from the revolutionary hydropneumatic suspension made it more than a form of transportation. Citroen acolytes tend to be either lovers of great design or very engineering oriented. Because Seattle's last Citroen dealer shuttered around the time Boeing threatened to do the same, Chris's lifelong bent for ingenuity and thrift met an urgent need. Local Citroen owners desperately needed someone for repairs, and with little fanfare and less money, Chris joined the shop in Interbay in the early 80s.  He learned the welding, metalwork, and mechanical skills necessary to keep these French masterpieces purring. 
Has there ever been a longer-running small business with a less entrepreneurial soul at the helm? With no business sign and no website…not even a separate business bank account…the entire enterprise rested on the foundation Chris built as a convener of the Citroen true believers. Word spread up and down the West Coast that a guy named Chris Middleton could enter into the spirit of the thing; that his intimate understanding of both the form and function of these cars could lead him to diagnose and repair the wickedest problems.  No customers were billed for all his hours, and most customers became friends.
But work is only one keen facet on this gem. Chris had many hobbies, including hiking, sailing, carpentry, architecture, music, art, off-beat movies, and reading. He was a devotee of Vespa and Lambretta scooters, enjoying attending rallies with Deirdre and his friends.
Deirdre. One can't imagine a more happily proclaimed love story. Chris carefully began his courtship with walks and talks. They arrived to one another with hard-fought self-knowledge and the confidence to bring all of themselves, no matter how vulnerable, to build a lasting partnership. Deirdre made his world bigger. In a test of his roadworthiness, she loaded him onto a plane and took him on an adventure to Ireland that was one part meet the family, one part audition as lifelong travel companion. That "date" in Ireland led to many travels both domestic and international. Chris introduced Deirdre to bird watching in Eastern Washington; Deirdre introduced him to avant-garde theater in San Francisco. They joined Chris's parents on several international trips to Denmark, France, and England. And Deirdre's parents adored Chris; how did their daughter get so lucky!  
Chris was so smitten that he set aside a lifelong aversion to all food that swims or floats and dutifully went out to sushi with Deirdre and a circle of friends for months. He proposed marriage by offering not what he could provide, but his amazing community and family. The next week at sushi, he refused her offer of raw fish and ordered something else; she'd already agreed to marry him, therefore and he would never need to eat sushi again.
They were married on August 6, 2005, under the summer sun at Magnuson Amphitheatre. Dear friend Alex officiated; everyone celebrated in the Hanger 30 workshop which Chris and his friends turned into a magical Italian piazza with custom-built storefronts, European cars, and scooters.  
Throughout the early years of their marriage, Chris and Deirdre would walk Seattle neighborhoods fantasizing about what a remodel of their tiny Wedgwood house might look like as they added two children to their family. In 2008/9, in consultation with their friend, architect Robert May, they designed their modern home with the butterfly roof. Chris's community showed up again, when he hired a contractor (a scooter buddy) to tear down the old house and build the waterproof shell. Chris would then take over as "contractor" hiring drywall guys, but also calling on his friends and family to help paint and build the kitchen. Most of the work was done by Chris himself with help from his buddies. The house stands today as a showcase of his design sensibility and his carpentry skills. 
Chris's real masterpiece is his family. Pelly was their Christmas gift in 2006, and they welcomed Henry just in time for Thanksgiving in 2009. Chris shifted beautifully into his role as caretaker and protector, insisting on being a stay-at-home dad. The Middletons were a neighborhood fixture with a stroller and a whippet walking up to preschool or the bus stop or John Rogers Elementary. On the playgrounds and waiting for kid pickup Chris collected more members of their community. He built custom mid-century inspired party favors for birthday parties and was a favorite among the kids in his life for his steady presence and reliable snacks. He was a fixture at the neighborhood Halloween potluck and could organize a group of trick-or-treaters better than anybody. There are a thousand ways he showed the children around him what it means to be a dad. 
Chris and Deirdre were able to take their family on some wonderful vacations, including trips to Ireland, England, and Denmark. They went skiing with friends over the mid-winter breaks and enjoyed relaxing on Guemes Island, exploring Tucson while visiting Deirdre's parents, and camping on Whidbey. 
Life isn't all sleek design and functional beauty. It is messy and hard. And Chris was the person right there when things were bad. He was the one his friends and family turned to in heartbreak, divorce, hospitalization, and emergencies. If your dog died on Christmas morning, if you had to run your husband to the ER in the middle of the night and needed someone to stay with the kids, if you were walking a rough path, Chris was the guy to call. He knew how to show up and offer practical help and encouragement. His generous and non-judgmental spirit has been repaid by the love and support the Middleton family received during Chris's 6 months of illness. The community he built is awe-inspiring.  
Chris is survived by his wife Deirdre (Barksdale); daughter, Pelly; son, Henry; his father, Robin; his sisters, Sally & Jane; and their children and grandchildren. His mother, Gerda, predeceased him by exactly one week. Both Chris and Gerda were diagnosed with pancreatic cancer this year, only three months apart. 
The family will celebrate their lives in a joint service on Saturday, October 21 at St Thomas Episcopal Church in Medina, WA, at 2pm.
In lieu of flowers, gifts in memory of Chris may be made to KEXP, The Healing Center, or Cancer Lifeline.
---
Comments
---