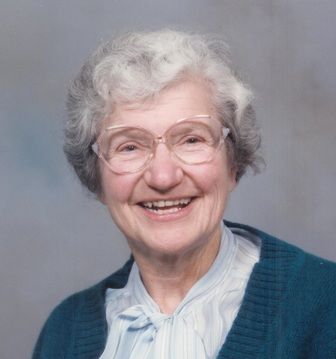 Born Margaret Staudenmaier 11/8/1919 in Rochester NY passed away in her home at Bayview Manor on 6/6/2014.
Peg graduated from Wellesley College and earned her MSW at the University of Pittsburgh  where she met Raymond S. Williams. They married and moved to Seattle in the 50's, hearing it was an accepting place for inter-racial couples and a good place to raise a family. Their first house was in Leschi and they then moved the family to Mt. Baker in 1963.
A notable thread that ran through Peg's life was her commitment to social justice and active involvement in politics. After college, she was a social worker in under-resourced neighborhoods in New York City, before becoming a full-time mother in Seattle.  She raised 3 boys and was active in school and civic life. She started what would become a life-long involvement in the League of Women Voters and Fellowship For Reconciliation, as well as supporting many other social causes.  She attended the University Unitarian Church.
Peg and Ray loved to travel, biking around Europe after the war.  They also gave their children the opportunity to see many interesting places,  introducing her sons to international travel through many summers in Canada and a 6 month driving tour of Mexico in 1968. Peg's later destinations included Russia, Greece, Peru, and Mexico, where she was climbing pyramids in her 70's.
Peg loved to garden, creating a beautiful space at her  Mt. Baker home and continuing that passion at Bayview Manor. She expressed her creativity through watercolors and pottery.  She continues to be present with us through the beautiful, functional pieces she created.
She was preceded by her mother Eva Miller, father Williams G. Staudenmaier and brother Bobby. She joins her husband of 40 years, Raymond S. Williams.
She leaves 3 sons, Raymond C.  (Sherry),  Peter, and Paul (Margaret Murphy) and 5 grandchildren-Saba, Miya, Maia, Xavier, and Anna-Simone.
She is missed, but not forgotten.
Memorial Service will be held on Saturday, June 28 from 1-3pm at the Mt Baker Community Club, 2811 Mt Rainier Drive South, Seattle, WA 98144.
Please send remembrances to the Southern Poverty Law Center (SPLCenter.org)
---
Comments
Marion Kee
Posted June 22, 2014 at 8:46 pm
Peg was a wonderfully warm, committed person and an inspiration to me as I knew her in her 80′s and 90′s. I, like many others, knew her from the former Rainier Valley Unitarian Universalist Congregation in South Seattle. She will be greatly missed.
---