Marjorie Elizabeth Anderson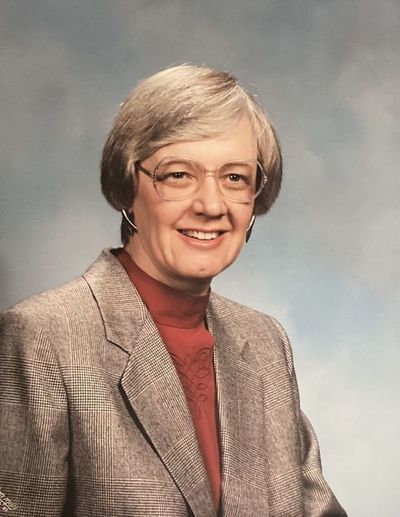 Dr. Marjorie Elizabeth Anderson died on October 11, 2021 from complications of Parkinson's disease, an illness she researched throughout her career and then lived with herself.
Marge was born to Frank and Ruth Anderson on May 13, 1941 in South Haven, Michigan and often returned to visit family, swim in Lake Michigan, and eat fruit. In 1964 she moved to Seattle and earned a PhD in Neurophysiology. She made Seattle her home and became a professor of Rehab Medicine, Physiology and Biophysics at the University of Washington. Her research on how the brain controls movement contributed to the understanding of Parkinson's disease and the development of treatment options, including deep brain stimulation. Her research was supported by grants from the National Institutes of Health and she was an elected fellow of the American Association for the Advancement of Science.
She was generous and loved to entertain, often opening her home to students, friends and family, where they gathered to garden, share a meal or sometimes even live for a while. She loved traveling, whether around the world or camping in the wilderness, and shared that love with others. She was passionate about social justice and political issues, still insisting on watching the news even as her health declined.
Marge is survived by her brothers Bill (Betty) Anderson and Bob (Jackie) Anderson, sister Nancy (Fred) Elmore, nephews and nieces Timo Anderson (Rachel Francisco,) Jeffrey Elmore, Beth (Shawn) Hagemeyer, Matthew Anderson (Stephanie Gagnon Anderson) and Christi Elmore as well as grand-nieces and -nephews Alix and Soren Anderson, Conner, Abby and Braden Hagemeyer and James and Simon Anderson. She was preceded in death by her parents and her nephew Scott Elmore. She is also especially remembered by her goddaughter Karen Gomez and friend Maritza Gomez. A memorial service to celebrate Marge's life will be held at St. Mark's Cathedral, Seattle, on Saturday, October 23, at 2pm, with the Very Rev. Steven L. Thomason officiating. In lieu of flowers, please consider donating to a social justice ministries at St. Mark's or the social justice cause of your choice.
For those unable to attend, the service will be live-streamed at:
http://www.saintmarks.org/livestream
Afterwards, it will be available at:
http://www.saintmarks.org/livestream-archives
---
Comments
---
I knew Marge both very early (well, 1964ff) and in her last decade. A life well spent.
- William H. Calvin
---
Marge, an Emeritus Professor of PBio and Rehab Medicine and a member of the Primate Center, was always kind, cheerful, reliable, constructive, principled, modest, and generous. She assembled the history of PBio that is posted on our website and served as departmental memory going back to her graduate student days in the mid 1960s. Marge was a woman scientist at a time when that was less common in the medical school, yet she served twice as Acting Chair of Rehabilitation Medicine. Marge was an expert on the basal ganglia in the primate and eventually advised in human surgeries on the placement of deep stimulating electrodes for therapy in Parkinson patients, ironically the disease that she finally died of. I will miss her greatly.
- Bertil Hille
---
My memories of Marge go back to our childhood. Our many good times in Owosso, MI included slumber parties, being part of the high school band marching through town on Friday night before the football games and spending time together at the local pizza restaurant. No matter how far she traveled from our small hometown Marge never forgot the people she knew there. In her almost yearly trips home she made it a point to visit everyone. My mother always looked forward to her visits and always had some Lebanese goodies for waiting for her. Over the years our group of friends spread throughout the country but when we got together it was like we were never apart. I am so sad right now but my many memories are a comfort to me. Marge, please tell Nima I said hi.
- Susan Francis
---
Marge was my PhD mentor in the Physiology/Biophysics Department. Marge's mentoring made a big impact on my career and whole life. As a physical therapist who wanted to become a neuroscientist, I couldn't have had a better mentor. She insisted I have the confidence to do whatever it took to answer scientific questions. When I thought about getting pregnant as a graduate student, she encouraged me and took over aspects of the research that were not safe for someone with a pregnancy. The papers we wrote together are landmark as the first to demonstrate how stimulation in the brain can improve, or impair, movement; now deep brain stimulation helps many people with Parkinson's disease. It is truly ironic that she got the disease she worked so hard to understand with her research. I remember the great scientific discussions we had in Marge's living room when she invited out of town speakers to talk with student and faculty around wine and good food. She will be missed.
- Fay B Horak, PhD, FAPTA, Endowed Professor of Neurology
---
I was so fortunate to have Marge as a mentor in my fellowship at University of Washington. I didn't know a damned thing but Marge was generous and continued to encourage me throughout my career, in success and failure. She was the Interim Chair of the Rehabilitation Medicine Department for a year which was extremely unusual - as always, she did a great job being the boss of us all. I will always be grateful to her for her support and friendship over the years.
- Kathy Bell - former mentee, former faculty colleague
---
Marge was the fun older cousin that always had a big smile and lots of laughs, making going to the Andersons a fun adventure. She was a role model for smart ambitious women to pursue their dreams regardless of the roadblocks. She always made keeping the family connected a priority with her newsy Christmas letters. We always looked forward to reading of all the adventures of the Andersons. She will be missed.
- Julie
---
I was next in age after Marge and, especially after our other siblings Bob and Nancy came along, Marge became second in command to Mom in terms of what we were and weren't supposed to do. At times that didn't seem to work as well as some of us thought it should but we gradually all figured out how to get along pretty well. We have had a lot of great times together and over the years we've made many trips out there to see and do a lot of wonderful things in the Seattle area. We are heading out again soon with heavy hearts softened by knowing what a special life she got to enjoy with friends and also share with us, her sibs and with the large Anderson clan. She was a one-of-a-kind and will also be remembered by a host of her friends and fans although, for fun, as a Michigan grad I will still call out a good "GO BLUE!" and I am sure that I will hear a responding "GO GREEN"! floating down from the (blue) sky above to the green (which is a mix of blue and gold) grass below. Thanks for helping all of us to carry on the loving family that started with Mom and Dad and will continue for many generations to come. Miss you now but look forward to hugging you back when we meet sometime in the life that follows. Peace and blessings, Bill
- Bill Anderson
---
Marge and I were grad students together in Physiology/Biophysics, sharing all those many meaningful things that happen during those times. Then we were female colleagues together — connecting during my occasional visits to Seattle and regularly at yearly Neuroscience meetings, sharing/discussing equally meaningful issues that happened along our career trajectories particularly with women during those times. Always, always, it was a highlight to see and be with her at those too-short visits; something immediately solid about our shared history and Marge's amazingly graceful, engaged, and intelligent personality. We hadn't see each at all the last 10 years or so, but, damn, her loss hits hard. I miss her. Deep condolences to her family. As you know, she was wonderful..
- Karen J Berkley
---
Marge faced this terrible illness with spunk and courage. She welcomed her out-of-town cousins once removed when I brought them in to visit. I am grateful to have traveled with her in these last two years of her life.
- Kathryn Rood - cousin once removed
---
We loved looking at those good pictures of Marge. Each one is good. My Dad, Paul, remembers her from when she was in utero and she kicked him as he stood close to his aunt Ruth . We're sitting in the very room where that happened as I write, in the farmhouse in Michigan. Best wishes to all who loved Marge.
- Laura Rood Kao
---
Our memories of our times together will always be with us. We love you Marge and thanks for the many amazing pies you always baked for our yearly Thanksgiving. Rest In Peace dearest Marge.
- Marsha, Nate, Geri & Catalina
---
My deepest condolences for the departure of our friend Margie, we met her as a great person, a great friend of Marsha and the family in Seattle, we shared beautiful moments of joy and jokes, we waited for the delicious desserts that she prepared and we admired her love of nature cutting beautiful flowers from the garden.
We shared pleasant moments in his home when she invited us to a great dinner. We also know her high academic level as a scientist and we are proud to have met her, the Peruvian family misses her. May she rest in peace and may God have her in her kingdom we pray for her soul Amen
Hernán , Patrícia y Alejandro
---