Gail W. Burk
Gail W. Burk died March 10, 2019. Gail Carolyn Kramer Williams Gloyd Burk was born June 13, 1931 and was raised in Enumclaw, Washington. Her parents were Les and Helen Kramer. She moved to Seattle, met and married Richard G. Williams, when she was 21.  They lived in Seattle and had four children Glenn 1953, Ron 1955, Nancy 1956 and Brian 1958.
In February 1968, an express lane gate, set up like a guillotine, came down on her husband, Dick Williams' car, killing him instantly. The end of July 1969 her youngest child,11 year old Brian was killed in an accident on Vashon Island, Washington. Brian died instantly.
Gail married Park W. Gloyd too soon after Brian's death and stayed married for 27 years. They traveled,  including many voyages to countries in Europe, the UK, Africa, the Caribbean and to Japan. In the winter they skied and in the summer they sailed. She jogged, she wrote, she entertained. She fought for a deeper relationship but in the end, Park left Gail for Shirley, who had with her husband sailed with them a few summers in a row, became a better fit for Park. Park left in January 1996 and married her friend Shirley. He left her angry and sad and feeling betrayed.
She survived cancer, during that broken time. She read Christian Science Hymn's during that time and is remembered running into the den in her Medina House where she had moved, after her divorce from Park Gloyd, reading a line from a Hymn that said, 'Heal my callused heart.'.
She did allow herself to heal her callused heart and Jack came into her life. They married in June 2002, when her favorite flower, the Peony, was in bloom. They had a good life together playing bridge, going to Sun River and Hawaii and Mexico and other journeys. He helped her through her golden years and was her hero to the end. They added dimensions to each others lives. They were with three other couples – the bridge group- and close friends, when her health plummeted in Mexico. Jack brought her back from Mexico early and got her home before she died.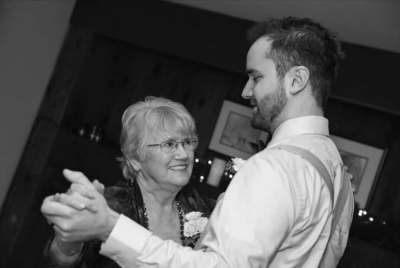 She struggled with a hearing loss and had a cochlear implant because she was deaf without it but still had a hard time hearing in a crowd. This was her bane because of her love for communication.
Gail was a beautiful person, inside and out, and she created beauty wherever she went, in her gardens, in her houses, in a room.  She was compassionate and loved everyone and everyone loved her.  She was active in the community, serving in different ways. She was a Master Gardener and at one time was a member of a Rowing Crew(Dick's Chicks). In her prime she jogged, she hiked including in Europe with Erselle Eade, gardened, was a member of Hunts Point Service League, Garden Club, the Seattle Opera Guild . She hosted many dinner parties and picnics. She loved to entertain and had a knack at planning so well that she could relax and enjoy her company.
She belonged to a book group that she joined in 1970's and that still met though through the years, though many in the group have died. The book group was an anchor of love and saw her through the valleys of her life. This group of friends created a hub for her.
Gail loved to read. She loved poetry and was a story teller at heart. She had a keen sense of humor and an intensity and passion. The people who knew her knew that they were loved.
She was proud that she raised her Grandson Brandon D. Williams from the time he was three and glad that he married Jaime and is thriving. She would tell stories of her memories of him. One such story involved an "outing" with Brandon.  They encountered and acquaintance who told Brandon, he was growing.  His response was yes, I'm growing like a flower.  She also played a large role in her other Grandchildren's (Heidi and Forrest) lives, telling them stories, reading poems and talking intimately with each. She will be greatly missed. She loved telling stories of any child she saw. .   She loved children and shared their joy. 
Her son Ronald B. Williams died in October of 2018. She was still processing his death.
She always said that she wanted to 'pop off' and she did in a way She had Pulmonary Fibrosis and it was constricting her abilities to move through this world. Her breathing got worse while in Mexico and she went down hill so rapidly that it was amazing that she made it in time to die in her home with her husband, daughter, sister, brother in-law and nephew with her when she died 17 hours after arriving home from Mexico.
 She leaves behind her husband, W. Jack Burk, her son, Glenn Williams, her grandson, who she raised Brandon D. Williams, her daughter, Nancy Brickman, her grandchildren, Heidi and Forrest Brickman, her sister, Rita Yeasting, her nieces and nephews, Also Jack's family, his three daughters and their husbands and nine grandchildren whom she loved and would tell stories about and she leaves, for now, her many friends.
She will be missed.

Her Memorial will be held at the University Congregational Church in Seattle on May 18, 2019 at 1 pm. 
Donations may be made to: Southern Poverty Law Center, Union Gospel Mission, or a charity of your choice.
---
Comments
Gail was a remarkable woman and the world is a poorer place without her!
    
Gay Kramer-Dodd
---