Richard Dion Mullins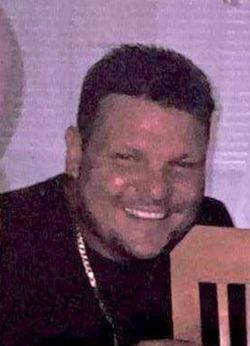 It is with deep sadness that we announce the passing of our beloved Richard Dion Mullins. Richard left us on February 18, 2023, in Seattle, for his eternal home, surrounded by his family and enormous love. His immeasurable courage in the face of illness was admirable.
Richard was born on August 3, 1974, in University Place, Washington. He was loved and adored by all who knew him, bringing excitement and delight wherever he went. He was a determined and hard-working man. He spent his younger years as an avid fisherman in the Alaska vicinity, specifically on the Bering Sea. After returning home, he joined the Laborer's Union. 
He had such skill for his beloved hobby of vintage auto restoration. His keen eye for detail breathed new life into old cars. He rebuilt his truck and boat- a major restoration, with the support of Jim. They created what Richard called "a masterpiece!"
He loved to  create memories with his family. In his spare time, Richard loved to fish in the Cedar River, always taking the girls with a picnic lunch. He enjoyed cooking and barbecuing for friends and family. Richard also had a love for rock music. He always attended the local street fairs, specifically Issaquah Salmon Days and frequented Tukwila Family Fun Center with his daughters. 
Cherishing Richard's memory are the joys of his life, his three daughters:  Chloe Mullins, Bella Responte and Olivia Mullins. He is also survived by his beloved mother; Nora Ann Mullins, brothers; Raymond Mullins, Clyde Garza, John Garza and sister Sally Garza, several aunts and uncles in the greater Seattle area, and many wonderful nieces, nephews and cousins. Richard was predeceased by his father, Ramon Garza, Jr.
Although our hearts are truly broken and life will never be lived the same, Richard will forever dwell in our hearts. 
Carry on Down the Road Richard…
"He will wipe away every tear from their eyes. There will be no more death or mourning or crying or pain, for the order of things have passed away!" - Revelations 21:4
---
Comments
Richard is loved and will be missed. We will see him again!
Linda Bolle
---
My condolences to the family my aunt Nora and cuz Raymond Jr. And Richards immediate family. And the Mullins family . You are in heaven with our father God ! Richard may you RIP. . you will be dearly missed. Til we meet again cuz. From the Garza family in San Antonio, Texas.. God bless all...
Frank. B Garza Jr.
---
Our Prayers and condolences to all of Richard's loved ones. Our deepest sympathies to Nora, Raymond, Chloe, Bella and Olivia. Richard, May you rest peacefully as you protect your girls from heaven. Sending prayers for comfort to you all in the days ahead as you navigate your grief. With love and God Bless.

Cathee, Michael & Joleen
---
R.I.P baby bro. I'll see you when I see you .

Clyde Garza
---
Richard you are going to be so missed. I love you and will always cherish what we had together!!Thank you for giving me the best gift of all my beautiful Daughters Bella and Chloe .Much love ,Comfort , and peace to his Mother Nora brother Raymond all of Richards family and his daughters.Rest peacefully.
Tina Responte
---
I love you dad, forever and always. I miss you more than anything. I wish you here with us. Rest easy dad.
Bella Responte
---
Our thought and prayers to Richard's family and his children .may you find peace and comfort in your family and loved ones. I know that Nora Raymond Chloe and Bella will always have a guardian angel looking over you.
Tanya Responte
---
With my deepest sympathies to My friend Nora and family. Our prayers are with you all.
Richard is in a better place now in the arms of our Father God. We all feel the pain of this loss but he's looking down at us feeling sorry for us cause he's in a better place.
With all our love and god bless.
Tom and Lisa P.
---
I will miss you my friend we been friends for 30 year atleast and i will never forget you
Jason Keane
---
My Dearest Richard,
It's now almost 4 months from the day you went to be with Jesus. I want to talk with you, hear your voice, your laughter. I'm looking for purpose, vision answers. I realize I will have to wait until we meet again. I love you so much, my heart hearts, my mind won't stop racing.
I feel you with me, Thank You.....

NM
---