Theresa Kwan Fellows
July 28, 1945 - January 6, 2022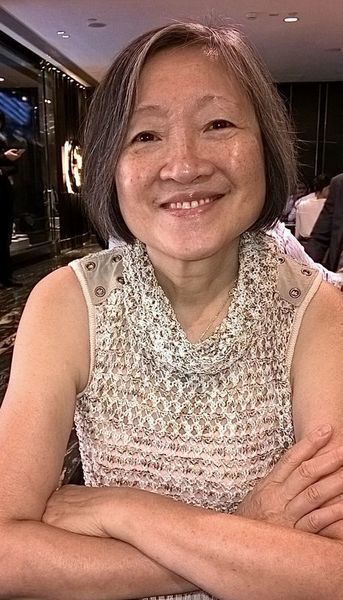 Theresa Kwok Kiu Kwan Fellows, 76, died peacefully, on Thursday, January 6, 2022 in Seattle, surrounded by her family.
Theresa was born on July 28, 1945 in Hong Kong, the sole daughter of Kwan Kim Sing and Kwan Lam Suk Yin's five children.  She found sisterhood with her two female cousins, Suzanne and Georgina, whose families joined Theresa's to become one large extended family.  Theresa attended elementary and high school at St. Mary's Canossian College in Hong Kong, where she was lovingly nicknamed Cutie.  She showed promise in creative writing, and after winning a contest for an English writing competition, she decided that she could tackle high school and college in the United States.  She applied for a passport without the knowledge of her parents and notified them of her pending departure against their wishes once she got accepted into Mount St. Mary College in Newburgh, NY.  Theresa charmed all her new American friends and continued her education at Georgian Court College in Lakewood, NJ, spending holidays with Cousin Philip Chan's family in Long Island, NY and a summer waitressing in a diner on the Jersey Shore.
After returning to Hong Kong, Theresa met and married Dr. Lawrence Chan with whom she had two daughters.  During that time, she became active in pushing for recognition of spousal abuse in Hong Kong with media and radio educational promotions.  She also worked extensively for factory worker rights in Kwun Tong.  When her marriage ended, she spirited her daughters from Hong Kong so they could get the same educational opportunity as she did.  This time, she followed her brother, Bill and his young family to Chicago, where they helped Theresa's family acculturate.  When her daughters got accepted into boarding schools on the east coast, she decided to follow them, settling in Rhode Island, close to her other two brothers, Bernie and Dick and their families. With the kids out of the house, Theresa decided to further her education by enrolling in the Master's program in Social Work and Counseling at Boston University.  This degree led her into a 20 some year worldwide career in the field.
The stars aligned when Bill's friend from Chicago, Peggy Tan, introduced her to a co-worker, Steve Fellows from Billings, MT, who told Peggy that he would like to meet someone with two daughters.  As Peggy recounted, "She was the only woman I know who is crazy enough to fly with Steve in his little airplane."  The couple married less than a year after they met, logging many hours in Steve's plane; thus, commenced an around-the-world adventure from New York City, to Hong Kong, then to South Korea.  The couple finally settled in Seattle, where they have spent the last 16 years waltzing, salsa and tango dancing into a new community of friends.
Theresa's life was defined by her commitment to helping others, an example set by her parents.  Not only did all her friends and family sought her for help and advice, but Theresa always worked with local social service and counseling agencies wherever she lived, benefiting mostly Chinese communities throughout the world.  Theresa's other loves include eating gourmet foods in noteworthy restaurants and occasionally, the dingy hole-in-the-wall that passed her standards.  She traveled around the world with friends and family, always impeccably dressed like a "style icon".  As a patron of the arts, she attended many concerts and performances around the world.  She also enjoyed taking long walks and even longer drives wherever she chose to travel, even if it took her some time to figure out which side of the road is the right side.  Raised as a city girl, she nonetheless embraced all the outdoor activities inherent to her Montana in-laws, such as riding, hunting and skinning deer.  Throughout the years, she and Steve hosted numerous huge dinner parties, opening their home to friends and family alike.  As the years passed, she transformed into an adoring grandmother and doting great aunt, as well as a wonderfully patient caretaker to her mother.  She will be missed most for her independent spirit, generous and patient nature, as well as her beautifully serene smile.
Theresa is survived by her husband, Steve, daughter Charmaine (Hery), daughter Charleen (Tim) and grandsons Leo and Oliver.  
In lieu of flowers, the family is requesting donations to a favorite charity of your choice.  
A celebration of Theresa's life will take place virtually on February 5, 2022 at 5pm PST.  A link will be forthcoming.
---
Comments
What a beautiful obituary. Theresa's daughter Charmaine and I became good friends in college. I always looked forward to campus visits with Theresa and Steve or when we gathered at their Brooklyn home. She had a very special way of making us feel welcomed and often used incredible meals to spark fun, lively, and memorable times together. My deepest condolences to Steve, Charmaine, Charlene and their families.
- Christopher Borg
---
Very well written - full of information and highlights of Theresa's life (and even humour on her driving skill). The obituary reflects Cutie's (schoolmates' nickname for her) wonderful spirit and love of life which touched and influenced everyone that has contact with her, whether remote or close. She is also beautiful, with a smile that melts my heart. I will miss her and think of her frequently.
Longtime friend Linda Tong from Hong Kong
---
Cutie left us all stunned with sorrow. We have learned from her to embrace all good moments in our lives. She was a gift to us, then taken, with no warning. Months ago, we enjoyed her messaging, driving with Steve, between Oregon and Seattle, reporting about weather and traffic, sometimes knowing that her favorite sushi was awaiting. She beamed with pride about the fact that she enjoyed cleaning up while Steve cooked delicious menus. She told us stories about Charmaine and Charleen, and advised us never to meddle with our children and their lives. We followed her trip with Charmaine to HK, to honor the grandmother, even including her hotel meals through quarantine. She was her jolly self and epitome of good health!
Most of us started school with Cutie in our preteens. Cutie and I became fast friends when we both ended in the US the last year of high school. We were together quite a bit, into our young adulthood. We met from time to time during various stages of our lives. She was the 'coolest' among us, and forever a fashion icon, which I looked up to. Yes, her signature smiles, that ray of sunshine, now dimmed, but never forgotten. Rest in Peace, dear friend, WE MISS YOU!
 
Yvonne Woonyu Lee Ng
---
Dear Theresa
The world has lost a wonderful person. But we know you're in a much better place.
The memory of your friendship, your beautiful and serene smile will live forever in my heart and mind.
RIP dear friend.
Teresa Ho
---
Theresa was an amazing and inspiring woman with a beautiful soul. She will be missed by so many. As she was a testament to her parents' influence, her daughters are a testament to hers. Being friends with one of her daughters, Charmaine, for more than 30 years, it is clear to me that Theresa's love and care for others, her adventurous spirit, and her determination to make a difference in this world in whatever way possible will live on. May she rest in peace and her memory live on through all of us who have been graced by her time on this earth. With love and gratitude.
Amisha Pandya
---
I met Cutie at a young age. We went to the same school in Hong Kong.
I was very pleased to have reconnected with Cutie when she moved to Seattle WA. We used to meet for lunch.
Cutie was a beautiful, kind and considerate human being.
I will always cherish memories of our friendship.
"Nothing is really lost to us as long as we remember it."
 
Caroline Hadlow
---
Cutie and I were classmates from a very young age at St. Mary's in HK. We were also Girl Guides on the same Troop. We all shared great times and adventures together till she left to continue her studies in the US.
We did have a few reunions till we all got married and I kind of lost touch with her from the 70's thru 80s., unfortunately.
Thanks to the great technology age of the 90s, we got reconnected. The dawn of the age of "Instant Gratification" coined by our dear Sister Ida from St. Mary's!!
That was shortly after Steve and her got married. I could feel the joy and happiness in her words from the emails we exchanged. (Steve, she cherished every moment with you, even flying in that little plane. )
We have enjoyed our encounters in HK whenever we happened to be there at the same time. Since then, we have kept up with our friendship, thanks to social media.
I am especially grateful, that my husband and I had the opportunity to meet Steve, Charmaine and Hery some years ago when they visited New Mexico.
Cutie will be greatly missed, she already is.
She will always be remembered as that girl with the "sunlit smile"!!
Missing you already.

Bhagwanti
Bhagwanti Melwani
---
I will always remember you as the first person I met in Hk with a soft spoken voice and beautiful smile.
RIP my dear friend.
Susan Sng
---
What a beautiful tribute of this inspiring soul.. and this photo wholesomely encapsulates her!
I've known Cutie for over three decades. Although we haven't kept in touch, my children Sandra and Dennis have frequently kept close contact with their 姑媽 and of course her children, Charmaine & Charleen! And boy! do they look up to their cousins!!
Especially Sandra, she obtained her private plane pilot license (at 17) because of Steve and his family in Montana. Forever Grateful. It's comforting that Sandra did spend some quality time with her aunt 姑媽 and cousins in Seattle right after Thanksgiving.
她的外向開朗、 心地善良、altruistic, 聰明伶俐、 善解人意、思想開放、 積極進取的一位「巾幗」女豪傑,how appropriate her parents had named her "幗翹". Heroine. Intelligence.
May your soul Rest in Peace- Cutie
With much gratitude and love,
Cathie Ho Nadeau
---
I have known Cutie for over 60 years from high school at St Mary's Canossian College. Those were the good old days when we were young and carefree. After graduation, we lost touch till we met again in 2015. Nothing had changed and we chatted non-stop again. She was a cheerful person, strong-willed, caring, considerate and always wore a smile on her face.
Your spirit will live forever. Rest in Peace, my dear friend.
Do not stand at my grave and weep.
I am not there, I do not sleep.
I am a thousand winds that blow.
I am the diamond glint in the snow..
I am the sunlight on the ripened grain.
I am the gentle autumn's rain.
When you awaken in the morning hush,
I am the swift uplifting rush
Of quiet birds in circled flight.
I am the soft stars that shine at night.
Do not stand at my grave and cry,
I am not there, I do not die.
- Author Unknown -
Daisy Tsang
---
Dear Theresa,
thank you for a wonderful 63 years lasting friendship, which began at high school writing to each other as pen pals. Living on different continents for many years it wasn't possible to meet, but our relation deepend more and more, all the more when we were able to spend times together. I'll never forget our long talks sharing thoughts and feelings of great depth as well as our joyful experiences.
Having got to know you, Charmaine, Charleen and Steve I appreciate as a wonderful gift, which has enriched my life. Your passing away is a great loss for me and for all of your beloved, but your presence will always be in our mind.
With love,
Sigrid
---
Cutie, ( as we called her at the COURT ) was and always will be wonderful ! Her smile would light up a room..filled with happiness and delight in every day; learning more She had this great zest for knowledge..and friendships for each one of us in the class of 1968.
If you knew her, well, you loved her. I extend my sympathy to her family..she made a real difference in this world, for sure.
Prayerfully,
Joanne Nelson Adams
Class of '68 GCC
---
I cannot even begin to accept the sad reality that my long time friend Cutie has left us. She was such a kind gentle soul, with her face constantly lit up by her sunshine smile.
I reconnected with Cutie in the early 1980's. The scene is still deeply edged on my mind. One day as I was emerging from the Wellcome Supermarket in Kowloon Tong, with my groceries and was making my way to wards my car, I spotted a familiar figure. It was Cutie, who was about to get into her car! That was such an ecstatic encounter!
Throughout the years I was fortunate enough to have the opportunity to visit Cutie and Steve when they resided in New York, in Korea and eventually in Seattle. I treasure all the precious times we shared in Hong Kong when they visited,
and that memorable Mediterranean cruise and the trip in Paris. All these wonderful memories will stay with me forever.
You are sorely missed my dear friend.
Love
Liz
---
Theresa was a gentle and cheerful person. A good listener with abundance of love and patience. We are so sorry to have lost her but her great personality will stay forever in our mind.
Theresa was the cousin of my wife Olivia. Theresa was always the key person who arranged gatherings among families and relatives while she was in Hong Kong. She made us stay in touch and we appreciate it.
Steve, we are so sorry to hear the sad news. Please accept our sincere condolence. Theresa lived a complete life with your love for her. Take care and stay in touch.
 
Bernard Lam and family
---
Cousin Theresa (翹表姐)was a person always wearing a great smile on her face. When we were kids, we met her always at Chinese New Year family gatherings and the birthday dinner parties of her parents who were our late auntie and uncle (姑媽 姑丈). These gatherings were fun time of our childhood as there was always varieties of good food. Cousin Theresa was always the one approaching us with a warm smile.
When auntie was at her old age, Cousin Theresa always came back from Seattle and stayed in Hong Kong. Cousin Theresa always tried to arrange family dinner gatherings of which I aware it was indeed a great job that Cousin Theresa had accomplished to have had made her mom happy.
It was sad to have lost 翹表姐 as she had been a great cousin to us.
Olivia and Esther (麗華 潔華)
Lam Lai Wah Olivia
---
My aunt Theresa, which I called Ah Yee has always been a cheerful and positive woman to me. I remembered the days in my childhood when our families had dinner gatherings every month, on all festive days and ancestor worship together… she had so many funny stories to share that kept us amazed! My most favourite times as a child were Ah Yee invited me to sleep over at her house with Charmaine and Charleen, and she took good care of me and ensure I felt at home. Later Ah Yee and my cousins went to the US and we seldom see each other.
When Ah Yee came back to Hong Kong, we always met up. She was wise and fun, and she always bring joy to everyone around her. I was also impressed by Ah Yee and Steve's passion for life, their enthusiasm for gourmet eating, dancing, traveling, hiking, etc. The way they got along and integrated their likes and hobbies into each other's lives was a paradigm for all couples.
Ah Yee, the moments with your presence were always so enjoyable which I would cherish forever. We will always miss you dearly. May you rest in peace.
 
With love from your niece, Joyce
---
No words could describe the loss I feel. Theresa was one remarkable woman with immense patience, kindness, generosity, perseverance and resilience. I will always remember the years we lived under the same sky in Illinois, New York, Hong Kong and Washington.

Rest in Peace, my dear friend!

Again, our deepest condolences to Steve, Charmaine, Charlene and the Kwan families.

Peggy Tan and family
---
Cutie was a role model in every way…kind, caring, joyful, strong, positive… My husband and I extend our heartfelt sympathies to Cutie's family. The Celebration of Cutie's Life last evening was a beautiful testimony of Love…, & thank you, Cutie, for being an amazing role model!!
Peace,
Leslie Dyer Poltrack - Class '68 GCC
---
I too am sorry and inspired reading this obituary though i didn't know Theresa in oerson. This message is for her husband and daughter Charmaine and Charlene. I found something that may have belonged to Theresa at the estate sale and would live to get in touch to return it to the rightful owner. Please rash out to me at my email address. Thank you and my condolences for your loss.
 
Tuyet-quan thai
---