Patricia Ulibarri Arcorace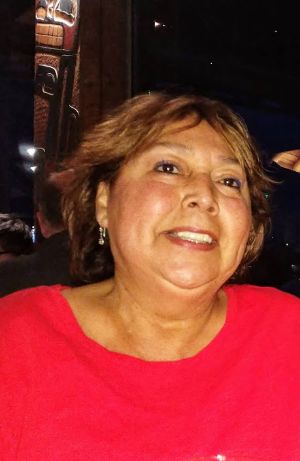 Beloved mother, grandmother, sister, cousin, aunt, and friend, Patricia Linda "Patty" Ulibarri Arcorace succumbed to heart failure while fighting pneumonia in the early hours of March 19, 2019. She had a history of kidney disease, spending almost two years on dialysis and undergoing a successful transplant on January 7, 2019.
She is now reunited with her mother, Mary Hanible, husband, James Frank "Mickey" Arcorace Jr., father Henry Kelly, step-father Alex Hanible, brother, James "Jimmy" Ulibarri Sr, sister-in-law Ayshia Ahmed, and nephew Jesse Ulibarri. May they all rest in peace and harmony.
She is survived by daughter and son-in-law, Maria Arcorace and Bryce Weaver, son, daughter-in-law, and grandson, Tyrone, Mona Rose, and Andre Arcorace, brothers Leroy and Robert Ulibarri, Joe Hanible, and sisters Rosemary Ulibarri Terry, Juanita Banks, and Connie Hanible, and many nieces, nephews, great nieces, and great nephews.
Patty was born June 5, 1956, in Seattle, Washington. Throughout her lifetime, she lived mostly in Rainier Valley neighborhoods of Seattle and in Renton. She had many lifelong friends from the family's Findlay Street days. She lived most of the last 12 years of her life in Capitol Hill, with daughter Maria,  son-in-law Bryce, and her grandcats (and other stray animals she always fed!). There was lots of love and laughter in the house, a very good family life, with Patty at the household helm. Team Weavarachi forever!
Patty was a natural caretaker. She cared for many children of family and friends over the years and they have very fond memories of the fun they had at her house and the deep love they felt from her. She cared for her mother and her husband at the same time when they were both ill with serious medical conditions. She drove a summer school bus and later started caring for older adults as a home health care aid. She got particularly close to her clients Dominic & Midge before they passed.
Patty was a hard worker. In addition to the taxing demands of child care and caring for elderly and sick adults, she had previously owned a cafe with her husband, Mickey, and later, they started a construction company, mostly installing rain gutters. In recent years, she focused on running the household, doing the bulk of the cooking, cleaning and shopping, allowing both Maria and Bryce to complete school and make mid-life career changes. She and Bryce also remodeled the condo, installing a kitchen, flooring, bathroom upgrades, and painting. One of her main nicknames was the "Energizer Bunny".
If Patty loved you, she truly had your back, through thick and thin. During the major recession of the 1970's, she and Mickey housed multiple family members and everyone made it through those tough financial and emotional times, while managing to have lots of fun and creating memories to last a lifetime. She was the biggest champion you could have - if she knew you had a goal, she would do everything in her power to help you get there. This extended to people she did not know, but loved, nonetheless. She was a strong and outspoken supporter of policies that would help downtrodden and struggling peoples. She supported health care for all, both physical and mental, migrant workers support, native rights, a livable wage for all workers, and environmental protections. She truly wanted this world to be a better place for all of us. Until she began dialysis, she would make 100 sandwiches weekly to be delivered at night to people on the streets of Seattle.
She loved to laugh and dance and talk about good times and funny stories from our collective past - she kept the deceased loved ones alive by telling stories and cleaning the headstones at the cemetery. She also kept a rose bush outside of the condo, with the individual roses signifying each of our loved ones.
She was a truly special woman, who loved deeply. She touched many lives and leaves many great memories in the hearts of those people.
---
Comments
God bless, and RIP
    
S Ahmed
---
Love you, lady! I know you are surrounded by loved ones lost, reunited and resting in paradise. <3
Maria
---