Diana Sigalla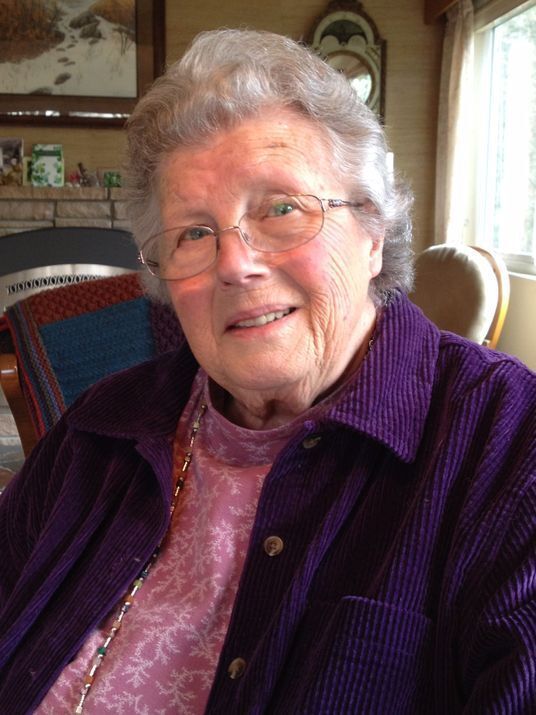 Diana Sigalla, born Sheila Diana Screech, passed away peacefully at the age of 88 on June 5th, 2022, in the Bellevue home where she had lived for 62 years. Diana would laughingly say that she was called Diana rather than Sheila because when she was in trouble as a child she was called Diana, and the name stuck. Diana went on to cause good trouble, caring deeply for many causes, particularly those related to her love of nature. She is well known for her generous and kind spirit. Even in her last days, she thought about and cared for others before herself.
Born in Barnet Hertfordshire London on July 11th, 1933, Diana's family soon moved to Wales to escape World War II. Diana loved Wales, where she grew up exploring the countryside. Her memories included gathering eggs, teasing nannies, and the night when the family home was bombed due to the target-like arrangement of rose bushes and cement paths. Later, after moving to Somerset, her love of nature grew. She and her sister, Moira, rode ponies on the moors, and alone together took camping and biking trips.
 
Diana attended the prestigious Cheltenham Ladies' College where she earned the Greenop Violin Medal for her violin playing. She later attended Guy's Hospital in London, earning a degree in Radiography, where she graduated as the top student. She continued to work in radiotherapy before marrying.
Diana and her husband, Armand, moved permanently to the United States in 1959, where she met her life-long friend Alma Blankenship. Diana never lost her British accent, but she was proud to be a naturalized citizen and voted in every election. 
 
Diana was a devoted mother, grandmother, great-grandmother, and friend to those around her. Her greatest joy was raising daughters, in a rich environment of activities, music, camping, and "after-school snacks." As both a Girl Scout leader and PTA president, she introduced creativity, exploration, and crafts into the lives of those around her, where among other things, she mastered photography, book binding, nature, and cake decorating. The dog of her life, Teddy, was part of many adventures.
 
After years of donating blood and helping to find other donors, after her children were grown, Diana worked as a volunteer coordinator for the Puget Sound Blood Center. Diana donated over 70 gallons of blood during her lifetime and was sad when her age made it unhealthy to continue donating. 
Diana helped raise her local grandchild, singing, sharing a love of reading and cats, and introducing him to a love of computers. Diana cared for many cats, including several strays who found her. She enjoyed theatre, her garden, squirrels, birds, and racoons.
 
Enthusiastically enjoying life for as long as her body would allow, Diana would want us to thank the wonderful caregivers that gave her comfort, love, and quality of life in her final years.

Diana is survived by her four daughters, Magda Hitzroth, Linda Hedges (Dan), Sandra McClure (Andy), Fiona Sigalla (Bob Westgate), and Catherine Murphy (Lonnie), who she considered her fifth daughter. She is also survived by grandchildren, Ian Cook Westgate (Jessica), Kelly Westgate, Bronwyn Westgate (Tyler), Trevor Hedges, Shannon McClure, and two great grandchildren (Lachlan Westgate and Lillian Cook Westgate). 

She was preceded in death by her brother Guy Screech, and is survived by her sister Moira Eileen Banman, many nieces, nephews, other family members and friends.
Diana asked that anyone wishing to send flowers or donations in her memory, instead plant a shrub or tree "any kind, any place!"
---
Comments
Beautiful story of a beautiful woman my friend Diana Sigalla.
Brenda Kulfan
---