Helen Comport Olson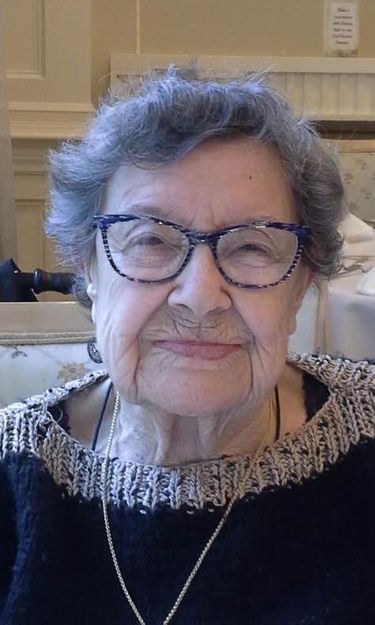 Our beautiful, amazing mother, Helen Comport Olson, passed away peacefully on October 3, 2020 at 101 1/2 years of age, still smiling until the end. Her life was book ended by two major pandemics: the Spanish Flu and the novel coronavirus. 
Born in 1919 in Glasgow, Montana, and raised in Minnesota, Helen attended Hamline University, where she met her husband, Duane David Olson, as well as many lifelong friends. They were married six weeks after Pearl Harbor, then separated for three years while Duane served in the Army in Europe. During that time Helen worked for the customer service department of Montgomery Ward, writing letters back to customers who returned catalog items, and taught school in Morton, Minnesota. After the war, Duane worked for the 3M company for 40 years in various parts of the country, including the Northeast, Illinois, Minnesota, and California. They raised five daughters along the way, as well as multiple cats and dogs. Helen always said they were trying to replace the men lost in World War II by having so many children, but they only managed to produce girls. As well as running the household, she sewed, knit, played bridge, read, was active in church, and taught her girls to sew, knit, and play cards.  She often made matching dresses for the girls, and produced dozens of handmade sweaters, while her favorite singer - Frank Sinatra - or her current major league baseball team played in the background.
Dad retired from 3M in 1980, which led them to Port Ludlow, Washington, where they made many friends and had a vibrant retirement life. They traveled broadly, often attending Elderhostel programs. Dad died in 1997, and in 2000 Mom moved to the Gardens at Town Square in Bellevue, where she lived for almost 20 years. She often said that, while she had loved living in the country, she also enjoyed the hustle and bustle of Bellevue from the fifth-floor window of her apartment. There she continued with her hobbies; she started a knitting club, joined two book clubs, volunteered at the public library, played bridge, was active in the church, was president of the residence council for a time, and ran the retirement home library.  
She was well loved wherever she went, always looking at the bright side, always greeting everyone cheerfully, easily making friends and welcoming newcomers. In her eighties and nineties, strangers who met her often said "Oh, she is so cute." She was a dandy dresser, spending hours choosing unique and colorful fabrics for the dresses, skirts, and blouses that she made, near the end with help from her daughters.   
During her final 1 1/2 years she lived in a wonderful adult family home, Sunshine Care in Seattle, where again she was so well loved and so well cared for. She enjoyed the cat, dog, and young children that were part of the household, and greeted her meals with "Oh, that's lovely" until the end.   
Helen, as well as her mother and daughters, suffered from Restless Legs Syndrome (RLS), a neurological condition that causes inadvertent movements in the limbs. At one point, she and her daughter Kristin Carlson and granddaughter Kathryn Dolesh worked with the Restless Legs Foundation to make a public service announcement raising awareness about the condition. In addition, Helen and all of her daughters participated in the study that identified the gene that causes RLS. 
Helen's survivors include her five daughters: Janna (David) Gies of Charlottesville, Virginia; Gretchen (Chuck) Shively of Seattle; Margi Olson (Peter Weill) of Melbourne, Australia and Boston, Massachusetts; Kristin (Chuck) Carlson of Grove City, Minnesota; and Karla (Robbie) Robinson of Ventura, California, plus 10 loving grandchildren and 13 adorable great-grandchildren.  The family will hold a celebration of her life some time in the future.  In lieu of flowers, we request donations in her name be given to Restless Legs Foundation.  or  Awake Church in Seattle http://www.awakechurch.org/give, where her grandson is the pastor.
---
Comments
I was fortunate to meet Helen at the Gardens in Bellevue and she frequently joined our Sunday family dinners. It was an honor to know her and we all delighted in her good humor.
    
Cynthia Hickey
---
When Helen and family lived in Glen Ellyn, Illinois I was fortunate to spend lots of time in their loving home. Mrs Olson was always so kind, welcoming and fun! She raised 5 lovely daughters, lived life to the fullest and sure will be missed. Our sincere condolences to all.
    
Chris Spears Ward
---
Met Mom Olson in 1967 when she hosted a party for her daughter, Kristi's friends. Helen's face was wreathed in a smile as she welcomed all her daughter's friends into her loving and warm home. It was girls, girls girls and more girls! We all noticed Helen's hands were never still. How could they be raising 5 girls? She was impressive as she navigated w the ease her knitting needles/sewing machine while turning a page in her book at the same time.
I can just imagine the lively celebration in heaven of Helen's life. Duane will be leading the parade. Instead of 76 trombones there will be 101 trombones with Helen's many many friends in line to welcome her home—who, so many btw decided to beat her to the pearly gates.
So happy to have known this fine, wise, kind, talented woman and to have her daughter, Kristi as our dear, lifelong friend.
Condolences to all in Mom Olson's family.
    
Colleen McKay Martin
---
She was the best Grand Nana I could ever have!
- Sahali
---