Helen Frances Brumbach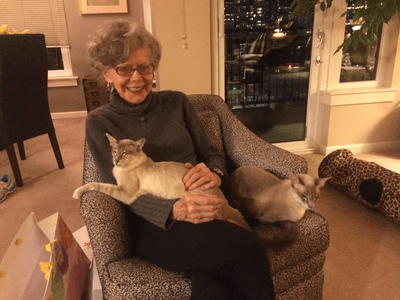 Helen Frances Brumbach died on Sunday, January 15, 2023 of heart failure at the Mirabella Skilled Nursing Facility in Seattle, WA. Born in Index, WA on February 29, 1924 to parents William Sr. & Elna Priestley, a pioneering gold mining engineer and his wife, she lived to experience her life through a remarkable 98 years, 10-and-a-half months. She was the youngest of three sisters and one brother who were all raised on the outskirts of Skykomish, WA in their house near Miller River, situated far below two gold mines being operated by her father, the Apex and the Damon. 
The running joke in the family is that she always matched her age to the actual number of birthdays she had. Being a "Leap Year" baby and actually born on February 29, we can say she left us at the ripe age of 24-and-three-quarters.
She is survived by her three sons and two daughters-in-law; Edwin, Jr. MD, USN (MC) Ret. & Debbie Willgress, Jon & Paula Brumbach and Eric Brumbach, along with five grandchildren; Benjamin & Andrew Willgress, Sydney (Brumbach) Jordan & Jon Brumbach, Jr. and Coen Brumbach. She also left behind eight great-grandchildren. She married twice, first to Edwin Willgress, Sr. and later to Raymond Brumbach, both who passed before her. 
She worked at the Seattle Post-Intelligencer, at an independent optometrist's practice and at the University of Washington throughout the course of her life while being a homemaker for the bulk of the time between the years of 1944-1977 to raise her family. After that she returned to finish her education at the University of Washington. She received her Bachelor of Arts Degree majoring in Communications and became a member of the Phi Beta Kappa Society.
There will be a small private service in the months ahead for the closest members of her family. Flowers and cards are not necessary but donations can be sent to  The Nature Conservancy, Providence Hospice or Peoples Memorial Association. Thank you.
---
Comments
---