Cecilia Cloud Whitman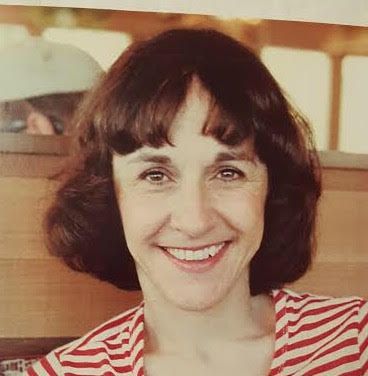 She sang opera. Randomly. Anywhere, everywhere belted out random passages of song in her operatic voice. On the escalator in Frederick & Nelson. In the supermarket. On the neighborhood walks (as she "liberated" the neighbor's roses). Embarrassing her 4 children constantly. Fitting, as her Italian mother always expected her to be a famous soprano singer, so random acts of song worked in lieu of that aspiration. When you think of it, what an expression of joy - moments of pure freedom she must have had as she gathered in her breath to burst out in song.
That was Mom. Disguised moments, expressing her fearlessness and individuality. Her children learned this from her; their freedom to be individuals.
Celia Whitman led a busy and accomplished life, never a resting moment, it seemed. She was born in Chicago Illinois, eldest daughter with three younger siblings, Dona, William and John. She looked out for them as her parents settled in Greenwood area, where they spent their summer free time at Greenlake and working in the family produce store. She graduated from Lincoln High School and then went on to University of San Diego, first minoring in Drama, then back home to graduate from the University of Washington with a Poly-Sci degree, Education minor. She married Edwin Dale Whitman at age 21 and had four children by the age of 30: Mitchell, Carrie, Brett and Eve. She raised their four kids in Normandy Park and co-ran the family schools, Rich Whitman I & II, all the while studying for her Masters Degree in Education and eeking out a couple well deserved trips to Ireland & Austria/Switzerland with a friend, which spurred her on a lifetime love of travel.
Celia, newly single in 1976, moved to the Wallingford neighborhood in Seattle. She taught elementary school for the Bellevue Public Schools and ended her career there as a Reading Specialist. She liked this role - having made reading a big part of her children's own lives. During the summers she also ran a popular school program called Operation Exploration. She was a dynamic and interesting teacher and shared once that a parent, upon viewing her classroom, said "it looks like chaos in here" but mom said she knew what was happening with every student and wanted them to experience learning in a fun and compelling fashion. She firmly believed that education was the key to life fulfillment and achievement and she never lost her sense of curiosity and passion for learning.
Celia re-married in 1979 to her professor husband, William Etches and they enjoyed their life of shared academia, entertaining and travel for the next 13 years until his passing, in 1991.
She taught in England for a year on a Fulbright Scholarship and while there, traveled extensively throughout Europe. Following retirement from teaching and Bill's passing, she bought a house on Greenlake, a favorite area of hers to walk, play tennis and even golf at the little Par 3. She was an avid investor in real estate, became a realtor for several years, joined a stock investment club, and had fun with risky stocks. She spent much of her time planning long excursion trips around the world, hitting every continent, sometimes traveling alone or with her siblings or her dear friends, all of whom she so loved and valued.
And buying art. Large ground sculptures were a favorite of hers, but all contemporary art was a passion. She was a true "collector" and was an Art Docent for the Seattle Art Museum for a time. She was a devoted Performing Arts supporter and had season tickets to the Opera, the Symphony and Ballet. Her children swap stories of how long it would take them to fall asleep while at the opera - she tried to culture them and they did enjoy it... for about 15 minutes. She also loved to dance, and you'd see her at the Seattle Center House or The Elks, dancing away while batting her eyelashes at all the men who would follow her around like puppies, hoping for a turn with her on the dance floor.
She believed in serving in her community and volunteered extensively, becoming a Guardian Ad Litem during her retirement. She was a longtime active member of University Unitarian Church and a proud Democrat who was fearless in sharing her opinion of our elected leaders and legislative issues.
She loved her five grandchildren and was very proud of them and their accomplishments, almost all excelling in Youth Symphony - the music near and dear to her heart. Jordan, Lauren, Ellis, Emilie and Katrina. She made sure those grandchildren had experiences to remember her by: hosting annual all-family trips to wonderful locations, tickets to plays, musicals, zoos, ballet. Actively supportive of her nieces and nephews: Christian, Stacey, Darrell and Travis.
She bought a red Miata convertible, in her 60's. That was Celia Whitman.
Dementia/Alzheimers had it's way with her, for her last 13 years of life. We, her children and her grandchildren, cherish the memories of it all; the good and the bad; grateful to know her journey is now over and she is at peace, at last.
In lieu of flowers, her children would love it if you bought yourself a piece of art: any medium, element, size... or take a turn on the dance floor...and pause to remember and reflect on her indomitable life force and the joy and determination that she shared with all who knew her.
Rest In Peace, Mom. You left us surrounded in love.

Please join us for a memorial service on Saturday, March 3, 2 pm at University Unitarian Church, 6556 35th Avenue NE in Seattle.
---
Comments
To my friend Eve - someone as special as your mom Celia will never be forgotten. She will remain in your hearts forever. I'd like to share you something similar, as my own father also had passed away recently from dementia or Alzheimer's. My father had taught me a lot of good things from how to tie a necktie, to driving a stick shift and most importantly how to be a good citizen. He was also a good ballroom dancer. It was amazing an 80 year man taught a young man like me how to dance disco and tango. After reading about Mrs. Celia Whitman, you had such a great and beautiful mother. She definitely left a wonderful lasting legacy to everyone she knew. Those were the good things you would want to remember her, not the disease.
- Ron Tirados
I am so sorry for your loss. May the words of our loving heavenly Father bring your family comfort and strength during this most difficult time as He promises to bring our loved ones back to life in a perfect world where there will be no more suffering or death (John 5:28-29 & Revelation 21:4).
- Megan
---
Rest in peace, Celia.
Richard
---
My little bit about Cecilia goes back many, many years. Dales parents Rich and Olive were uncle and aunt to my father. We visited the Whitman home and schools at Richmond Beach fifty years ago. Olive had such words of praise for Cecilia. And there it is, not much, but a bit to share. I will pass along to my sister and bother this news of our Whitman family. Wish I had known her as her thoughts mirror mine in many ways. Leigh
Leigh Whitman Hammett
---
Cecelia was an active member of Phrateres, a social and service organization at the UW. Her many friends have wondered for years where she was, because she was involved in our Alumnae group and all of a sudden we had no information when her phone number was out of service. She will be remembered as a bright spot in our group. She has been missed. We cherish our memories.
Mary Jane Steele
---
I have such fond memories of Celia. I taught with her at Eastgate for a number of years. She taught me alot. I think of her often.
    
Darlene Keeler Pollard
---
Remembered Celia from the lovely obit. Sorry to hear of her passing. We lived next door, when our son was born and our old friend Alex who lived around the corner, raved about her generosity. Lost track of Celia when we moved to Laurelhurst when our son was two. Eve used to babysit.
Our best wishes.
Carol & Bob
Carol & Bob Robin
---
Carrie, what a life of adventure your mother lived. I traveled and sang with her as I read the wonderful words describing her life. Such a zest for life. You were a wonderful daughter to her.
    
Peggy and Jack
---
I met (by phone and email & letters) Celia when I was writing the Whitman history. She was helpful when I wrote about that side of our extended family. I dearly loved to visit your ancestor Ed and Blanche Whitman's home in Soda Springs, ID. Uncle Ed was always the gentleman and known throughout the town. His accomplishments along with his brother, my grandfather, Henry Briggs Sampson Whitman, reads like a storybook of early Bear Lake County, Idaho. I would appreciate staying in contact with some of Uncle Eds descendants. Charles W. Whitman 650 965-1414, 2070 Longden Circle, Los Altos, CA 94024
Charles W. Whitman
---
What an amazing life! What an amazing woman! Alzheimer's steals many of the brightest stars from us. And, yes she is at peace and free again to sing as loud as she wants. Her family is in our thoughts and prayers.
Susan Rauch
---
Cecilia - Thank you for being a loving Mother-in law and for always welcoming in to your home and your family. I will always remember the great dinners and brunches in your house and for providing a wonderful family setting that I never knew until I became a part of your family. One of the most memorable moments in my life will always be when you took me to lunch with Julia Child's. It was the highlight of my career and one I think about so very often and for that I thank you. Hopefully one day someone will come across the photo of the 3 of us together. You are truly missed and I pray that God's loviness has brought you much peace and happiness that you so deserve. Rest In Peace!
I love you - Tony
    
Tony Riviera
---