Theodore O Parks
1927 - 2018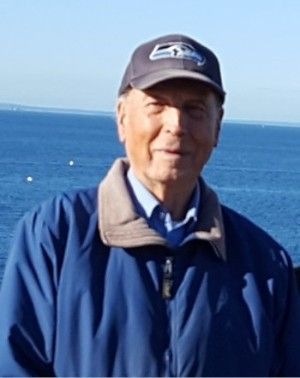 Theodore (Ted) O Parks, a 60-year resident of Burien, passed away in Edmonds on May 7th at age 90.  He was a kind-hearted man who loved his wife and family, his church, and his career in aviation. He gave freely of his time to help those in need. Ted loved apple pie and family picnics.
Ted was born in Scobey, Montana June 3rd, 1927 to Melvin and Olive Parks of Fife Lake, Saskatchewan, Canada. At age 18, he moved with his parents to Trail, British Columbia; two years later, he moved to Seattle to join his older sister Helen, her husband Al Loewen and their children.  
Ted was drafted into the US Army during the Korea War.  Near the end of basic training, he contracted poison ivy, which led to his deployment to Germany as an airplane mechanic, rather than combat on the Korea Peninsula.
An assignment to convert a farmer's land into an airstrip was a harbinger of Ted's lasting commitment to serve others. He and two other enlisted men helped the farmer harvest the farmer's ripe wheat before turning the parcel into temporary landing strip. Although the job added two days to the project, Ted knew it was the right and honorable thing to do.
Back in the United States, Ted returned to the Seattle area and started working at United Airlines at Boeing Field and later moving to Sea-Tac International Airport. He rose from boarding passengers and loading baggage to serving as a planner, working with the pilots analyzing the fuel, passengers, cargo, weight and balance all on paper.  He welcomed the advent of technology into the airline industry.
His position at United, as well as his pilot's license, brought Ted close encounters with two other the 20th Century's most famous Americans. He established a small temporary office for former First Lady Eleanor Roosevelt to make long distance phone calls while she traveling through Seattle. On another occasion while working at Boeing Field, Howard Hughes asked Ted to serve as his co-pilot for a late night flight to San Francisco. Ted declined the opportunity; it would have taken away from work an extra day and he would have needed to catch a flight home.  
In addition to aviation, United Airlines also paved the way for the other more important love of his life. While on the job, Ted met flight attendant Thelma Anderson. On one of their many dates while flying over Seattle in a small plane, Ted maneuvered a sharp turn, causing the door next to Thelma to open unexpectedly. That was their last time flying with Ted as the pilot.  They married on January 9th, 1954.  
He spent his retirement volunteering at St Elizabeth's Episcopal Church in Burien where he and Thelma were members for over 50 years.  He and other retired parishioners maintained the church, as well as homes of many elderly people in the community. This work served as inspiration, fellowship and encouragement to him and the men he worked with.
Ted's volunteer work also including serving Boy Scouts Troop 360 of Burien. He participated in many backpacking and canoeing excursions. Many former scouts, including Ted's son and grandsons, appreciated his kindness and encouragement in shaping their lives as young scouts.  
Ted and Thelma raised three children: Marsha Russell, Tom Parks, and Elizabeth Bee. Ted was additionally blessed by seven grandchildren: Emily Shanahan, Christine Wentworth, John Bee, Jaimie Parks, Meredith Bee, Jason Parks and Ben Parks, along with one great grandchild:  Olive Wentworth.
Ted is survived by his sister Elene Newby and many nieces and nephews.
A private memorial service was held on June 9th, 2018  at St Elizabeth's church in Burien, Washington.
---
Comments
---