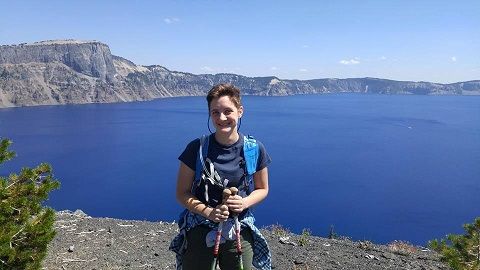 A shooting star has returned to the heavens from which she descended 25 years ago.  Kelsey Samantha Brigance zoomed into the lives of Mark and Misty Brigance on December 11, 1989.  Her journey here on earth ended on September 20, 2015.
  
As a celestial being, Kelsey was most at home in the outdoors.  Animals of all kinds were drawn to her.  As a child she often brought her favorite critters home.  Her mother had to be careful when doing the laundry not to accidentally wash a pet frog, lizard or snake found in Kelsey's pockets.  She often accompanied her father to the woods and spent many hours watching the wildlife.  She could patiently sit on the ground unmoving while deer and other animals went about their activities completely unaware that she was watching them.  She was an accomplished bow hunter, once bringing down three deer within 20 minutes.  
Kelsey had a fearless and untamable spirit which led her to adventures all around the world.  Summers were spent hiking, canoeing, swimming and horseback riding at Girl Scout Camp Cahinnio which she considered her second home.  Favorite family vacations were those spent in Colorado where she enjoyed racing down the black diamond ski runs, playing on the Great Sand Dunes, white water rafting through the Royal Gorge and horseback riding through the Garden of the Gods.  Kelsey once celebrated the New Year with sparklers on a frozen lake while on a week-long dog sledding and cross country ski trip in Minnesota.  While in college she traveled to Europe visiting England, Spain and Ireland.   A favorite adventure was attending a ball at the Monte Carlo in Monaco where she worked as a robot puppeteer on the opera "Death and the Powers" which was performed as a gift to the Prince.  
Blessed with a brilliant and creative mind, Kelsey excelled in school.  She attended school in Poteau until she was accepted into the Oklahoma School of Science in Mathematics where she finished her final two years of high school.  Following graduation 2008, she was accepted into both the California Institute of Technology and the Massachusetts Institute of Technology.  She chose to attend MIT where she earned a degree in Mechanical Engineering in 2013.
Kelsey was a lifetime member of the Girl Scouts, a member of the Theta Omicron chapter of the Alpha Chi Omega sorority, and a charter member of the Pucketeers.   As a Harry Potter fan, she started a Quidditch league at OSSM.  At MIT she was on the rowing team and played rugby.  Hiking through the mountains, canoeing, and bouldering were some of her favorite activities.  She was also known to spend countless hours creating and playing with her Legos.
A bright and energetic soul, Kelsey brought joy to all who knew her.  She loved her family and friends.  She enjoyed giving bear hugs and snuggling.  She always had a kind word to those in need and could brighten a room with her smile.  Her presence among us will be missed but we will remember her every time we see a shooting star.
Kelsey is survived by her parents, Mark and Misty Brigance of Poteau, OK; brother, Daniel Brigance and sister-in-law Kristyn, nephew Wyatt and niece Laurel of Moore, OK;  sister, Jessica Brigance of Poteau, OK; Grandpa Louis and Grandma Sue Brigance of Stigler, OK; Papa Dub and Grandma June Rose of Keota, OK; aunt Heather and uncle David Slater and cousins Aaron, Michael, Rebecca, and Aubree of Poteau, OK; aunt Ginger and uncle Todd Cooper and cousins Jenson, Jacob, and Bindi of Calhoun, OK; and uncle Jimmy and aunt Alissa Brigance of Stigler, OK.  She was preceded in death by her great-grandmothers, Nell Greenmyer and Okla McPeters of Keota, OK.
---
Comments
I miss you, Baby!
Mom
---
So happy to have been her aunt. I was present at her birth and loved watching her grow. She was an example to many. I and all of her family and friends will miss her dearly.
Heather Slater
---
Mark and Misty you are in our thoughts and prayers.
Kelvin and Jennifer Keiss
---