Paul Wendell Chilcote
June 29, 1941-October 12, 2021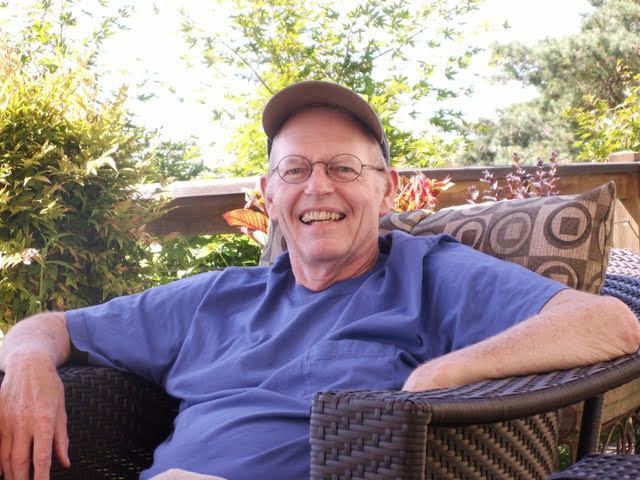 Paul Chilcote, 80, died peacefully October 12 at his Seattle home, in his own bed, with his wife, daughter, and orange tabby cat, Pablo, at his side.  Cause of death was Idiopathic Pulmonary Fibrosis.  Paul died the way he lived - with courage, grace, intelligence, wit, and gratitude.
Paul was born in Lebanon Oregon to Paul Eugene Chilcote and Lorene E. (Randle) Chilcote, the youngest of three children.  He always said he had it best being the baby of the family by several years because he "had the shortest leash" with lots of attention, loads of freedom, and limited close scrutiny.  Lebanon Oregon was an idyllic place to grow up in the 40s and 50s; Paul could walk by himself to the movie theater on Saturday and there was no place he couldn't go on his bike.  His parents owned the town furniture store and were comfortably middle class, solid Methodists, and pillars of their small community. Paul was a product of his upbringing in a loving family where he learned to always think the best of people.  His character was imbued with small town values of humility, friendliness, and the importance of community needs over the individual.  
Paul described himself as "neither a lover nor a fighter".   He had a natural empathy for those who were hurting or faced with difficulties. His own comfortable family life became difficult when he was 15 and his Dad died of Hodgkins disease, leaving Paul and his mother alone while his elder siblings were away at college. 
After high school graduation, Paul saw his options as staying in Lebanon, going across the Willamette Valley to college, or joining the military.  He chose to join the Navy as a way to relieve his mother of financially supporting him and served  from 1959 to 1962 as a communication specialist aboard the aircraft carrier  the USS Yorktown.  He said he loved this floating city "like Scotty loved the Enterprise on Star Trek".  For a young boy from rural Oregon, the sights and cultures of Hawaii, Hong Kong, Japan, and the Philippines were a heady experience and it was here Paul developed a life long interest in foreign travel and photography.  He often said the Navy forced him to grow up.  He entered the service as a naive small town boy, and he left as a mature adult.
After the Navy, Paul continued to broaden his world view through education.  In high school he'd spent many happy summers in Laguna Beach with his favorite aunt, uncle and cousins and living in Southern California with its sunshine and sandy beaches was  his dream come true.  He completed his undergraduate degree from California State College, Long Beach in 1967.  Discovering a passion for learning, he continued his education at Oregon State University, graduating in1969 with an MS degree in economic Geography. 
After growing up in rural Oregon, Paul wanted an urban life, and in 1969 he moved to Seattle to take a job with the Port of Seattle.  He was interested in the life of cities, urban development and density, and was a self proclaimed "sidewalk superintendent", following the progress of most of Seattle's downtown development and growth with great pride in being a part of it.  
Paul enjoyed a satisfying and fulfilling career in the Puget Sound trade and transportation business as a port planner, consultant, rail expert, and executive manager.  From 1969 until his retirement in 2001 he worked for the Ports of Seattle and Tacoma, Southern Pacific Railroad, as a private consultant, and as a guest lecturer at the University of Washington, and many trade and transportation associations.  He served as Chair of the Cooperative Development Committee of the Washington Ports Association, and the Chair of the Planning and Research Committee of the American Association of Port Authorities.   He was recognized by The Freight Mobility Roundtable as "a valued visionary, consummate communicator, tireless worker, and an inspiration for innovative and collaborative solutions for the Pacific Northwest's freight community as well as our national economy."  
Paul was admired and well liked by his colleagues, and in 2001 was awarded the prestigious Maritime Achievement Award, an honor bestowed each year upon an individual who has shown special leadership in advancing the maritime shipping industry.  As a further accolade for his contributions to the port industry, Paul had his own "Paul Chilcote Day" (May 21, 2001), as declared by the Pierce County Council.    Paul was most proud of his role in leading and bringing together disparate ports, railroads, and government jurisdictions to fund and build infrastructure to improve the smooth flow of freight, and reduce traffic congestion in the Puget Sounds region.  He was uniquely suited to this role with his calm and steady demeanor, art of persuasion, humorous good nature, and persistence; all fueled by his passion for the maritime industry and its contribution to local and national interests.
Paul was the proud father of Tanya and Dianna Chilcote, his two daughters from an early marriage to Marilyn Huscroft.  He was a loving husband to Barbara Chilcote who he met and married in 1979.  Barbara and Paul were confidants and best friends, coconspirators, traveling companions, and help mates for 42 years.  Each adored the other and from the time they met, felt at home with one another.   Paul was a lifelong self proclaimed procrastinator, while Barb liked to make decisions.  It was a perfect, companionable combination.  Paul learned to move forward without so much deliberation, and Barb learned that Paul's way of "seeing what happens" often results in the best outcome.  They traveled many times to Hawaii, throughout the USA, to Europe and China, learning, taking photographs, and enjoying each other's company.  
Prior to, and after retirement, Paul faced many health difficulties due to autoimmune hepatitis and in July of 2006, when he was 65, he received the life saving gift of a liver transplant at University of Washington Medical Center.  Prior to the transplant he had nearly two decades of illness from his diagnosis at age 46.  While he was grateful, he also often said he would not wish his medical saga on anyone.  Post transplant he had many medical difficulties due to both aging and transplant medications.  He had faced death many times over decades and had a lot of time for reflection about his mortality and place in the world, and was very much at peace with his death. Despite having to endure countless hours of pain, trauma and discomfort associated with his many medical procedures, surgeries, and hospitalizations, he rarely complained, and instead did his best to maintain a positive and cheerful demeanor throughout.  
At the end of his life, Paul was grateful.  He was a small town kid who followed his interests and dreams and ended up being a satisfied and worldly man.  He disliked grandiosity in any form (except buildings and public works projects), he was unassuming, modest, virtuous, and kind.  He was most comfortable at home in his jeans and sneakers, with a history book in his hand and a cat on his lap.  On a trip once to the Amalfi Coast he looked out at the Salerno Sea and told Barb how far his life had come from his rural Oregon youth.
Paul was predeceased by his youngest daughter, Dianna Chilcote Lu.    Paul will be missed by his survivors:  wife Barbara, Seattle: daughter Tanya Chilcote, Vallejo, CA; son in law Felix Lu and granddaughter Kaya Lu, Moraga CA; sister Colleen Foster (Tom), Portland OR; and brother Glenn Chilcote (Monica), Lake Oswego OR; several favorite cousins, his "guys breakfast group", and his and Barb's family of friends.
A celebration of Paul's life will be held in the spring.  In lieu of flowers, a memorial donation may be made to Providence Hospice of Seattle, the ACLU, or Planned Parenthood.
---
---
Comments
That was a beautiful write-up. As part of the next generation I've known him my whole life but I didn't know that fuller story. He really was a great person.
- Drew
---
Thank you for a fitting tribute to a wonderful Father! I'm so grateful for extra time we had together over the last few months, to hear stories from his life, hang out with him and Barb, and learn all about shipping containers! I just wish my sister could have been there too. Love you Dad!
- Tanya Chilcote
---
I love this description of Paul and the loves of his life. It captures his essence along with the pictures. I loved knowing him and hanging out with he and Barb. Their love for each other extended out to others, making me feel warmly included in their company. Even just two weeks before his death, it was fun visiting Paul while he sat way back in a big recliner in the den while Barb, Paul and I drank lattes, and Tanya sipped on a Diet Coke. We listened and told stories with orange tabby Pablo, a fixture on Paul's lap.
- Jane Ashe
---
I met Paul in the early 70's - all part of the same business world. Paul delighted me whenever we were together - his wonderful quiet sense of humor, the sly smile, the easy conversations. When he and Barb got together it was obviously a perfect match. One story I love: when my husband (who had also been in the Navy) and I were dining with P&B, Paul said "I never knew what good food was until I joined the Navy". Obviously he certainly knew what it was married to Barb. Much missed
 
Victoria
---
Beautifully and lovingly encapules the essence of Paul and his many accomplishments and the loves of his life. I am privileged to have known him for so many years. He and Barb have always been my inspiration of what a long and loving partnership looks like. Also, these are wonderful photos of Paul.
 
Carolyn Beaty
---
I knew Paul for many years. He recommended me and convinced me to leave consulting and become his successor at the Port of Tacoma. He was my mentor, friend and professional confidant. We had many discussions and laughs over lunches and late afternoon get togethers in Green Lake. Thank you Paul from my heart and from the Maritime community whom you so well served.
 
J Michael Zachary
---
Paul was a nationally recognized expert on how ports and railroads interface. His skills contributed to the the enviable growth of the ports of Seattle and Tacoma. I know because as a Tacoma port Commissioner for 19 years I witnessed how he transformed our business.
Paul gave more than expertise. He was an example of a life we want to exhibit.
Paul was passionate about his work but never arrogant.He earned the title of "professor "by his competency in solving complex problems. Most importantly he was truthful, honest and kind. Paul was truly remarkable man and I was fortunate to know him.
Pat O'Malley
---
Paul played such a formative role in my life! He was my first supervisor at my first job out of grad school. He introduced me to a life long interest in ports and all aspects of the shipping industry. He was a patient, guiding mentor and friend. His insights, knowledge, sense of humour, irreverence were invaluable. He was such a decent human....a rare thing these days. He is sorely missed by those whose lives he enriched.
 
Hazel Singer
---
Barbara -
So sorry to read of Paul's passing. Having had brief social interaction with Paul over the Q years, I felt like I knew him through you. This is a wonderful tribute to Paul and his gentle adventuresome spirit - I know him even better now as a result. I recall how much of a team you two were throughout the hard season before and after his transplant. He didn't fight his way back on his own. I picture the two of you enjoying your garden together through the years.
Blessings and peace to you, Tanya and the rest of the Chilcote Clan.
 
Ben Conwell
---
I loved the man he was.
Great write-up.
 
Kelvin Smith
---
Paul was such a good friend for so many years (since 1974) that I can hardly conceive of his being gone forever. His humor and good nature were such a pleasure to experience, whenever we met. And we met often along with other friends every week for breakfast. He and Barb were such a steadfast supportive pair, each so good for the other. I admired his courage in dealing with and emerging from several serious health difficulties with his spirit and manner intact. I will miss Paul, always. He was a wonderful person. His absence makes our lives poorer.
 
Keith Christian
---
I had the good fortune to work closely with Paul when i was at the Port of Seattle and he was at the Port of Tacoma. Although, at the time, the two ports were fierce competitors, Paul always looked for ways in which we could cooperate. We were able to do so successfully on many infrastructure projects that benefited both ports, like the FAST Corridor. Because of Paul's smarts, sense of humor and collegiality, we were able to accomplish things for the benefit of the Puget Sound regions that otherwise would not have happened. And, as importantly, he was an honest, fun and creative guy, who was just fun to be around. He will be missed.
 
Steve Sewell
---
Very well said! Peace to you.

Jeffrey Moormeier
---
I had the good fortune to work closely with Paul when I was at the Port of Seattle and he was at the Port of Tacoma. Although, at the time, the two ports were fierce competitors, Paul always looked for ways in which we could cooperate. We were able to do so successfully on many infrastructure projects that benefited both ports, like the FAST Corridor. Because of Paul's smarts, sense of humor and collegiality, we were able to accomplish things for the benefit of the Puget Sound regions that otherwise would not have happened. And, as importantly, he was an honest, fun and creative guy, who was just fun to be around. He will be missed.
- Steve Sewell
---