Margaret Ann (Alleger) Parke
April 25, 1928 – August 26, 2019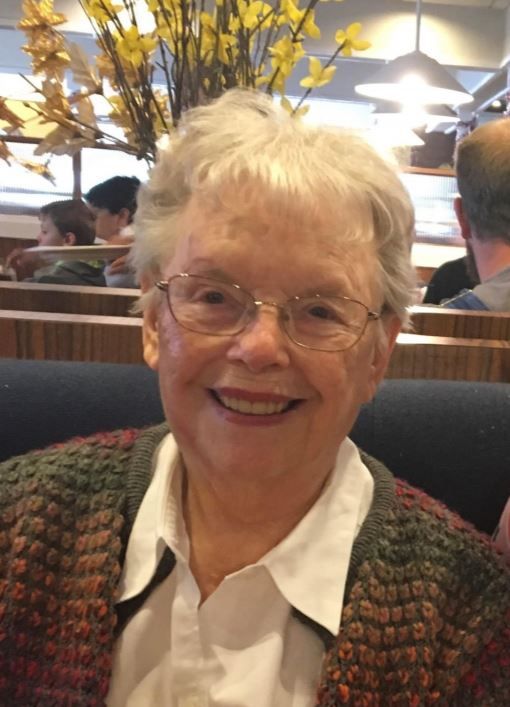 Margaret, 91, passed on to her next adventure following a battle with skin cancer.  She was the youngest of 6 and the last of three sisters who survived to adulthood. Her childhood was split between Hoquiam, Port Angeles and then while in high school, moved with her family to Seattle.     
Margaret attended the University of Washington where she graduated with a BS in Home Economics.  While at UW, she went on a blind date that changed her life. She was introduced to Charles Parke and he quickly became the love of her life.  They were happily married for 68 short years until her death.   
Margaret and Chuck settled in Seattle to raise their 3 children.  After their children were in school, Margaret returned to the University of Washington graduating with a Masters in Special Education.    She subsequently went to work as a Special Ed teacher for the Seattle School District and eventually moved into an administrative position.  This career path reflected one of her lifelong values of speaking up for the underdog or those who couldn't advocate for themselves. 
Through Chuck, Margaret discovered her love of boating and any free time they had was spent on the water or at their cabin on Ben Ure Island in Coronet Bay.  Over the years, Margaret and Chuck had many power and sail boats. Their first boat, which they built with Bud Bushnell, was featured in Time Magazine. The smallest, and perhaps the most unusual boat in their Armada, was an 11 1/2' Pelican, a gaff rig sailboat.  It carried 3 people, 5 HP motor, fuel, ice, plenty of beer and just enough food, leaving very little freeboard.  It was quite a sight to see! Despite its diminutive size, they traveled the San Juan Islands with other Pelican enthusiasts and made a lifetime of memories.  
Upon retirement, Margaret and Chuck sold the family home in Seattle and moved to live aboard their largest, and last boat which was a 42' Ponderosa cruiser named Partners.  They spent the next 10 years traveling the west coast and Canada seeking out new sights and adventures. After disembarking for last time, they remained adventurous and traveled the US as well as trips to Mexico, Europe, and China collecting memories.
Margaret was a member of P.E.O., a philanthropic organization of women helping other women to 'reach for the stars'.  She served as the chaplain and most recently the historian. Adding to her list of impressive attributes, Margaret was also an award winning quilter, seamstress, knitter and a really remarkable baker and cook.
Margaret is survived by her husband, Chuck of Bothell, children Susan, Brian and Sheila, 7 grandchildren and 15 great grandchildren.  She was predeceased by her parents, Oliver and Mattie (Holderby) Alleger, sisters Kathryn Eddy and Elizabeth (Betty) Maxfield.  She leaves behind an extended family of nieces and nephews.  
Please remember to wear sunscreen! 
---
Comments
I have made quilts from the fabric I got from Margaret. In fact I gave one away to the person who bought their house. When I told her where I had gotten the fabric....she was very surprised.
- Bonnie Sharp
---
Sincere sympathy to Charles and family at the passing of dear Margaret. I will remember her for her warmth and kindness and the wonderful things she could do with her fabric and crafts. It was a pleasure to know Margaret as she lived in the Stonebridge Community. She touched and enriched countless lives and will be greatly missed.
    
Estelle Morley
---
The Parke Family moved into the Frechin Family neighborhood in Victory Heights, North Seatth in 1967. their son Brian Charles Parke and myself became life-long friends. Brian was the Best Man at the wedding of Douglas Paul Frechin and Karen Marie Webber on June 27th, 1976.
The three of us had an adventure sailing in that 11 1/2 foot Pelican sail boat on a breezy day off Shilshole Marina once-upon-a-time.
I was saddened to hear of the passing of Margaret, she was famous for her potent egg nog drinks during the Holidays. Cheers to you, Margaret!
    
Douglas Frechin, Edmonds, WA
---
Many condolences to Chuck, Susan, Brian and Sheila. I grew up around the corner from the Parkes and was friends with Sheila until they moved away. I was always impressed with how busy the family was and blessed to have gone up to their cabin for a weekend (as a child I was clueless to location). I remember Sheila and I riding a pulley rolling swing seat across a rope between trees...guess now that is called zip lining. Adventurous family and would love to see Sheila again. Margaret had a beautiful and accomplished life. Hopefully all is well for everyone she touched in life.
    
Julia Wilder (Russell)
---