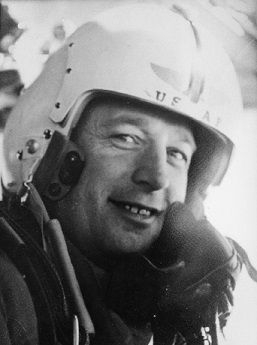 Ralph (Mal) Beaton, Lt.Col., USAF/Ret.Passed away peacefully on Sept. 11, 2015 at age 87 with his family by his side.
Mal was raised in Seattle and graduated from Lincoln High School in 1946. He was accepted to the USAF Air Cadet program in 1949 and graduated as a multi-engine aircraft pilot  in May, 1950. After six years of dating, Mal and Betty (Lowry) married five days after his graduation from air cadet school. Mal's career took them across the United States, making several bases their happy homes! Both their children, Bruce and Jennifer, were born in Ohio. Mal served in the Korean War flying over 50 B-29 missions in the "Shady Lady." He also served in Viet Nam flying over 50 missions as a KC-135 aircraft commander. He retired from the Air Force in 1970 after a 21 year career and joined the King County judicial system where he worked for 18 years until retirement.
Mal (BaBa) is survived by Betty, his wife of 65 years, his son Bruce, daughter Jennifer Shong (Paul), grandchildren, Joey Lafond, Delaney Lafond & Justine Clark (Tyler) and faithful Basset, Max!
We would like to thank the doctors at the Swedish Cancer Institute and the Polyclinic for Mal's excellent care. We would also like to thank Mal's staff at the Great Shepard's Adult Family Home in Shoreline for their love, friendship and respectful care.
Also, to all our friends, thank you for your love and support through this very long journey!
Fly low and slow, dad!

Remembrances to:
Swedish Cancer Institute
550 17th Ave., Unit A-10
Seattle, WA 98122-5788
---
Comments
---