Jean Mills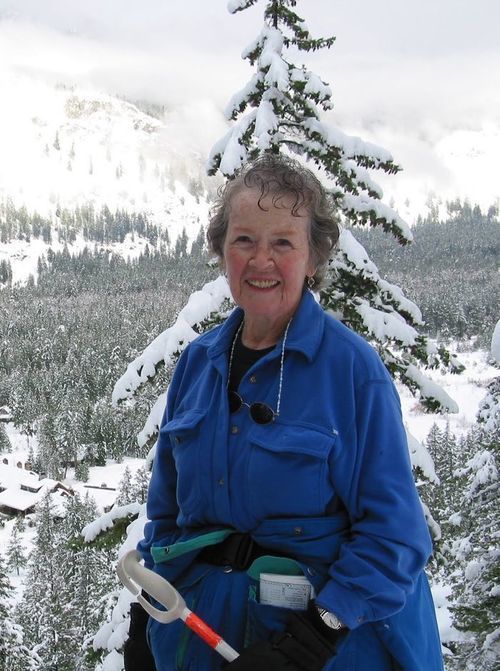 Jean Mills, age 91, passed away peacefully at her home in Seattle, Washington, on April 29, 2021. She and her sister Charlene were raised in Los Angeles, California, and Jean finished her last two years of college at Marylhurst after the family moved to Portland, Oregon. Post-graduation, she moved to Seattle, Washington, where she interned as a medical technologist at Harborview Hospital for a year. In 1953, she met her future husband, Howard Mills, at a Seattle Ski Club meeting shortly before embarking on an epic trip to Europe with her friend June Switzer. Jean and Howard resumed the courtship when she returned from her travels, and they married in early 1954. She continued working for a couple years then focused her energy on starting a family. They eventually had four children: Paul, Jeanette, Marie, and John.

Jean returned to work in the 1970s, starting in the Seattle Public Library system (she loved to read) and later moving on to a research project, dialyzing sheep at the University of Washington. By the mid-1980s, Jean was re-training to be a medical technologist (a lot had changed in over 25 years). She worked as a part-time phlebotomist at Northwest Hospital initially then spent nearly 12 years in the lab at Evergreen Hospital.

Volunteer work also played an important part in her life. She was active in Camp Fire Girls while raising children. Later she was part of the Northwest Bead Society for over two decades. After retirement, she and Howard helped at Nature Conservancy, and Jean spent more than 10 years doing weekly shifts at the Audubon Nature Shop.

While the family did numerous summer car trips in Washington and occasionally farther afield, Jean's interest in international travel never waned after the 1953 trip to Europe. She and her sister took in some European highlights in 1971, and most of the family went to Mexico in 1977 to visit former backyard neighbors. In 1981, most of the family traveled to Ireland to pick up Jeanette after a year of study abroad then saw sights in parts of England and France. Over the years, other trips brought Jean to South Korea, Ukraine, Italy, Russia, Turkey, Greece, China, Spain, Morocco, Portugal, Thailand, Australia, Peru, Egypt, Jordan, and Costa Rica. There also were a European river cruise, a Mediterranean cruise, and a Baltic cruise. Howard accompanied her on most of these trips as well as on numerous North American road trips. One thing that Howard did not share was Jean's one and only parachute jump in 1983, a late celebration of turning 50.

Jean felt strongly about staying in her home until the end. This was made possible by the efforts of her daughters with assistance from With a Little Help caregivers and Providence Hospice. Howard passed away in 2015, and Jean is survived by her family, including six grandchildren and four great-grandchildren. Her constant companion after Howard's death was an older rescue dog named Bodie; he passed three months before she did.

Jean was an amazing woman with a passion for life, travel, learning, and family. She is greatly missed.

There are not currently plans for a memorial gathering. If you want to share a memory of Jean with her children, you can email it or write it below. The family suggests that you donate to one of the charities that Jean supported: Catholic Community Services of Western Washington, Doctors Without Borders, Sound Generations Meals on Wheels, North East Seattle Together (NEST), Seattle Public Library Foundation, or your local food bank.
---
Comments
Jean was a wonderful loving person and friend for 74 years. I will miss her.
 
Dolores Amlin
---
Just a few words for unique person that is no longer with us. Unique in many ways: She was so intelligent, loving and caring. No one was so organized and handles os many things at the same time, she always was so well informed, even before the internet and cell phones. Disciplie was one of her attributes, capable of making life a lot better for quite a lot of people, born leader, teacher and mother.
I was lucky to be her friend and neighbor for two years we shared many things and laughed a lot. She settled in my heart forever and even though life put us in different places very far away from each other, the way she enriched my life and the things I learned from our friendship stayed with me all my life. Thank you my dear Jean for being and sharing. Love to your dear children.
 
Carmen Iturbe
---
Jean attended the very first Alzheimer's support group meeting i facilitated -one of my cherished photos is of she and Howard with i have a photo of she and Howard with her Champion medal and paper leis...Jean always dressed beautifully with beautiful beaded pieces she made. Her courage in facing and helping make seattle a dementia friendly town are part of her legacy. I was privileged to know her - she always told it like it was.....
 
maggie pheasant
---