Dr. J. Randall Curtis
2/14/1960 – 2/6/2023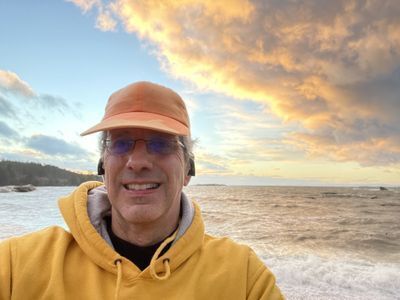 Jared Randall (Randy) Curtis died at home with his wife and daughter by his side in the community of North Beach in Seattle, Washington. He passed away just a few days from his 63rd birthday, after a two-year fight against the crippling and incurable disease known as Amyotrophic lateral sclerosis (ALS). Born in Ann Arbor, MI, he was the son of Jared Ralph Curtis and the late Ida May (Louks) Curtis. He leaves his wife Amy Shaff Hamblin, his daughter Alice Lillian Curtis, his father Jared, sister Idamay, her husband Alan Hall, his brother-in-law Steve Hamblin, and his extended family of many aunts, uncles, and cousins. In his early years he lived in Selinsgrove, PA, Ithaca, NY, Bloomington, IN, Tucson, AZ, and West Vancouver, BC. He earned his B.A. from Hampshire College, M.D. from Johns Hopkins University Medical School, and MPH from the University of Washington. 
He was a Professor of Medicine at the University of Washington, a pulmonary, critical care, and palliative care physician at Harborview Medical Center, and a researcher, mentor, and leader in his field. In this multifaceted role he touched many lives deeply, leading his students, fellows, and colleagues by example and by love to be the best they could be. He had that rare gift of making everyone better who was lucky enough to be close to him without ever withholding his kindness and generosity to all. He was masterful at building trust.
He developed many friendships around the world in communities and medical facilities where he traveled to lecture on palliative care in a clinical setting for those with life-threatening illnesses. His interest in palliative care established itself early while in medical school at Johns Hopkins where, as an intern, he found himself providing care to patients suffering from HIV and admitted to the ICU in the final stages of that illness. There, he recognized the dire need for improved communicative skills in caregivers to help patients and their families and loved ones negotiate difficult end-of-life decisions. In his early residency and fellowship study at the University of Washington Medical School, he focused on this question in his research and eventually established groundbreaking models for communication in clinical end-of-life situations. He soon learned how risky it was to focus his research on how best to educate clinical practitioners in the ICU in the communicative skills he thought were needed to treat, build trust, and advise patients and their families and loved ones. Very little funding was available at that time for "soft science" studies, but he thought he could find a way to do it…and he did. 
He went on to build a team of researchers that produced a body of work that shaped the field of palliative care both at home and abroad. In 2012, he founded and directed the Cambia Palliative Care Center of Excellence at UW Medicine, which strives to improve palliative care for people of all ages with serious illness and their families by integrating research, education, and clinical care. He was the recipient of many awards for his contributions as a clinician, teacher, and researcher. Highlights of these many awards and honors include Lifetime Achievement Award, American Academy of Hospice and Palliative Medicine (2022); The Edward Livingston Trudeau Award, one of the highest honors from the American Thoracic Society, will be awarded posthumously at the International Conference in May; and he also served as president of the American Thoracic Society 2009–2010.
Throughout his busy and demanding career, he strove to keep his family first, spending scarce free time with his wife Amy and young daughter Alice, his parents, and his sister Idamay. For over thirty years he set aside a few weeks, sometimes a month or more, for a stay on Lopez Island in the San Juans off the coast of Washington, where he and his family and invited friends would hike, run, bike, swim, kayak, paddle board, and enjoy delicious meals planned and prepared by Randy himself, the latter activity a special joy of his and a treat for those who sat at table with him. No one refused his invitation to spend time on Lopez. A devotee of sunsets, he let no day on the island end without an evening stroll to the beach to watch the sun go down. 
In high demand to give talks and seminars around the country and in faraway places like Thailand, Taiwan, Italy, France, Germany, more often than not he took his family with him, including a year-long sabbatical in Paris. He loved to ski, a skill he picked up and relished while growing up in West Vancouver, BC, and he taught his young daughter to ski as soon as she could stand on them, seizing every opportunity to take her with him to slopes near his home or further afield, when his work took him to Denver, California, other mountain states, or the European Alps. His bond with his sister Idamay was lifelong and a strong one: they kayaked together in Desolation Sound, trekked with their cousin Shelley Curtis in the Canadian Rockies, and swam wild in the waters around Lopez Island. A firm believer in maintaining a fit body, a keen intelligence, an inclusive curiosity about the world, and a deeply felt compassion for those in the grip of serious illness, he was an outstanding physician, a supportive mentor and colleague, a loyal friend, and a loving husband, brother, cousin, nephew, uncle, and son.
Randy and Amy (and Haley) see Alice off to college

Amy and Randy in a peak moment

Randy pranking young sleeping Alice on the beach at Lopez

Randy and Idamay getting ready to Kayak.

Randy with his Mom Ida, who holds her granddaughter, Alice

Randy and his father Jared on the pier at Lopez

Randy giving the toast at Idamay's and Alan's wedding, with Alice serving as Flower Girl.
---
Dear Amy, Alice, and Randy's whole family - Even if we cannot be there with you physically, please know that there are so many of us who are deeply grieving and missing Randy. Despite nearly two years of Randy teaching us so carefully how to live thoughtfully, intentionally, and with love even despite a progressive and severe life-limiting illness, the actual reality of his death is gut wrenching. Without Randy, the world just feels so much less ... less a mentor, less a leader, less a friend, less an inspiration...just less. And then there are the feelings of anger - anger at why this had to happen and at the lost years of life that Randy should have had and all that he would have done with them. The complexity and depth of emotions surrounding Randy's illness and death continue to humble me.

Though said many times before, it still cannot be said enough about how wonderful Randy was, how he and his work have fundamentally changed and improved how we care for critically and seriously ill patients and their family members, and how those people who he mentored, sponsored, trained, and advised - including myself - are privileged and better able to continue to change the world because of who Randy was and all he taught us. Randy's incredible legacy has been tangibly present for years and will only exponentially amplify as the people he influenced continue to change and improve the world. Thank you for sharing Randy with us as much as you have over the years. I know that I speak for many when saying that I am forever changed and a better researcher, clinician, and person because of Randy. We miss him dearly and stand with you in this time of grief.
Rebecca Aslakson
Comments
Dear Jared,

My condolence on the death of your son who obviously was an outstanding individual. Not an easy way to say good-bye to children but sometimes it becomes necessary.
Henry Butler
---
Dear Alice and Amy, Thank you so much for sharing Randy with all of us. I, along with all of his other mentees and coworkers, will forever carry his voice in our hearts. Although Randy was of course an outstanding academician, researcher, and leader, my own most indelible memories of Randy are those of watching him work with patients and families. Randy was a truly masterful clinician, and an equally exceptional communicator. He "walked the walk"—his passion for what he researched was so clearly evident in every aspect of his clinical practice. His patients and families were so lucky to have a physician who practiced medicine with such skill, humility, and grace. Randy has touched countless lives, and we are all better for it. He has left us far too soon, and we will all miss him so. I hope that time brings you peace and healing.

Bob Lee
---
This is such a beautiful tribute to Randy. I always thought that he was amazing and now I see that I didn't even know half of his accomplishments. What an incredible legacy. It's a real honor to have know him and such a sorrowful loss.

Teshan Laucirica
---
Dear Jared, Amy, Alice, Idamay, and all your family, I am so sorry to hear of Randy's death, and I cannot imagine the grief and loss you are feeling. The kids and I send our heartfelt condolences for this difficult time, and offer much love to all.
Marielle, Tallisen and Simon
---
Randy was my mentor for my research in palliative care when I was in Seattle, UW. He is the most and best, one and only humblest mentors for research, clinical, and being a good human being. I remembered that one day we have heavy snow, it was my interview day with Randy. Everyone cancelled the meeting, or schedule, but I let Randy that I can make it to meet with him for my inperson interview (it was before the COVID time), ....Randy texted me that he will be at his office if I am able to come... ....It is a real honor to know him ......and this is just very sad...I miss you Randy ...Many mentees will miss you a lot.
Claire Han
---
Like so many others, I am so appreciative of the impact that Randy had on my career. While I learned so much from him, maybe one of the most impactful things that I learned was "looking from the 30,000 foot view" to gain a true understanding of what was at stake. May your memories bring you comfort. XX, Kathy
Kathleen Lindell
---
Dear Amy and Alice, I am so sorry for your loss. I am very grateful I had the opportunity to work with Randy over the years. Wishing you comfort and peace. With sympathy.

Sarah Shannon
---
Amy, Alice I am a friend and mentee I feel Randy is alive and close every time I love deeply my significant ones, when I work with people I like, when I am away and see everything with a deeper view, and when I live fully every moment as if I am dying soon. I am committed to live his legacy with all my heart Deeply present with the pain of not having him around
Roberto Benzo
---
Amy and Alice,

A day of work does not go by that I do not teach someone something that Randy taught me. Whether it is about clinical medicine or his research, his influence on me and my practice of medicine is profound. I think of Randy like the sun of a solar system with impact with so broad that is permeates too many places and too many people to count. I believe his force remains strong and will continue to influence countless people for the better. I will miss our check in emails.
Wendi
---
Dear Amy, Alice, and family, I am one of Randy's many colleagues in the University of Washington School of Medicine who mourn his loss, and a palliative care physician. Randy's research has long informed the way I practice medicine, and especially my understanding of how important it is to listen more and to talk less. But what I will remember most about Randy is the way he comported himself after he was diagnosed with ALS. I have seen many people facing serious illness withdraw into themselves and become cut off from their previous lives. In remarkable contrast, I saw the way Randy continued to show up for people, express his appreciation, and remain open to life. By his example, he has shown us a way to live life to the fullest, and to make the best of the time we're given. May you grieve in whatever way you need to. May you be comforted by the love of family and friends, and may peace be with you.

David Gruenewald
---
Dear Amy, Alice and family,
I loved Randy as a colleague and a friend and was so sad about his dying in the prime of his life. I got to know him through my work in the sojourns program at the Cambia Health Foundation. When I got the job in 2012 to friend Karl Lorenz and Steve Pantilat asked me if I knew Randy. I did not. In my first year Randy received a sojourns award from the foundation and you all came to the award luncheon. I knew then how proud Randy was of you both. Randy and worked together on his Cambia Center of Excellence award. I remember he and I had lunch at an AAHPM conference and he presented a slate of options at different funding levels. We spent a long time over lunch. I finally said why don't I ask for the naming of the center. They can always select another option, like a chair for Dr. Stu Faber, who was funded by the foundation before his passing. The Center became a reality I next year. I loved working with Randy and his team on the Center and the sojourns scholars leadership award program. Randy asked the best questions. When you lived in Paris I heard the highlights of your adventures travels, Alice's school and Amy your studio he was just so in love with both of you. T. Wilder in the Bridge over San Luis Ray says " there is a land of the living and a land of the dead and the bridge is love, the only survival, the only meaning. Randy lives on in the may hearts he touched in his remarkable life. He mentored countless people like me who were touched and move by his generosity and compassion.

Elyse Salend
---
Thanks to Professor Curtis for coming to Taiwan for several years to lead us into the realm of palliative care. Based on his experience and that of his team, Professor Curtis has taught us how to become good communicators between patients and doctors, good team leaders, and good researchers. Not only has he profoundly influenced us in research and patient care, but his kind treatment of people, support for junior colleagues, and care for his family have also been a model for our learning. I still remember walking with him on the streets of Taipei around seven years ago when he saw the little green man icon on the traffic lights that indicated it was safe to cross, Randy happily took out his phone to take pictures and record them to share with his daughter at home. Even in the past few years during the pandemic, Randy continued to guide us through video conferencing. His passing profoundly saddens my colleagues and me, and we extend our heartfelt condolences to his family. Jason Lee from Taipei City Hospital
Jason Lee
---
Amy and Alice:
I learned of Randy's death just today, after reading his article "Life Lessons..." As an ICU RN, I have admired and appreciated Randy's knowledge and competence in not only the physiologic areas of critical care, but also the emotional and interpersonal ones. I first met Randy in the early 2000's when researching sleep promotion in critical care. After that, I appreciated his research in many areas, particularly in palliative care, another interest of mine. He was an incredibly gifted physician with the ability to listen and connect with people on a deep, personal level. I didn't at the time realize how important this was until he became one of the physicians caring for my husband, Kurt (also an RN), in April/May of 2020 after he contracted Covid following an exposure at work (Kurt cared for some of the first Covid patients at Evergreen Hospital starting in February 2020).

Kurt was transferred to Harborview and placed on ECMO in April 2020. Randy was the first intensivist that I interacted with following his transfer, and my initial response was relief. I immediately knew, despite the devastation that our family was experiencing, that he was being cared for by one of the best possible physicians in this situation, and this gave me a huge measure of comfort. Unfortunately, despite all of our efforts, Kurt succumbed to his illness. Like Randy, he was far too young for this(also 63), and the world is less for both of their passings.

I am grateful for having known Randy and my heart is with you as you grieve the loss of him. I pray that all of the memories that you shared will help to comfort you and that knowing his gifts live on in those that he taught/mentored gives you some measure of peace.

Kathy Julian, RN
---
To Dr Curtis' family,

I learned incidentally about Dr Curtis, his incredible contribution to the field of palliative care as well as his ALS diagnosis in my quest to learn about end of life best practices and ALS. My husband has bulbar ALS and retired this past Spring due to this disease from his role as Director of Rehab Services at our local hospital. We are both physical therapists and have worked with clients with this diagnosis, however nothing could prepare us for the deep and profound shock and sadness that this has brought to our family.

Reading Dr Curtis' JAMA article, his obituary as well as about his work, has brought a sense of groundedness and comfort during a time that feels unmoored and uncharted. I respect your privacy and understand this outreach may land as odd, given that we do not know your family. I deeply hope that my message lands as the gratitude with which it is intended.

As our family navigates this next chapter, Dr Curtis' life reminds me that a life ending diagnosis does not define one's legacy. Mike did not choose ALS nor its progression, however the choice to live with intention, talk about what's important, spend time with our people, and define his own legacy for our kids and community remains available. It reminds me to focus on, support and prioritize the choices he has. ALS is a disease where progressive, transformative loss is a visible, and functional daily reality. Every day, we focus on seeing the man, and not being distracted by the exterior changes. As we experience our final trip this year (which we have called "Adventure Time"), reading about Dr Curtis' family's journey helps me believe that this next painful chapter still has potential for beauty, choice and love amidst it all. Thank you for sharing your story, and I hope your family is grieving and remembering and living each day precisely as your hearts need.
Elizabeth Hampton
---