Judith Tarmey Southard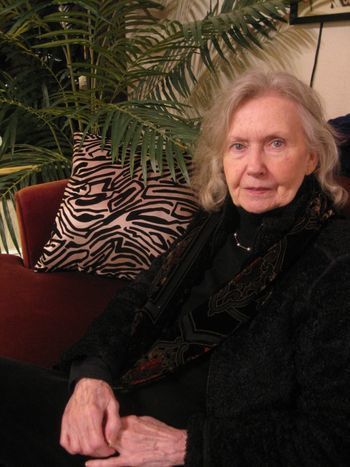 Judith Tarmey Southard passed September 7, 2019, 4 months prior CoVid. She will be laid to rest privately on Friday July 9, 2021 in Greenfield Cemetery, Uniondale Long Island, NY. A small gathering celebrating her life will take place in her honor at the gravesite on Sunday July 11, 2021 at 1 pm.
Judy was born November 7, 1936 to Susanna Rogers and Michael J Tarmey (originally from Amsterdam NY) in Queens NY. She was the third and youngest daughter, her older sisters were Eileen and Geraldine Tarmey. The family later moved to Laurelton where she grew up and went to school. She attended Andrew Jackson High School where ironically my father Kenny Southard was also a student. They both graduated but went separate ways until a chance meeting several years later through her older sister Eileen & husband Bob Kaatze. Judy & Ken dated and became quite the fashionable young couple of the time. While Ken attended School of Visual Arts in Manhattan working towards a Graphic Designer Degree in the blossoming, vibrant & exciting advertising world of the 50's & 60's, Judy worked for Grumman Aeronautics on Long Island, the booming aeronautical engineering firm. They continued to ski and spend time on the beautiful sugar-sand beaches of the south & eastern shores of Long Island.
Judy and Ken married on her birthday November 7, 1959. As Ken's career grew exponentially, Judy left her job. I (daughter Kristina) was the first to arrive in the early 60s, followed almost 4 years later by daughter Kimberly in the mid 60s. Judy grew into a caring, attentive & loving stay-at-home mom as was very much the norm during that time, often sending us off to school well mannered & immaculately dressed. Our lives were occupied with much travel for Ken's work, a now well known Art Director/Film Producer. We grew up on various shoots and locations, Judy & us girls accompanying him on many of his TV projects out to the West Coast. In 1969 we had the opportunity to visit dear friends in Japan, a truly fascinating country & made a most memorable extended stay there. In 1971, as an extension after a filming project in Europe, Ken rented a BMW motorcycle as he & Judy toured much of Europe exploring, including several Iron Curtain Baltic States, before returning back to the US. He brought that BMW bike back with them to join his growing unique motorcycle collection.
In early 1973, while in Europe on another filming assignment, Judy's father suddenly passed away. They returned stateside for his funeral. Within a couple of months Ken was shockingly diagnosed with cancer at the extremely painfully young age of 36. It was an aggressive and debilitating form. By mid-summer he passed, leaving Judy a widow with two young girls to raise by herself. During the heyday of the early 70s in New York City and the developing strides of Women's Lib, Bela Abzug, Gloria Steinem, and Shirley Chisholm raising their collective empowering voices, Judy found herself going back into the workforce as an independent woman in bustling Midtown-Manhattan.
She first worked for CinEprint, an offshoot of Kenyon & Eckhart, a worldwide advertising agency that my father had risen through the ranks from a bull-pen Graphic Artist to eventual VP. She then formally transferred over to K&E and worked there for many years rising in ranks to work with Ron DeLuca, and managing the NY office's Creative Department in a World renowned Ad Agency. This, the electric thriving advertising world of the 70s and 80s. The years of Lee Ioccoa, the Chystler comeback & Farah Fawcett... Quite an accomplishment, especially in the face of being widowed at such a young age with 2 very young girls to raise on her own. Although riding the LIRR into Manhattan everyday as a sole provider was a challenging daily journey laced with apprehension, she successfully provided for her 2 girls and built a mighty career for herself in the corporate world. She became a formidable, elegant, eloquent, always welcoming, cheerful, always extremely professional, savvy, accommodating, yet very fair handed and exceptionally capable corporate business woman in an era of time that was beginning to see the glass ceiling crack in a highly competitive men's field....
Privately, she continued to lovingly provide for her 2 girls, exposing us to an abundance of Art, Culture, Music, International Travel, current events, World Politics... protecting them and preparing them for a rich adulthood of their own (even through snarky teenage years). This fostered in both girls a sense of exploration & adventure. One, traversing coast to coast, Boston to San Fran, Alaska, Bangkok, SE Asia, the Himalayas, Africa, India, & Seattle. The other a permanent residence in the foothills of the French alps with Europe at her fingertips.
Judy is survived by her daughters Kristina Southard, Seattle and Kimberley Southard, Grenoble France, as well as her maternal nephew Dennis Kaatze, niece Susan (Steve) Paulsen & their sons Jeffery (Chrissy) Paulsen & family, and Brian Paulsen. On the Southard side she is survived by niece Karen Southard, and nephew Scott (Veronica) Southard and their grown children.
After living in Seattle WA since 2006, Judy will be brought home at long last to join her lifelong soulmate Ken in the Southard family area at Greenfield Cemetery, Uniondale Long Island NY. There will be a small gravesite celebration of her life on Sunday July 11 at 1 pm. Flowers are welcomed, we ask they be delivered by 3 pm Saturday July 10th. In lieu of flowers please feel free to donate in Judy's name to one of the 3 following organizations that have come to mean much in our lives.
Alzheimer's Association:            https://act.alz.org/site/Donation
Leukemia Lymphoma Society:   https://donate.lls.org/lls/donate 
Doctors Without Borders:           https://donate.doctorswithoutborders.org/onetime
---
Comments
---
Dear Family,
I am sorry for your loss.
I am happy Judy had a full and exciting life.
She was kind and caring to me.
Judy made my entry into K&E seamless.
I can never forget this.
We met at an annual lunchtime meeting,
I believe in 2006.
Judy was elegant and refined.
We all respected her greatly.
I will keep Judy in my prayers
Thanks for sharing.
Best Regards
-Ron Bacsa
---