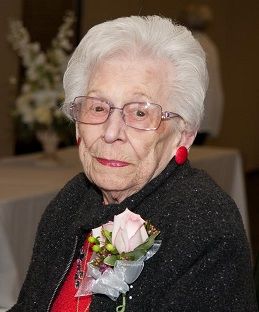 Born Appolonia Litzinger on December 16, 1919 to John and Anna Litzinger in Devils Lake, ND.  She passed away on May 23, 2015 in Shoreline, WA, surrounded by family. She was preceded in death by seven siblings.
Married to her beloved husband, Rance Sparks, from 1941 to his passing in 1979.  Survived by her four children: Ray (Donna), Patty Wasell (Dave), David (Joann) and Al (Karen), seven grandchildren: Darren Wasell, Ryan Wasell (Jane), Adam (Tiffany), Dan, Stephanie, Tyler (Amber), Megan Erickson (Ben), and six great-grandchildren: Kacie, Michael, Lexi, Bridget, Peter and Cage, and numerous nieces and nephews.
She had many wonderful friends, especially Gina and Den Peters, who have always been considered extended family.  
Besides her family, she loved dancing and going to the casino.  Heaven is probably still rocking from her arrival.
A memorial service is being planned for Our Lady of Fatima Church in Seattle.
In lieu of flowers, donations may be given to the American Cancer Society or Providence Hospice of Seattle Foundation.
We miss you Mom
---
Comments
Fifty three years ago I learned that Evie had grown up right next door to my dad in Devil's Lake, North Dakota. Those Germans had a down to earth, realistic view ofthe world. The main values were the people in your life. They often fe4lt the burden of being from the "wrong side of the tracks". But they mixed with everyone. They laughed with you and cried. And yes, they often overdid things. Evie has left a legacy that will live on in all of you and in many of us besides.
--Den Peters
---
She was such a FUN lady!!! I smile just when I think of her. I will be awaiting news of her memorial at Our Lady Of Fatima. Our love to all the family.
-John & Joyce Ditore
---
I still remember her brownies; I'm so sorry she's gone. --Mary Pat
---
I still remember her brownies; I'm so sorry she's gone
--Mary Pat
---
Evie and Rance moved into our neighborhood in the mid 1950's. Our families became instant friends. Over the years we shared many laughs and many tears. Some friends become part of your extended family and that was true with the Sparks'. I always knew I could call on them at anytime and they would be there. I spent many a night at their kitchen table with Rance helping me with homework. Evie always had such a great spirit. She loved baseball, football, you name it. She loved to play cards and she loved casinos. I loved spending time with Evie in Auburn. We would head to the Muckleshoot casino and have a blast. Evie was so sharp and with it. She loved hearing about our kids and grandkids. Everyone loved her. I know I did and I will miss her very much. The "Oh Hell" gang lost its last member.
--Gina Peters
---
Mrs. Sparks was one of kind. She had to have a lot of patience to put up with all of hooligans she welcomed to her home at the invitation of her son Dave. She always had a kind word for us and took a special interest in whatever we were up to, usually no good. She will be missed. All the best to the Sparks family.
--Tom McDonough
---
Evelyn played a hot game with the dice at our house! She took all the money home I even gave her a ride home! What a gal. We loved her!
-Darrell Miller
---
We were unable to make the funeral services at Our Lady of Fatima Church this morning due to having relatives visiting. We crossed paths with Evie over the years at many Fatima events. She was a great lady and will be missed. Patty~ your Mom will be dearly missed by all who knew her. You and your family our in our thoughts and prayers over your loss. Our sincerest condolences. Dick & Marilyn Jaeger
---
WHAT WONDERFUL MEMORIES I HAVE WITH EVELYN AND RANCE AS NEXT DOOR NEIGHBORS.THEY WERE SOME OF THE BEST YEARS, THANKS TO THEM. WE SHARED A LOT OF GOOD TIMES AND SAD TIMES, MOSTLY GOOD! AFTER WE MOVED, WHENEVER I'D SEE EVIE WE WOULD REMINISCE AS THOUGH IT WAS YESTERDAY. THANKS FOR THESE MEMOEIES EVIE. YOU WILL NEVER BE FORGOTTEN. MY LOVE AND PRAYERS TO ALL HER FAMILY AT THIS SAD TIME. --MARY CARROLL MILLER
---