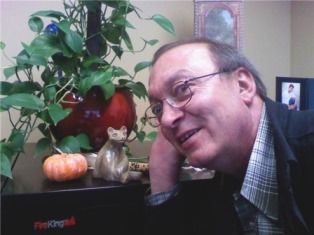 January 28,1951 -­ November 30,2014
David was and is a human being, a true member of the people and the animals, a storyteller without compare, a poet with a gift, a worker for the people, planner for the Puyallup Tribe. He will be missed.
He is survived by two sisters, seven brothers, mother Bonny Komp, wife Marian, and two adult children, Daniel Marko and Ingrid Kimball, for whom he was a father-­figure and mentor but more importantly friend. Plus more friends than could cover an island or fill a large gathering space.
This is and was David. We will not know what to do without him but will continue to gather and tell stories.
A memorial service will be held Sunday, December 14 from 1PM-­4PM at the Community Room of Urban Grace Church in Tacoma, WA.
Posted by the Whited Family in Roseberg, OR:
David was born January 28, 1951 in Canyonville OR. He graduated Sutherlin, OR High School and continued his education at Southern Oregon University earning his degree in English and Mathematics. He went on to obtain a masters degree in fine arts from Bowling Green State University.
David has been a recognized author and poet for decades. He read his poetry frequently in the Seattle area and on occasion returned to his home town and read in Douglas county. David had several books published and was regularly published in literary journals. His works include: 3 & 1 a compilation of, his previously published books: (Poor Billy Bonney, Hollow Fox & Poemoptrics), The Elevens, Wet Way Home, The Shadow Dance, and Olde Coyote Goes To Towne.
David's compassion for assisting his fellow man lead him to pursue a career working with native American groups. Initially he worked with the Southwest Oregon Indian Project as a planner where his efforts resulted in official recognition of five tribes. In 1981, David began working with the Puyallup Tribe and contributed as a planner to advance the Puyallup Tribal Health Authority and Chief Leschi Schools. Recently he served as a planner and grant writer assisting the tribal administration.
He was preceded in death by his father Clarence Whited and youngest sister Meg Dolan. He is survived by his wife, Marian Whited, children Daniel & Ingrid, mother, Bonnie Komp Ellison, brothers and sisters: Mark Whited, Pat Whited, Cari Barker, Rick Whited, Jeff Whited, Mike Whited, Tim Whited, Dede Linton, Scott Whittaker, Leonard Whittaker. Also, too numerous to name, but no less important, nieces, nephews, cousins, aunts and uncles, and friends whom he considered his brothers and sisters. A memorial service was held at the Calapooia Community Club House on December 6th at 3:00PM.
From Raven's Roost
Poet, Storyteller, Friend "Savor each day, and leave it well."
David Lloyd Whited was a storyteller. And a Trickster. And a spellbinding interpreter/reader of his work to an audience. And a lover of animals and creatures of the wild. Over the years I've known him since the mid­1980s, we've had many conversations about Trickster mythology, about the Trickster's role in Native American culture, in variation to its role in Norse, Greek, Slavic cultures. And the role of humor in Native storytelling: the dark, raucous humor of the survivor. ("Many native traditions held clowns and tricksters as essential to any contact with the sacred. People could not pray until they had laughed, because laughter opens and frees from rigid preconception. Humans had to have tricksters within the most sacred ceremonies for fear that they forget the sacred comes through upset, reversal, surprise. The trickster in most native traditions is essential to creation, to birth. –Byrd Gibbens)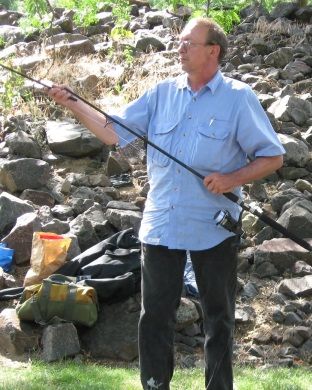 Raven Chronicles has published many poems by David over the years, many in our first 16 issues— selections from which will be the basis of our upcoming anthology. We published collaborations David did with artist Glenda Guilmet ("Shadow Dance Series," 1993) and many wonderful poems, including: "Four Views of the Desert," "The Unemployment Line On Venus," "Smart Bombs: a euphemism for lack of good intelligence," and many early Coyote poems. Not everyone was a fan of the way David transcribed his work on the page: the lack of capital letters; the seemingly inconsistent punctuation (wily Coyote!). But most everyone was transported out of their skin the moment David started to weave his Aloud web of tales and myths.
Phoebe Bosché
---
In lieu of flowers the family asks that you please contribute to any of these services:
• Puyallup Tribe of Indians "Call to Haul" Fund, 5722 66th Ave E, Puyallup, WA 98371
• The Puyallup Tribe Childhood Center, 3580 E Grandview Ave, Tacoma, WA 98404
• or Portland Av (East side) Community Center, 3513 E Portland Ave, Tacoma, WA 98404­-4832
---
Comments
Sly walking man with stars in his eyes and a great critter love. Thanks to those who wrote of him. My heart goes out to everyone. Miss you, David. My mentor and friend. --Laura Lee Bennett
---
I met David in 1984 at the Puyallup Tribal Clinic where we were both employed. It took some time to begin to appreciate his poetry, but now I have made it an integral part of my world-view; and snippets pop into my mind as a mirror for any crazy event in our nation's political scene, or when I learn of some new natural disaster. I just learned of his passing a couple weeks ago, and am so sad to hear of it. Glad he left his coyote humor, gallows humor for sure, in his wonderful books. I have most of them. Just purchased Olde Man Coyote Goes to Towne, and am still immersed in it. If he were still with us, I can see him writing a poem called "Olde Man Coyote Runs for President." Oh, how I wish he were still among us!
Maxine Franklin
---