Jaysukh Muljibhai Shah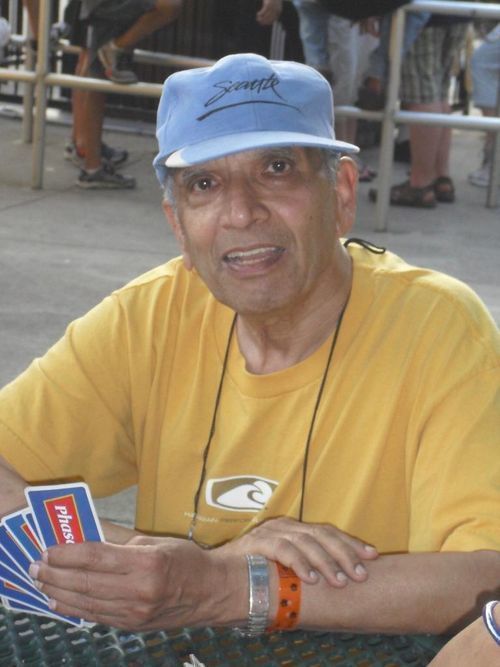 Jaysukh Muljibhai Shah was born on November 19, 1933 as the youngest of three children in Rajkot, Gujarat India. He spent his school years in Nadiad, Gujarat and studied in the evenings by a kerosene lantern. 'Jay' was the first person in his immediate family to attend college. He spent his early years of college in Mumbai at Elphinstone College and then obtained a degree in Civil Engineering at Vidhya Na Ghar College in Nadiad. His meager upbringing and desire to be rewarded commensurate to his efforts, motivated him to seek further education and career opportunities. The future of his family was his largest incentive to pursue a dream in America.
He sacrificed personal needs in order to pursue opportunities for prosperity. With the encouragement and support of his maternal uncle, Jay came to America on February 1st, 1958 with simple clothing, sandals, and very little money. He worked three jobs to assist with living expenses while attending the University of Michigan to obtain a Master's degree in Structural Engineering.  Upon graduation, he intended to head by Greyhound bus to 'steel town' Youngstown, Ohio to explore job prospects. As good fortune goes, he missed the bus transfer in Akron by an hour and combed through the yellow pages for engineering consultant jobs. He found one for the summer and later in nearby Canton.    
A dear friend encouraged him to not underestimate himself during the job negotiation process and this, along with his ambition, helped him to seek and define professional goals. He joined Marr, Knapp, and Crawfis (MKC) engineers and architects in 1962 and his first big project was designing Massillon City Hospital. He joked that they decided to keep him around just in case 'something happened'! Eventually, the firm moved him to New Philadelphia where he worked for over 35 years with design projects that encompassed the breadth of this quintessential community. These included the elementary school his children eventually attended, a major hospital extension where each of his children were born, the city library, the vocational school, a local branch of a major university, and a lakeside resort.   
Dad returned to India in 1964 to marry our mother, Shailini S. Parikh, after a brief courtship. They were the first Asian Indian couple in a county of 80,000 people. It was an incredibly warm welcome. The town actually showcased the newlyweds in the Sunday color pages of the local newspaper. They had three children who helped to raise six wonderful grandchildren - Anita (with Hitesh), Sangita (with Apu), and Raj (with Niki): Akaash, Anokhi, Vikash, Amit, Vivek, and Avni. Jay sponsored family and friends to come to America and he was essentially the pioneer for his extended family's migration to North America.  
Jay served as a pillar of the community which included President of the Lions' Club and Ohio Society of Professional Engineers. He was most proud of being a dedicated husband to his beautiful wife of 57 years and for the accomplishments of his children and grandchildren. It was his personal sacrifice and ambition that permitted us to enjoy, in many respects, a privileged life. He will be remembered for his wit, unbridled patriotism, and his utter devotion to our family. Dad encouraged us to always be the best at whatever path we had chosen. He repeatedly taught us to help those who were less fortunate and in whatever capacity possible. He demonstrated the ideals of feeling grateful and to express empathy. Our father was humble enough to realize that it was not only a commitment to work ethic but circumstance and good fortune that permitted him and his family to prosper. He left this world peacefully and surrounded by his loving family on December 27th, 2021. He will be missed by all that knew him…forever. 
In lieu of flowers, our father's wishes was to support this charity that feeds millions of school children who would have otherwise gone without food: 
https://www.akshayapatra.org/active-fundraising-campaigns/jay-shah-memorial-fund
Please choose Gujarat State where we are from
(Donation is in Indian rupees)
Here is a video of their amazing work in action:
https://m.youtube.com/watch?v=USBh588MNbk
If the link does not work. Please send a check written to Akshay Patra USA and mail to:
Raj J Shah
7894 E Bayaud Ave
Denver, CO 80230
Jai Shree Krishna
---
Comments
What a wonderful life Journey your father has walked Sangita. We pray for his soul to Rest In Peace and may you all cherish his life with fond memories. He has surely passed on his compassion for the less fortunate, to his children too. A legacy worth inheriting.
- Kala Murali
---
Dearest Sangita I am so sorry to hear about the loss of your father. I know nothing can be said to ease what you are feeling but I wanted you to know that you and your family are in my prayers. You all are an amazing testament to your father's legacy .
- Avani
---
I had privilege to address him as "jijaji ". It is hard to accept news. He was full of life. Every time I hear gujarati song "Tari ankhno affini "I think of him all the time. We will miss you dearly. You live in our hearts for ever. May you be blessed with ultimate peace and salvation.
- Ranjit and Daksha and family.
---
Masa will be dearly missed. Om Shanti.
- Nita
---
Jaybhai, you haven't left us ! As a matter of fact you are in our hearts forever. Materially we feel that you are no longer with us however spiritually you have secured a special spot in lotus feet of "almighty" lord to serve him This is the way to sttain eternal peace. With solemn prayer we remain Govindbhai and family' jai Shree Krishna
- Govindbhai and family
---
I know Jaykumar, before I came to USA. Shaili and Anjani, my wife, were very close friend since childhood living in Rajipila. When Jaykumar came to India In 1968 I met him and talked to him that I am coming to USA. Since he found out that we both were born on November 19, he immediately agreed to send me the affidavit of support documents. This is how Jaykumar was kind and caring person. He was one of my best friend and I was fortunate enough to have spent some time with him. I will miss him very much. God bless his soul and give him a place with him. That's my prayers.
- Yogesh and Anjani Mehta
---
You will be always missed Jijaji !
In a true sense, you are never gone from our hearts.
Rest in Peace !
- Prakash-Dipti
---
We will miss Jay uncle sorely! I have fond memories of us meeting in Ohio and Mom and Dad were so happy to be with Shailini aunty and Jay uncle. We always kept in touch by phone. He was also happy and joyful no matter what circumstances. My condolences to aunty and entire family. Prayers that his soul Rest In Peace
- Bhavna Vaishnav (Sushila's daughter)
---
What a humble and beautiful soul he was! We so much enjoyed him and Shailini while they were here in Ohio. We sure have missed them. We had so many great times with them.I loved the peanut butter sandwiches he always made for me!! My heart goes out to all of you.

Kim Sherer
---
Such a moving, inspiring and beautifully written tribute to a man I knew as the father of one of my dearest friends, and professionally in the occasions we crossed paths on a building project. I greatly appreciated the way that Jay treated me respectfully and as a team member despite the fact that I was young and wet behind the ears as his career was drawing to a close. He was a credit to his craft.

To my friend, Anita, and all of Jay's family, may your sorrow pass quickly to sweet memories of a wonderful man.

Mike Hicks
---
Jaybhai who I And my elder brother Dipakbhai fondly called " Jaysukhlal" was one Happy - Go - Lucky person. He lived up to his name and celebrated Happiness all his life. Our children and we, for that matter, grew up with Shah Family. His love for life, Love for Family And Love for food is known to all of us. We will dearly miss his absence in our lives. May God Bless His Soul with Ultimate Salvage and give all of us the strength to bear this huge loss. Om Shanti.

Bharat Parikh.
---
I fondly remember meeting Shailini and Jaybhai at their residence in Baroda whenever they used to visit our city. Our houses were hardly three kilometers distance. It was always a delight for me and Mudrica to spend a few hours in the company of this ever smiling and witty person. He will always be missed.
Wish his soul rests in eternal peace.
Jayant and Mudrica.
 
Jayant R. Parikh
---
What a wonderful life story and strong legacy in his caring family. We also love the pictures that tell so much more on the joy of his life.
Tarang and Hirni Amin
---
Dear Auntie, Anita, Sangita, Raj and the rest if the family,
I met Uncle after Anita and I became close friends in college. Uncle was such a graceful and humble being. His family was very fortunate to have him as a part of their lives. He has passed on his positive qualities to his children and grandchildren. May the memories you have remain in your hearts at this tender time and years to come.
Sending love and light to all of you.
With deepest sympathy,
Daxa, Mom and Dad
---