Andrea SkyWalker Chapman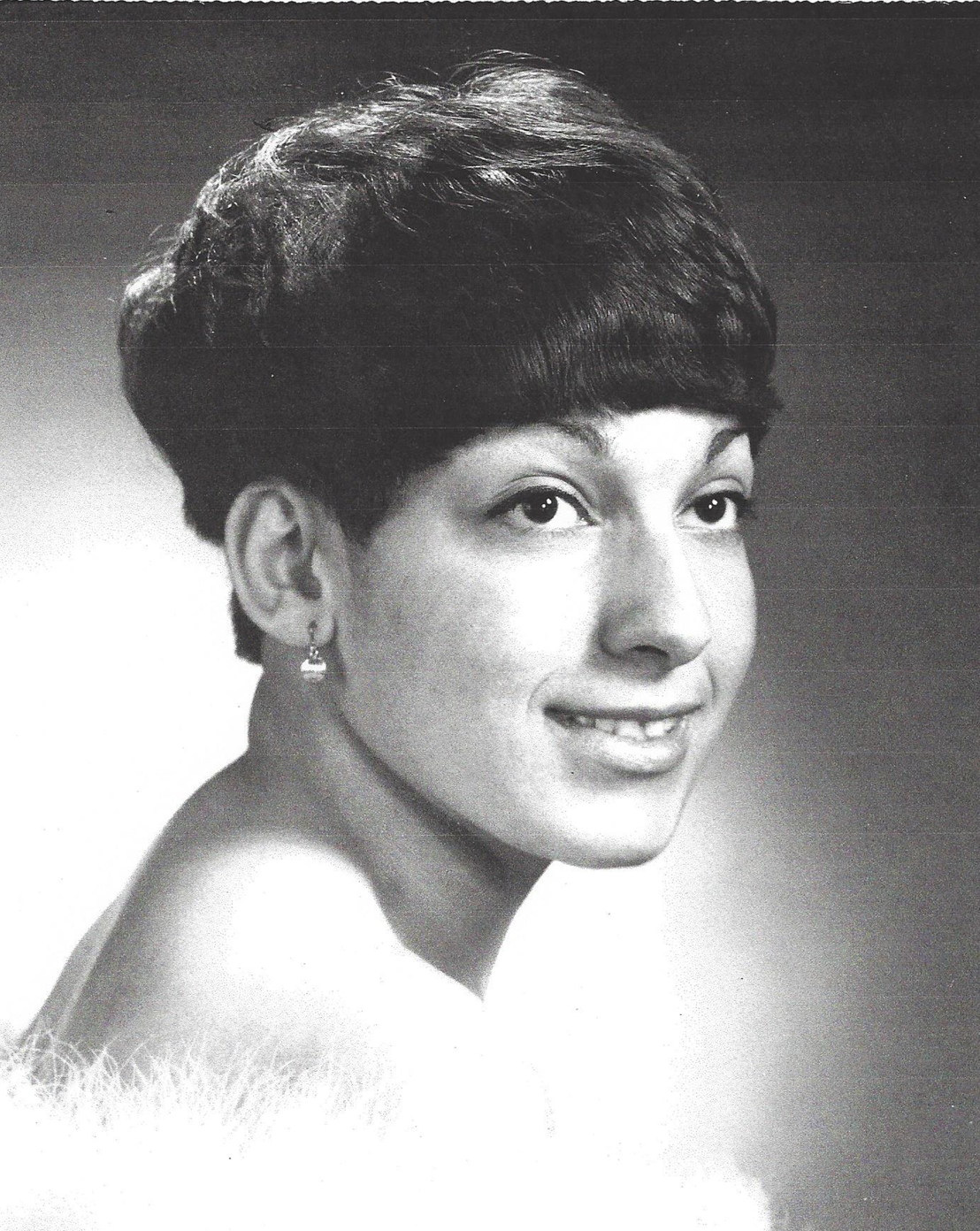 Andrea SkyWalker Chapman was born on December 27, 1950, in Mannheim, Germany and died on October 18, 2020 of natural causes in Everett, Washington where she made her home for a quarter of a century. Her German mother, Karola Edrich, married her father Moses Walker, an African-American of Cherokee Descent, during his military service. 
 
Dedicated to the teachings of Nichiren Buddhism, Andrea practiced compassion with an open heart. Andrea stated, "I like helping people who can't help themselves; I want to leave something positive and beautiful in this world to promote unity". She is deeply missed by family of choice and origin. Her legacy is Victory, repeatedly defying medical predictions while achieving Happiness.  
A former social worker, actress, poet, singer, activist and traveler were titles Andrea held. As a musician her lifelong passion was music. While a bassist in the B.Y.O. Blues Band, she met her late husband and great love, Millard "Hazzy" Hasbrook (Sr.).  
Andrea's commitment to excellence shines with accolades as an alumnus of Western Washington University, an Aikido Greenbelt, a Reiki Master, and an ordained Earth steward healer. In her lifetime, she served survivors of domestic violence; founded a Buddhist choir; and grew community among Soka Gakkai International and Full Moon Circles. 
In final years, Andrea joyfully connected with her father's extended family. She reminded cousins about their indigenous roots, and they came to treasure her as a gifted angel.  She also reignited her love for poetry, performing at Cafe Zippy of Everett and publishing two collections.  
She is survived by her step-children Mey, Michelle, Arthur, Millard (Jr.), Chad; six step-grandchildren; friends and a host of cousins.
A celebration of Andrea's life will take place online for her 70th  birthday. An announcement will be posted on Facebook and shared widely. 
---
ONLY A MOMENT AWAY 
EVERYTHING IS ONLY A MOMENT AWAY

TO LOVE - TO LAUGH - TO GRIEVE

IT'S ONLY A MOMENT AWAY

TO LOVE - THE ECSTASY'S ONLY A MOMENT AWAY

TO CRY - IT'S ONLY A MOMENT AWAY

THE VICTORY AND DEFEAT

ONLY A MOMENT AWAY

THE ANGER - THE FEAR - THE DANGER IS NEAR

AND ONLY A MOMENT AWAY

DON'T GIVE UP THE FIGHT

IT'S VICTORY TONIGHT

AND IT'S ONLY A MOMENT AWAY

IT'S ONLY A MOMENT AWAY

JUST TAKE A DEEP BREATH

IT'S ONLY A MOMENT - ONLY A MOMENT

ONLY A MOMENT AWAY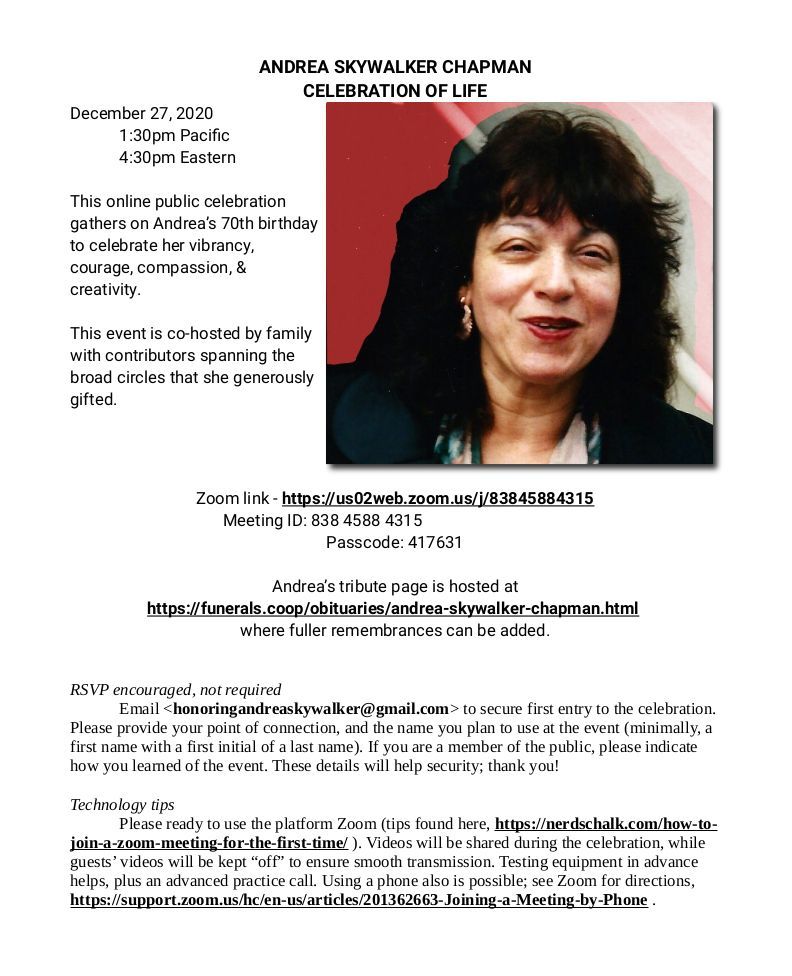 ---
Comments
I'm so sad to hear Andrea has passed on. I've been trying to reach her for several weeks now... Please let me know what happened, anyone. She is in my Pacific NW Musicians calendar for 2021 in the bassists layout. Thank you. What a lady. The sky is crying, to quote a tune that says it all... Farewell Andrea till we meet again.
 
Sadie Reneau
---
...Andrea came to several of our family reunions and each time she came she gave. She gave of her heart, in her desire to get to know each of us, teach about the native american culture and customs and pull us closer together. The last time we were at the reunion she introduced the talking stick which gave us each a time to share something about the meaning of us being together. She also shared her new book and some of her writings.
Her open heart stood out amongst our family, at the end of each family reunion, as she would present us each with small gifts as a way to bless each of  our lives. A small token of love that she would carry with her on the plane across the country, so that we would leave with a bit of her thoughtfulness and generosity. 
So rare, so touching but gone way too soon.
We love you Andrea and your presence will not be forgotten.
Cheryl Jones-Dix 
---
...my experience with my cousin Andrea . My mother Sandra Vaughn is her first cousin. I have written some words that I believe will most describe what she meant to me in our short but enlightening relationship.
Andrea and I had a relationship that was rooted not just in our family ancestry , but the essence of the Arts. Andrea shared her Musical band and Poetry stories with me that I felt complimented my long lived passion for music and writing. She recently published her books The Ecstacy of Life & in 2019 she published "The World as I see it" and in this book she was so kind to include my daughters Artwork, while she ( Andrea) visualized the picture and wrote a beautiful poem to it. Eventhough, my family and I were new to starting a relationship with Andrea, she found an interest in our existence that helped bring her vision to life. This was the person, the lady she was. I always dreamed of meeting long lost family and sharing past experiences and future endeavors with. Just so happened God answered my prayers and sent a gifted, Angel to share with. I cant be selfish that Andrea is gone, although I do wish we could have spoke to eachother one more time. She has served her purpose now. 
Additionally, as you requested I will keep your poetry alive through my music.
Thanks Andrea.
Mario Vaughn 
---
First cousin--
Andrea - You are a beautiful and rare soul. Your passion for the Arts run deeper then any ocean. Your poetry is the essence of your being that brought light and healing to all that crossed its path. 
I'm honored to have been apart of your soul tribe. Imparting you wisdom to pass on to the next 7 generations. One of the strongest woman I've encountered. You never backed down from any obstacles and accepted the challenge, never backing down. The journey you embarked on and time spent in this realm was not in vain. 
I hope you learned all needed in this lifetime to reach Nirvana. Transcending to the highest state of being. If your walk is not completed, may your next journey of rebirth be filled with Bliss....and karma debt free.
Maddie and I will always cherish the time spent, talks about family values, our rightful Indigenous heritage, and passion for lyrical art form. It would t be forgotten....You won't be forgotten! We love you and hope to see you in the next lifetime.  Wishing you peace, love, and light!
Your little sister....Niecy! 
The greatest gift is to give people your enlightenment, to share it. It has too be the greatest achievement ~ Buddha
---
So many striking things about Andrea. The most memorable to me if I have to boil it down to one thing is the way she was always able to integrate her myriad interests and talents with her Buddhist practice. We are often reminded to make it the center of our lives. For Andrea she didn't seem to have to try as hard as others to do this. Over the over 40 years I knew her I watched how she never separated things but allowed everything to express her whole self. So over these precious years would consistently bring new people into our midst that she met in the various aspects of her life. Sometimes it was another musician or poet. Sometimes it was a random person she'd met because she was so willing to interact with those who were less fortunate. She bridged so many gaps that keep most of us apart. Some of these people stayed on to practice. Some just came in and out but Andrea knew she had planted the seeds of Buddhism in all of their lives. She never stopped. I think that will be one of my lasting impressions and guidance from her on how we should each live our lives. This is the true purpose of the Lotus Sutra. 
LORRIE G
---
Andrea was a devout Buddist who graciously shared her practices to help support and enlighten others. She was a wonderful musician and we met when she was forming a Buddist choir. She shared the choir's music with her Buddist community. Then when she was invited, she eagerly participated in our monthly Full Moon Ceremony, which is a Native based ceremony of acknowledgement, respect and gratitude for all the gifts the Creator gives to us. Andrea was a happy participant at this ceremony until her health precluded her from driving from Everett to Shoreline. She appreciated learning about Native values and teaching as it resonated so much with her because of her own Natve heritage. 
Lisa Powers
---
~A paraphrased pitch to a local paper, dated Dec. 23, 2020~
This Sunday there is an online, public celebration of life for Andrea SkyWalker Chapman. She was a longtime resident of Everett who died on Oct 18th, after a valiant struggle with kidney and heart disease.
I believe that her life story can inspire the local community, especially in times such as these. It's my hope that as many people as possible be encouraged by her life, as it was her wish. The public is welcome to the online event (details here,
. )
In Andrea's final two years when she was on dialysis, she completed two poetry collections. She was featured twice in a publication about living with dialysis because of her amazing attitude and accomplishments.
Andrea was an active member of the local chapter of Soka Gakkai International (Buddhists), a volunteer at the Everett Recovery Cafe, and a regular contributor at Poetry Nite hosted by Cafe Zippy. She was a lifelong musician, and was intent on bringing music to the public despite her illnesses. The bass guitar was her "specialty", and she performed in bands earlier in life.
Andrea suffered a massive stroke in 1999, and made an amazing recovery. She defied medical predictions, having been told that she wouldn't walk nor become independent. She did both. Part of her health regimen after the stroke was swimming regularly at the Forest Park Swim Center, where she shone her positivity to as many as possible.
Andrea completed studies at Western Washington University as a non-traditional student, becoming a social worker and an advocate of survivors of violence. This work preceded her residency in Everett --since 1995, by which point she was focused on her musical life.
Before retiring, she was a caregiver for the elderly, serving as a caring companion. Andrea frequently helped people materially and emotionally, including those who were house-less. She is remembered by many as their best friend, and by some as their only friend.
Sincerely,
Stepdaughter of Andrea SkyWalker Chapman
Mey Hasbrook
---
I was a neighbor of hers that lived just a few doors down and a cross the street. Whenever I walked one of my dogs and when Andrea was out I always would stop and talk to her.. I will now miss that.
-Laura Cuvreau
---