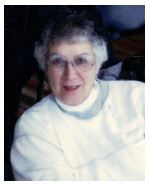 God's Garden welcomed a beautiful yellow butterfly, Patricia Emelia Calkins, or Pat as she preferred to be known, on November 14, 2015 at 1:11 a.m.  Our mother left behind a wonderfully tended garden of family and friends.  Our feisty "Betty Boop" had over 93 years of fun, food, friends and family.  Pat died peacefully with family at her side at Swedish Hospital in Issaquah WA.

She was born September 12, 1922 in Seattle, WA to Pasquale and Alice Ciacco.  Pat was a 1939 graduate of West Seattle High School.  She was crowned Miss Scandinavia in 1940.  Pat married Wallace V. "Tiny" Calkins in 1941 and produced 6 children, (Family joke, Pat always called herself "The Producer"):  Wally Calkins (Peggy Danz), Redmond, WA; Patrick Calkins (Rosemary Gabriel), Greenport, NY; Christopher Calkins (AKA Spider Duncan Christopher), NYC; Kim Calkins, deceased; Casey Calkins (AKA Cayce Kaban) Hood Canal, WA; Mia Calkins Idrissi (Phil Idrissi) Los Angeles, CA.

Pat was trained as an exemplary artistic florist by her step-father Henry Hansen at the legendary Hansen`s Georgetown Florist. Pat was also the florist at Frederick and Nelson Department store in Seattle, WA for many years. She was an extraordinary cook, loved to tend to her garden, play pinochle, travel, eat great Italian food, and most of all...she loved spending time with her friends and family with all of her heart. 
Pat is survived by her 5 remaining children; 5 grandchildren, Cary Calkins (Niki Howard); Jeff Calkins; Krissi Calkins Thomas (Marc Thomas); Kevin Calkins (Shanna Belknap); and King Calkins (Gabriella Lazzetti); and 6 great-grandchildren, Tilo Calkins, Imari Calkins, Amalia Thomas, Gabriella Thomas, Grayson Annuciacion Calkins and Benecio Lazzetti Calkins.

A "Celebration of Life/Family Reunion" will be held on Sunday May 22, 2016 at Fairwinds Assisted Living.  The address is:  9988 Avondale Road NE, Redmond, WA 98052 - from 2:00 to 5:00 PM, in the activity room (please check in at main entrance/front desk), visitor and valet parking available. I will send a reminder as we get closer to the date as we'd like to have an accurate count for the Chef.  You can contact me  via email anytime at mialicia516@yahoo.com, phone/text: 818-516-4377, or via Facebook.  

The event will be fairly informal, a chance for us all to be together in her honor, but there will be an opportunity to share your favorite memories or stories of our beloved Pat.
---
Comments
---