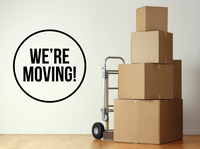 People's Memorial and The Co-op Funeral Home Move to Queen Anne
After 12.5 years on Capitol Hill, PMA and The Co-op Funeral Home have found a new home!
A 10 year lease was signed for a whole floor - over 4,000 square feet - at the Queen Anne Baptist Church. The organizations have been working hard to expand and this move is a result of their efforts. PMA looks forward to hosting their free workshops on-site and more frequently. The Co-op Funeral Home will be able to offer families several on-site options to host memorial and funeral services. 
Attend the Annual Meeting on May 2nd from 9 am - 12 pm and tour our new home. Our partners in death care will also be there hosting informational booths. You can expect to learn more about green burial, recomposition, aquamation, advance directives for health care, estate planning, death doulas, and more.
The new address effective March 1, 2020 is 2011 1st Ave N, Seattle, WA 98109.
This is an exciting time of growth... read on to see how you can be a part of the journey!
Grow with Us: Contribute to the Spring Fundraiser
More people than ever are accessing free resources and attending classes, but membership has been on a decline since 2017. In the coming year PMA is adding online classes and nurturing new community partnerships to appeal to the next generation of members... but membership fees only cover 43% of our budget. Support the expansion of our community services as we grow into another decade!
Make a gift now through June 20, 2020 in support of the growth of People's Memorial Association and The Co-op Funeral Home.
Your contribution will aid in the transition to the new office space which will become the hub for funeral education and advocacy in Washington State. It's easy to make a gift:
Online at peoplesmemorial.org/donate;
Make a check out to People's Memorial Association and mail to 2011 1st Ave N, Seattle, WA 98109; or
Call the office at 206.325.0489 x4 to share your credit card information with one of our staff members.
The PMA Events Calendar for 2020 is full of free, informative classes
Our new office space features a large classroom that is set up for community discussion, presentations, and workshops. We value the partnerships we have been cultivating for years with organizations and professionals in death care and have been building new relationships this past year.
We're happy to present a very full calendar of classes - some presented by PMA staff and some by our partners. Check out our Events Calendar to find the topics that are of interest to you. New classes will be added throughout the year so please keep checking in. And, if you've attended one in the past, we encourage you to join us again because there may be new information available.
We can't wait to see you in our new space, ready to learn and engage in dialogue about end of life!