Carlyn Kaiser Stark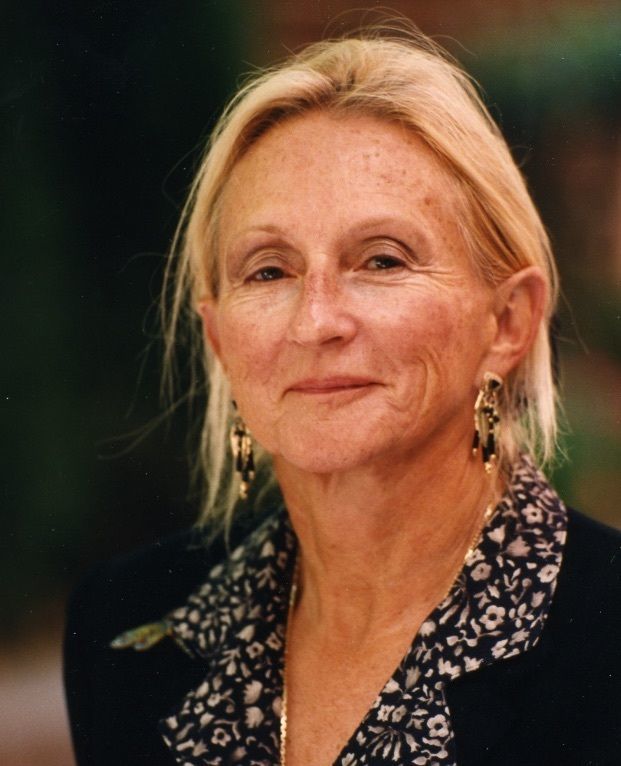 On December 12, 2021, Carlyn Kaiser Stark quietly drew her last breath and passed peacefully out of this life. She was a mother of five, longtime progressive, valued Board member for non-profits, skilled sailor, and musician, and thrived on events filled with family, friends, strangers, and colleagues. "She was a casual but formidable woman," said her stepdaughter.
Born into a family that moved often during her childhood, Carlyn was no stranger to frequent resettling as marriage and divorce or widowhood generated a change. Born in Washington DC, she spent her final years in the Pacific Northwest, first Orcas Island, then Port Townsend, and her last months in a beautiful apartment near her children in Seattle.
She left Bryn Mawr college to marry Bud Wehle and start a family that eventually grew to five kids. After stints in Australia and Hawaii, they settled on the west coast. Orcas Island served as home base for Carlyn's years as Camp Director at Four Winds*Westward Ho Camp where she was adored for her warmth, generosity, and charisma. She then served for decades on the camp's Board of Directors, helping oversee the construction of the yawl that now bears her name and serves as the sail training boat at Camp Four Winds, The Carlyn.
Carlyn's family loved boating, and she herself became an avid sailor. From cruising with her children from Deer Harbor to Desolation Sound in a small sloop, to captaining the 52-foot Shekinah to Alaska with her late husband, the love of her life, attorney Frank Stark, she was always capably in command at the helm of any boat. She and Frank called Oakland, CA home, from 1976 until Frank's unexpected passing in 1989. 
In the early 90s, Carlyn joined the Kaiser Family Foundation Board of Directors, serving as a trustee until 1999. One of her proudest moments was delivering a speech in Cape Town, South Africa, before President Nelson Mandela and community health leaders recognizing the Kaiser Family Foundation projects across South Africa helping to promote health and democracy there.
In 1996, Carlyn made her way to Port Townsend, WA, where she shared her sailing expertise through her involvement with the Northwest Maritime Center. Long a folk-music lover, Carlyn hosted a weekly singalong in her warm and inviting home. As well, she continued her long tradition of hosting an annual winter solstice party for family friends and neighbors. 
In July, Carlyn relocated one last time to Seattle, very happy to be accompanied by her cherished cat Max. At Ida Culver House, laughter punctuated her conversations as she enjoyed reading, doing crossword puzzles, playing Scrabble, and winning at bridge. She celebrated her 88th birthday with family and friends at a waterfront restaurant in October and decorated for Christmas.
She loved every aspect of Christmas. Regardless of the size of the crowd, she thrived on a
certain level of chaos and always made room for more to join in on the fun. Christmases changed location through the years, yet they always centered on family, Christmas morning stockings, cookies, and meals around a beautiful table laden with great food. To the end, she was generous in her gratitude, and loved sharing, whether it was a meal, or her home, or her travels.
During a short hospital stay, Carlyn quickly declined, and passed away, with her children Kathy, Robin, and Mead, and their respective spouses, in constant attendance. She was comfortable, offered smiles at jokes and recollections of family adventures, was gracious to all the staff, and went peacefully.
She was preceded in death by her parents Edgar F. and Sue Mead Kaiser, and her brother Edgar, Jr. Carlyn is survived by her brothers Henry J. Kaiser and Kim Kaiser, and sisters Gretchen Kaiser and Becky Drobac, and by her children (and spouses) Kathy Wehle (Theresa), David Wehle (Thao), Kim Sue Slinger (Stu), Robin Carpenter (Mark), and Mead Gilbrough (Amy). She is additionally survived by six grandchildren, and three great grandchildren.
Memorial services planned for Orcas Island and Port Townsend will take place in spring 2022. For those who knew and loved Carlyn the family suggests memorials to any of her beloved nonprofit organizations. Northwest Maritime Center in Port Townsend, WA. Four Winds* Westward Ho, Deer Harbor, WA. The Humane Society of Jefferson County, Port Townsend, WA.
---
Comments
---