Christa Irene Emma Burgess (nee Jaster)
January 24, 1938 -May 7, 2021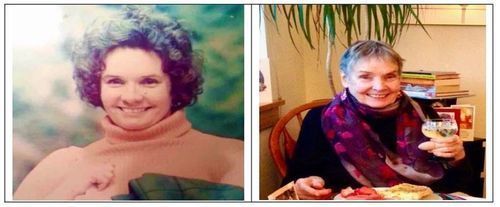 Our wonderful mother, Christa Burgess, passed away May 7, 2021 in Seattle WA at the age of 83. Christa was born January 24, 1938 in Berlin, Germany. Mom grew up an only child during WWII witnessing the ravages that war brings. Despite illnesses, times of hunger and no heat, loss of school friends and family, Mom persevered.  Mom's biggest dream growing up was to move to America, so in 1959 with little more than a few dollars, a new husband by her side, she immigrated to Canada and eventually made her way to California. In California Mom made friends easily, she was the consummate hostess, an excellent cook; she also enjoyed gardening, playing cards, and traveling.  Our mom was always active, she had a wanderlust like no other; because of her love of the outdoors, road trips and camping were the most fun, and had a lasting impact on her children and grandchildren that we will carry forward. Her eagerness to learn the English language (she could spell better than most) was something to be admired, she was able to teach herself how to read and write which brought her job opportunities and respect (especially when playing Scrabble).
Mom married the love her life, Lynn Burgess, in 1971. This union came with 5 children which we lovingly referred to as the "The Burgess Bunch". This next chapter in her life brought the family to Seattle, WA, where they established a large group of friends, entertained often, and traveled frequently.  In 1975 Mom and Lynn, along with help from the kids (mostly, Jim), they built their dream home near Lake Sammamish in Issaquah. The family enjoyed Summers at Waverly beach, swimming, boating, and awesome BBQ's. Mom often said this time was the happiest time of her life. Mom loved golfing, was an excellent athlete and once achieved a hole in one at Sahalee Country Club.
Mom had several jobs over the years, always curious to try new things and expand her knowledge. Mom worked at a laundry service as a teenager in Berlin, the Chamber of Commerce, Betz Laboratories, a Hallmark store in Sammamish and finally Marionwood in Issaquah, WA. Mom also spent many hours volunteering at Overlake Medical Center. Mom was recognized for taking excellent care of her patients, always going the extra mile to assist them, including fixing them real home cooked meals even if it meant she had to visit while not on duty. 
Mom will be remembered for her kindness, cooking (world famous meatballs), gardening, tenacity, and gregarious, outgoing personality. Her ability to throw her shoe (or wooden spoon) at her kids when we misbehaved is what family legends are made of. 
Mom was predeceased by her parents Walter and Irene Jaster, her husband Lynn Burgess, and her beloved grandson, Paul Conley. She is survived by her son Peter Alexander, son Don Burgess (Korie) son Jim Burgess (Meighan); daughter, Patricia Alexander (David); daughter Stephanie Lenfestey (Trent). Christa "Omi" is also survived by 10 grandchildren, Nea Conley, Jacob Burgess, Marissa Burgess, Anthony Burgess, Nicholas Burgess, Shaiden Valentine, James Lenfestey, Jacob Lenfestey, Kenny Alexander, and Kai Alexander.
She will also be remembered fondly by numerous friends around the world.
We would like to extend our heartfelt gratitude to the staff at Kline Galland Home for their loving care over the last few years. We are grateful & thankful for your excellent care. Thank you also to Mom's close friends Ulla, Katrinka, and Wendy, for your friendship and love of Christa.
A memorial service will is planned for a later date.
Mom, you are free of pain at last, may your adventures continue with those that went before us.  
We love you.
---
Comments
A truly beautiful and remarkable lady and I will cherish our friendship forever Christa. I love you and miss you my friend.
 
Wendy Schroeder
---
About 50+ years ago my husband and I were in New York City for a "Insurance persons" meeting. Christa and Lynn were there for the same meeting. She and I met during a "wives" program and were instant soul mates! We began keeping in touch by letter, then email, then mostly telephone. She eventually in Seattle and I in Minneapolis, MN. I do believe in that time we shared everything there was to share and more.....it was more than wonderful and more than best friends!
Yes, dear Stephanie, I know your Mom is very proud of all of you "kids".....always was, always will be! I do know how important her family was to her.
Thank you for forwarding her beautifully written obituary .... I am forever grateful.
I loved her a lot and will miss her dearly. I am sending my thoughts and prayers to you all.
In loving friendship, Vivian Rolek
---