Michael James McGeough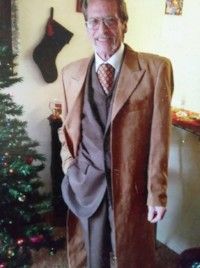 Michael James McGeough, of Auburn, Washington, passed away in Seattle on November 1, 2017. He was 73.
Born in Seattle to Art McGeough and Evelyn Loggins, he was a lifelong resident of the area. He was preceded in death by his parents, as well as his siter Judy and stepbrother Keith, and is survived by his children, Dominic and April, and grandchildren Devon, Damien, Grayson, and Caleigh. He is also survived by his brother, Mark, his brother, Dennis, his sister, Bonnie, and his stepsister Kenilee.
Military Honors will be conferred on Thursday, November 30, 2017 at 12:30 in the afternoon at Tahoma National Cemetery, 18600 SE 240th St, Kent, Washington 98042.
---
Comments
With love and peace you were able to pass from this world. You were a brother, father, grandfather , uncle and friend to many. You were loved and will be missed greatly. I know you'll be welcomed with loving arms into our lords kingdom.
- With love Colleen Suhara and family (Former partner of Marc and mother of Tomiko).
---
Uncle
-Tomiko
---
Miss you brother. Am glad we have maintained a friendship over the years and were able to become closer in the recent past. You've always been there for me and have shown your love for me in numerous ways over the years. I have so many fond memories that I will carry the rest of my life. Say hi to mom, dad, Judy and Keith when you get up there. Love, Always and Forever, Dennis
    
Dennis McGeough
---
Mike, you will be missed. You were a very cool cousin. I remember you and Marc visiting my parents house during the Christmas season in your military uniforms during the Vietnam war. I was impressed. So many stories to tell. Thanks for being honest with me, I am in your debt.
Ted Berard
---
May you Rest In Peace. Wish I would have had more opportunity to be better cousins. I enjoyed my visit with you in your last weeks. God Bless you, say hi to all as you have a large family welcoming you in heaven.
Danny McGeough
---
I have so many great memories of my times with Mike from as far back as spending the night on 19th telling stories playing games and many more times as we grew up. Mike had the biggest heart and cared so much about us all. You are all in my prayers.
Stasia
---
Mike, from age 16 onward you were my brother. I remember teasing people that we were twins, you just arrived later since we were only a few days apart. I also remember seeing you in New York when you were on leave. I always had a good time when you were around. I'll miss your big heart and welcome smile. I hope you are enjoying yourself with the others that have passed. Love you, Kenilee
    
Kenilee Campbell
---