Annelies L. Templeton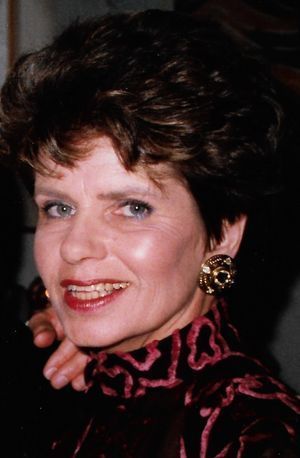 ​On January 9, 2022, Annelies L. Templeton (nee Taenzer), 94, died peacefully with her children around her, thanks to the compassionate and attentive comfort care she received at Swedish Medical Center in Seattle, Washington.
She was born in Breslau, Germany, in the Prussian province of Silesia (now Wrocław, Poland) and led a fascinating, and in her younger years, perilous life on the frontlines of 20th century history. Her early childhood was spent in the small, rural town of Gross-Strehlitz, Germany (now Strzelce Opolskie, Poland). In 1937, her family moved to Breslau so that she and her siblings could attend better schools. In mid-1944, they became refugees in advance of the Soviet Union on the Eastern Front invading Breslau at the end of WWII. Through daring efforts, the family barely survived the journey from East to West Germany and eventually settled in Heilbronn. Annelies attended school in Stuttgart and worked as an interpreter in the Counter Intelligence Corps (Army CIC) for the American government. From there, she moved to Wales and worked two years as a governess to perfect her spoken English before emigrating to the United States in 1952.
On her own in America, Annelies worked as a stenographer and bookkeeper in New York City until she met her former husband​, Richard Templeton​ ​(deceased)​​,​ ​and​ married ​him ​in 1953​.​ They moved to Sea​​ttle where they raised three children. Once settled, she facilitated the immigration of her two younger siblings to America.
While her children were growing up, she stayed at home to care for them and volunteered with the Crisis Clinic, the Foundation for the Handicapped, organized art auctions and non-profit music fundraisers. She also worked briefly for the Children's Home Society, assisted in teaching German at Nathan Eckstein Middle School and taught Sunday school at the University Unitarian Church. Both Annelies and Richard were active in the Unitarian Church. They were generous patrons both as musicians and organizers. Their home was blessed with memories of talented musicians visiting and playing beautiful music.
Following her divorce in 1976, Annelies returned to school earning an Associates degree in accounting and worked several years for Safeco Insurance Company. During this time, she purchased a co-op unit in a quaint Tudor-style building in the University District with a storybook courtyard garden where she enjoyed many happy years. At 90, she moved to Ida Culver House in Ravenna.
Annelies was a gifted classical pianist and in the 1970s mastered the harpsichord as a student and friend of the renowned international performer Silvia Kind. Her knitting and jewelry were works of art. Creating pieces for family and friends fulfilled her to the end of her long life. She was unforgettable for those who knew her. Beautiful, elegant, charming, and unassuming, she had a way about her that stuck in one's mind. Among her many interests were music, European history, Russian literature, politics, and biographies—particularly of great women. She had the ability to listen with an empathy that attracted people to her, especially young adults who sought her advice and mentoring. She was a deeply loved sister, mother, mother-in-law, aunt, and step-grandmother and will be missed by all.
Annelies is survived by her three children and their spouses: Susan Templeton (Norman Gilinsky), Andrew Templeton (Yana Pirumyan), and Claudia ​(​Joel​)​ Soisson; her sister and brother-in-law, Helga ​(Warren)​ Pulis and their daughters: Vali Wilcox, Fawn Affeldt, and Piney Pulis Kearns and their children and grandchildren; her niece, Caroline Smith and her children; and her two step-grandchildren, Anna Pietz and Justin FitzPatrick.
In lieu of flowers, please consider making a donation in her name to your favorite charity. A private family ceremony will be held for Annelies in May.
---
Comments
---