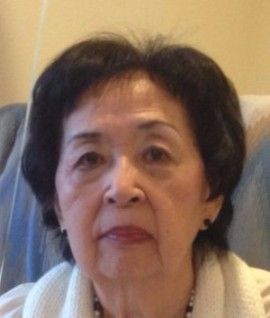 October 25, 1929 ~ November 23, 2015
Mom passed away peacefully at home and was courageous to the end of her long struggle with Parkinson's Disease. She was deeply loved and survived by her children Wayne (Margie), Rulie (Carter), and Warren. Mom loved being Grandma to Sandi, Keith, Brian, Lori, Gracie, and Lili, and was thrilled to welcome great-grandchildren Caitlin, Bryson, Mason, and Tyler into her family. Mom is also survived by family members in the Seattle area, Tacoma, California, and Ohio. She was predeceased by her first husband Shig, second husband Bill, siblings Jim, Stogie, Ty, and Merry, and her parents Robert and Michiyo, who she often spoke of rejoining during her final months. Special thanks to Zee, Mom's caregiver, who helped make it possible for her to live out her days at home in comfort and with dignity. 
A memorial service in honor of Mom's life will be held at 11:00 a.m. on Saturday, January 16, 2016. 
Blaine United Methodist Church 
3001 24th Ave. S.  
Seattle, WA 98144
---
Comments
lovely writing. Glad she passed peacefully. You are in our thoughts often, Christina
Christina Faulhaber
---
Ayako was a very, very nice teen-ager in Block 67 and she was my first date to some distant block in the camp. It was ethereal event for me and like traditional Japanese, we never expressed any words of affection. I am so glad she had an extended family. Stogie was the leader in Block 67, where he organized a club, Best Boys of America, to keep us occupied.
I am a retired historian and intelligence operations specialist with Naval Criminal Investigative Service. I live in Imari City Japan.
I am a writer using material out of the National Archives, which show many poor attributes of the US government. I have one published work.
Stay healthy and happy.
- Claude G. Morita
---