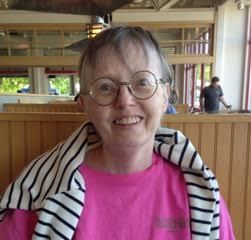 Adel Hauck died peacefully of cancer at her home of more than 30 years in Seattle, WA this past week.
Those who knew Adel knew her hard work and professionalism, good judgment, exceptional organizational skill, impeccable discretion, poise and sense of humor as an aide to top executives at WCLV, WTMJ, KVOS, KCPQ, PacificCare of Washington/Oregon, Palazzo deMix, Experience Music Project, Seattle Art Museum, Rosetta Inpharmatics and Seattle Cancer Care Alliance. 
Adel majored in English at Carroll College in Wisconsin and continued on with studies in English and Mass Communications at the University of Wisconsin-Milwaukee. Adel served as regional vice-president of American Women in Radio and Television. Adel produced Public Service programming for radio and TV. She taught Broadcast Journalism at Western Washington University. Adel was the first news director for KCPQ under the ownership of Kelly Broadcasting. During that time she won a national award for the documentary she produced about teens and drinking, "What A Waste." She then continued as Executive Assistant to Robert F. Kelly, owner of KCPQ.
In her family and professional life she always made time for everyone and was known for her ability to give good advice about family and career matters. Adel's passing leaves a huge absence in the hearts of many friends, co-workers and family. She is survived by her husband, Robert Galvin, with whom she shared 41 years of their lives together. They loved their travels which took them from Alaska to France and Hawaii, and San Francisco to Martha's Vineyard. They loved treating each other to music, theater and good food.
Adel had been a beloved aunt to her nieces and nephews. To Chris and Betsy Tribbey, the children of her sister Susan Piontek, she offered her love as well as marital and career advice. To Clayton and Haley Hauck, the children of Adel's brother Philip Hauck and wife Jony Hauck, she offered love and admiration as they began their careers. Adel was also survived by her beloved brother James Hauck and his wife Kay Hauck. Adel was preceded in death by her sister. Julianne Hauck. Adel was the daughter of Ruth Adel Doman and Francis Norman Hauck. Adel will also be greatly missed by her Icelandic Sheepdog, Gilda.
Please raise a toast to Adel and remember her when you have a fine meal with family and friends. In lieu of flowers, donations may be made to Evergreen Home Hospice. It is the wish of Adel's husband that a Seattle city park bench be donated in Adel's name as a memorial. Contributions may be made to: Adel's Park Bench, 1230 Lakeview Blvd E#3, Seattle, WA 98102.
---
Comments
Robert, I am saddened with you. What I remember about Adel was an easy smile and laughter in her eyes. I am so sorry for your loss and for the whole cancer experience. Wishing you strength and the love and support of people who matter to you in the coming days.
--Wendy Miller
---
Dearest Adel, your life was a wonderful gift to us all. Thank you for all you did, you made a difference.
--Shawn Huey
---
I am so sorry to hear of Adel's death. I worked with her a number of years ago at EMP and enjoyed knowing. I remember her wit, kindness, wisom and how much she loved Robert and her family. My thoughts are with you.
--Kathy Scanlan
---
My heart broke upon hearing the news about Adel's passing. True kindness in every way...she will be missed. My thoughts and prayers are with you.
--Susan Long-Walsh
---
Adel was the best sister-in-law anyone could have. She will definitely be missed. --Kathleen Galvin
Del was the most wonderful little sister in the world. She was so loved and we are all heartbroken. Sleep well, little sister. --Susan Piontek
---
Robert, I was saddened to read of Adel's passing. She was a kind soul and will be sorely missed. I hope you find comfort in the arms of your family, her memory and most importantly her love. --Tracey Kelly
---
I am so sorry for your loss. I worked with Adel at EMP and we kept in touch for most of the years after. She was a wonderful person. --Leslie Womack
---
Adel,
I love you always and forever.
-Robert
---