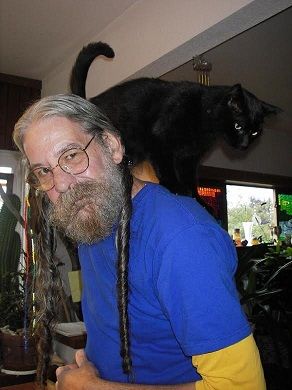 Thomas J.  Qualls passed away June 14th 2015 at 5pm at Swedish Cherry Hill hospital due to cardiac problems. Thomas was born in West Seattle May 23rd 1951 to Leolla "Pat" Qualls and William "Bill" Qualls. He is survived by his wife Sue Qualls, his children Lucas Qualls, Lacey Qualls, his sister Nancy Qualls and many others who loved him. A West Seattle boy all his life he loved the area though hated the changes he saw happening around him.  He worked for 20 plus years as a King County Metro bus driver as he raised his family. After he retired he took care of his mother and sister and built his very own pea patch at 49th SW and SW Admiral Way across from his mom's house.
Tom was a man of strong emotion and opinion. His life was one dedicated to family. His interests and passions included art in many forms; drawing, painting, collage, stained glass, and jewelry, often with a political or nature theme. A love of nature started early in life with boy scouts, volunteering with search and rescue, many camping and hiking adventures, fishing, boating, and later in life searching for gold.  Tom had a wonderful green thumb; he could take just a pinch of a plant and make it grow. His house overflowed with greenery. He loved animals; starting as a young child he always had pets. Most recently his buddy was Maggie, an Australian cattle dog. They spent all day together. Tom helped guide many young people (and some not so young) into adulthood. His home acted as a safe gathering place for hanging out and a place to seek advice-which was never in short supply. Tom was a wonderful cook and shared meals with many. His cookies, commonly called "Tommy bucks", were delicious and often used in trade for help fixing up the house. 
A Remembrance of Life will be held in the Lodge at Camp Long in West Seattle, Sunday July 26th 2015 from 1:30-4pm. In Lieu of gifts a "Random Act of Kindness" any day for a friend or stranger would be appreciated.
---
Comments
My condolences to The Qualls Family. Having grown up with Tom, My brother Don and I , (the twins) hung around exploring all aspects of West Seattle from the Big junction to the waters off Alki. I remember going with Tom & his dad to lake Curlew. It was the first time I'd ever gone fishing. Fun time.. always looked forward to taking the ferry at Wilbur. Sorry for your loss Nancy.
--Ron Parrott
---
It has been years since I've seen Tom. I gave his sister Nancy rides to church for a few years and met her family. I admired Tom's green thumb and the garden he made across from his mom's house. It was amazing to drive by his greenhouse home. He was easy to talk and seemed like a brother. I would run into him in West Seattle every once in a while and made sure to remind him of Jesus' love for Him. God bless Nancy and his family.
--Louise and Kyle Hester
---
To Sue, Lucas, Lacey and Nancy,
It was a shock to hear of Tom's passing. I remember him as a man of strong opinions yet a very kind heart. He was quite talented in many ways, especially with his stain glass and art. He will be missed! My condolences to each of you. --Linda Layman
---
To Sue, Lucas, Lacey and Nancy ~~ 
I, too, was shocked to find that Tom had passed. Way too many years have gone by since we all saw each other .... my heart to all of yours and may God Bless each of you... Love and great memories with you all .... Kris (Chesterfield/Loop) Ohanu and family
Kris (Loop) Ohanu
---