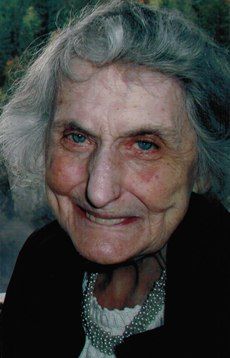 M.  Elizabeth Day Fleege, caring and much loved mother and grandmother passed away in Seattle at the age of 95 died June 22, 2014.  She was born July 6, 1918 in Independence, Kansas to Albert L. Day and Birdie Lou Day.  She graduated from Butler College in 1940 with a Bachelor of Science in Dietetics and became a Second Lieutenant in the US Army.  She served as a dietitian in WWII in Australia.  She was active in various groups during her life: Zeta Tau Alpha sorority, Auxiliary member of Seattle King County Dental Society, St James Cathedral,  Frye Art Museum, MOHI and First Hill Committee , to name a few. Her ex-husband Dr. Herbert W. (Pat) Fleege and her son Warren David Fleege preceded her in death.  Her son's and their spouses, Dr. Pat Fleege and  his spouse Dr. Stephanie Marvin, Thomas Fleege and his adopted son Manju Mayachar and his spouse Tiana Mayachar and their four children Hannah, Mia, Gabriel and Ethan Mayahcar, Dr. Herbert W. Fleege and his spouse Malinda Fleege and her children Nick Ferguson, Samantha Ferguson and Janine Ferguson and her daughter Mary E Hughs (Fleege)  and her spouse Mark Hughs, their children Dr. Elizabeth Hughs and her spouse Andrew Nix and Charles Warren Hughs and his spouse Esther Hughs, survive her.  Memorial Service and Mass will be at St. Vincent de Paul Parish, 30525, 8th Ave South, Federal Way, WA, Wednesday July 2, 2014 at 11:00 am.
---
Comments
Elizabeth Hughs, DVM
My grandmother was a very cherished person in my life. She was not with out her own eccentricities, but I loved her deeply. May her passing be a gift to those who remember the life she had not last year's in which she had to live. The love she bestowed upon me will never be forgotten. I know in my heart that she know felt how much I loved her till the end.
Elizabeth was one of the kindest most loving women I have ever known. She was a blessing to us all and we miss her. Thank you to the family who have cared for and loved her all these years. They are in my prayers, too, as they miss her most of all.
Mary Schubert, ZTA
Thank You Mrs. Elizabeth Fleege for visiting with me when I was included in your families special events. When, my mother Helen W. Sutter passed away you were attentive and listened to my sorrow. I feel really blessed to have gotten to have known you as a person besides being my friends mother. Mary is a life long friend. I feel that God blessed me with the most wonderful of friends. Mrs Elizabeth Fleege you accepted me just as I am. I feel honored to have known you. May God Bless you and may Jesus Christ keep you safe on your journey to heaven. Bless you. Love, Margaret Rose Sutter
---