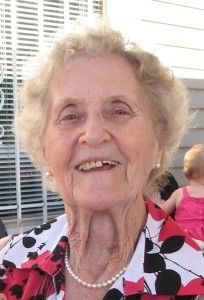 Dorothy Armistice (Landers) Graves passed away on May 7, 2014 at the age of 92. She had an active, full life raising a family, working, traveling, and pursuing many hobbies, talents and interests.
Dorothy was born on November 11, 1921 at Dockton in her maternal grandparents' home. She was the oldest of twelve children born to Annie Jensine (Larsen) and Daniel Boone Landers. Dorothy was the fourth generation of the L.O. Landers family that homesteaded on Vashon Island beginning in 1884 at Lisabeula. Her mother's family settled at Dockton in 1901 where her grandfather, Hans Christian Larsen, worked at the shipyard.
Dorothy married Wilfrid Evans of Tahlequah on January 26, 1938. They had four daughters together: Catherine, Marian, Sharon, and Nancy. In 1948, the young family relocated to Clark Air Force Base, Philippine Islands to join Will who had accepted a position in the Civil Service as an engineer. While living there, Dorothy participated in little theatre, acting, singing, and designing costumes. She was an avid golfer and worked as a private nurse for polio patients during the outbreak in the early 50s. She sang in the church choir, participated in art classes and art shows, hosted many social events for the soldiers on base, and studied political science at the University of the Philippines. She also traveled to Japan and Hong Kong.
Upon returning to Vashon Island in 1956, Dorothy went to work for the Boeing Company. In 1958, she won first prize in the Boeing Art Show in the amateur division. She took up bowling and she attended night school studying engineering and drafting. She became a draftswoman at Washington Iron Works and then Robbins and Company, both located in Seattle.
In 1964, Dorothy and Will divorced, and in 1967 Dorothy married James Graves. They lived in Bellevue and Kenmore. Jim and Dorothy traveled in Europe and throughout the U.S. They especially loved camping and boating, but their favorite destination was Death Valley. Dorothy also liked to work in her yard and enjoyed gardening. In her home, she loved to host dinners, bake treats, and prepare canned goods to share with her family and friends. Dorothy also enjoyed sewing for her family, making wedding gowns, school clothes, and business attire.
In 1984, Jim accepted a job with the Merillat Industries, and he and Dorothy relocated to Rapid City, SD. Dorothy joined the Black Hills Quilting Guild and became an avid quilter. She served as the guild's president for several years. She made many beautiful quilts and won many ribbons at county fairs for her efforts. Dorothy started her own fabric business creating her own dies to make uniquely colored fabric for quilters all over the U.S. After Jim's retirement in 1993, they returned to their home in Kenmore. Jim passed in June 2008 and Dorothy remained in their home until 2010 when she returned to Vashon Island. She spent the last years of her life at Vashon Community Care Center.
Dorothy is survived by her four daughters: Cathy Siegrist (Rich) and Marian Spencer (Wilbur) of Vashon, Sharon Baker (Bill) of Eagle, ID and Nancy Beall (Tom, Jr.) of Malott, 12 grandchildren, 14 great-grandchildren and 2 great-great grandchildren. She is also survived by four sisters: Patricia Kresge (Conrad) of Parker, AZ, Rosalie Law (Jack) of Monroe, Arlene Landers of Vashon, and Diana Nelson (Jerry) of Cle Elum, many nieces and nephews, her late husband's daughter-in-law, Pat Graves of Woodinville, and Pat's children and grandchildren.
Dorothy was preceded in death by her parents, her husband, and 7 siblings: Evelyn, Roy, Francis, June, Violet, Grace and Freddie.
There will be no service per Dorothy's request, but her family and friends will celebrate her life at a potluck picnic at Dockton Park on June 7 at 3 p.m.
Donations may be made to the Vashon-Maury Island Heritage Association (VMIHA), PO Box 723, Vashon, WA 98070 or the Black Hills Quilters Guild, PO Box 2495, Rapid City, SD 57709.
---
Comments
Pat Graves
Posted June 27, 2014 at 12:45 pm
Dorothy will be dearly missed by all of us! She was a Mother to both Ron and I for 43 years of our marriage as well as longer for Ron. We loved her a lot. We had great times together that won't be forgotten!!!! Love the Obituary photo taken (as well as the sentiments) at my sister in laws home at Dorothy's beloved husband Jim's Memorial Service as well as one of our twin granddaughters in the back ground. RIP Dorothy, you are finally where you wanted to be and that is with Jim and Ron! Love Pat xo
---