Donald Lynn Patience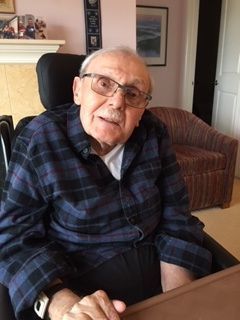 Donald Lynn Patience, a loving husband, father, grandfather, and friend, passed away with his wife, Marcia, by his side on Thursday, August 26, 2021, at age 93. He was born in Murray, Utah, to Arthur and Viola Mills Patience in 1928. At age 16 Don moved to Vallejo, CA to attend the Mare Island Navy Apprentice School from 1945-46 during WWII. He worked with journeymen electricians to wire and repair submarines damaged in the war. He worked 3 weeks a month, and attended Vallejo High School 1 week a month, plus weekends.  Don was "graded" not only on the academics but also conduct.
Don joined the Army in 1946 and served military duty as a Surgical Technician as part of the Occupation Force in Japan until mid-1948.  He received the "WWII Victory Medal, Army of Occupation Medal, Japan".  Influenced by a doctor during that year, he became interested in attending college, resulting in his enrollment in the College of Puget Sound from 1948-1950.  One summer he worked for the Boeing Aircraft Co.; another summer with the Vashon Island Ferries as a Seaman.  Being in the Active Reserve, he was called back for the Korean War, his duty being a Pharmacist Apprentice; his "Separation Date" was in late 1951.  Then he was able to attend the University of Washington, getting his Bachelor of Science Degree in Electrical Engineering in 1954.  He then worked for a number of companies, like General Electric and Sylvania Electric.  By January 1966 he was hired by the John Fluke Manufacturing Co. as a Product Engineer.  He had many different positions at Fluke, one of the most rewarding was being in charge of several contracts with China.  He retired from Fluke after 27 years. 
Don became a proficient woodworker as a hobby, making many sets of Amish Shaker boxes for family and friends, some with inlaid hearts, sanding by hand, "smooth as a baby's bottom" he would say.  He also made many wooden charms for Marcia, all of which had inlaid hearts, and he wrote loving memories on the back of each.  Hand crafted quilts needed quilt racks, pictures needed shelves and fabric scraps needed a waste basket for the quilt table which he adoringly made. 

His grandchildren were recipients of his skills. He made rocking horses, wooden cars, trucks and airplanes and a doll bed for Marcia's American Girl doll as well.  Grandpa Donald Duck was the recipient of a small handmade tool box, on which were decorations, and drawings of him and the artist, Grandson Connor, at age 5. 
Don is survived by his wife, Marcia, of over 41-1/2 years, who he met on a blind date on September 11, 1979.
He is also survived by his first wife, Roberta Post, and their children  Melinda (grandsons Aaron and Jeremy), Alice (Michael), Bonnie (Terry),  and Art (granddaughter Tiponi). 
Don was an influential, thoughtful, loving step-father for Marcia's sons, Craig (Dana, and grandsons Zachary and Connor); and Matt (Lara, and granddaughters Megan and Erin).
He is also survived by his sister Gloria (Harry), and sister-in-law Gretchen (Bob), as well as numerous cousins, nieces, and nephews. Don is preceded in death by his parents, his brother Stan, and nephew Danny.
The family thanks the Providence Hospice for the wonderful care Don received. In lieu of flowers, we suggest donations to Seattle Children's Hospital, or a charity of your choice.
---
Comments
---