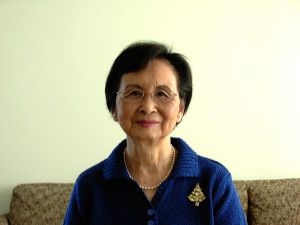 Patricia Chang was born in Kuala Lumpur, Malaysia in 1927. She stayed there through the Japanese occupation in 1945. She attended the convent for high school. After high school graduation, she left Malaysia to attend college in the United States. In September, 1947, she attended colleges in the Washington, D.C. area. She graduated with a B.S. from the University of Maryland in Biology in 1951 and a M.S. from the University of Pennsylvania in Parasitology in 1953. She went on to Baltimore, Maryland and did graduate studies and research at the Johns Hopkins University in Pathology. She met her husband Chih-Chi Hsu in Baltimore, Maryland. They were married in June, 1955. They moved to Seattle, Washington in 1958 where Chih-Chi taught at the University of Washington in the College of Electrical Engineering, He went on to become a tenured professor and taught there for 35 years. Pat worked at the Health Sciences conducting research studies at the University of Washington for 17 years.
Her interests were music, travel, photography, and art. She travelled extensively in Asia, Europe, and in United States. She enjoyed travelling in the Elder Hostel program and attended many educational trips, learning about the local culture
She was active in the University Presbyterian church as a member since 1958. She attended Bible study groups, volunteered as an usher, church library aide, and was elected as a board member for the Skymasters church group. She travelled to the Holy Land twice with the church group and was baptized at the Jordan River by Pastor Bruce Larson in 1983. She also visited Oberammergau, Bavaria, Germany, to attend the Passion Play about the life of Christ. After Pastor Larson left Seattle, she enjoyed the inspirational sermons of Pastor Earl Palmer.
In 2008, Pat moved to Horizon House. She enjoyed meeting new people there and was active in a creative writing class, where she wrote "My East West Saga, A Memoir", a story about her life.
Her husband predeceased her in 2007. She is survived by her 3 daughters, Jeanne, Eileen, and Diane.
At her request there will not be a memorial service.
In lieu of flowers, donations may be made to:
The University of Washington Foundations, Chih- Chi Hsu Memorial Scholarship Fund, Box 359505, Seattle, WA, 98195.
University Presbyterian Church, 4540 15th Ave NE, Seattle, WA. 98105.
Horizon House, 900 University St. Seattle, WA. 98101.
---
Comments
Ghassan Ziadat
Posted May 18, 2014 at 2:46 am
Dear Philip,
Sincere condolences for the passing of your Aunt Pat. Our prayers are with you and the family. May God bless her soul and Christ grant her eternal peace.
Ghassan Ziadat and family
Terrie & Brian
Posted May 18, 2014 at 4:48 am
Our thoughts and prayers are with you and your family.
Margo Lemmon
Posted May 18, 2014 at 5:51 am
Thank you for share that… She had a full life.
We lose our Fathers the same year. I hope you will be come home still?! RIP Mrs. Hsu and stay close to each girls hugs to all of you at this sad time. My Gods peace wash over you .
Love ,
Margo (Thorning) Lemmon
Tamara Lo
Posted May 18, 2014 at 6:52 am
That's a very nice obit, Jeanne. Again, I'm very sorry for your loss. As a daughter, it is especially difficult to lose one's mother. Take care.
Valerie Vavrik
Posted May 18, 2014 at 8:06 am
Jeanne, Eileen and Diane,
I am so sorry for your loss, but thankful for the wonderful legacy your mother left. A full life well lived with family who love you. And now a lifetime with the Lord. Doesn't get much better than that. Praying your mourning soon turns into smiling as you remember the wonderful memories you made together.
Mee Jin Chen
Posted May 18, 2014 at 4:43 pm
Auntie Pat was truly an admirable and amazing women of love and compassion. She was a loving wife to Dr. Chih-Chi Hsu, She is a very caring mother of three beautiful daughters. I have known Auntie Pat in the University of Washington Cafeteria while I was working in the Rehab Medicine Department. She is the only woman whom I highly respect and I will miss her dearly and she will be remembered fondly.
Christina
Posted May 19, 2014 at 2:09 pm
Experience can teach us many things, but no amount of experience prepares you for a loss like this. I am sorry for what you are now going through. Thoughts and prayers are with your family right now.
Bill Taylor
Posted May 21, 2014 at 9:20 am
Jeanne and sisters Eileen and Diane,
I'm so sorry for your loss. I'm so happy for the life you shared with your mother. She clearly led a remarkable life.
Lloyd
Posted June 5, 2014 at 4:55 am
Amazing life! Thoughts and prayers out to you and your family during these times Diane.
Mary Todd-McGinnis
Posted June 5, 2014 at 8:08 am
Diane,
Thank you for sharing your mom's beautiful story. She led a blessed life that enriched others and has left a legacy of love and faith. You and your sisters are in our prayers.
erika wain
Posted June 5, 2014 at 8:38 am
my warmest thoughts go out to you and your sisters, Diane. your mother certainly had a varied and interesting life – accomplished and rewarding to the end. she did not 'go gently into the night' . her journey continues, i am sure. i know that your being there at her greatest time in need was most appreciated. i shall not say goodbye to Pat as she will live on in your words/stories, and thoughts. She is remembered.
Jacquelyn
Posted June 5, 2014 at 10:29 am
Dear Diane
What a full life your mother led. She was very giving. You obviously inherited that trait. I understand how much you lov your mom and the grief you feel. I hope that you take solace in the great gift you gave her by caring for her constantly the last 2 months of her life. You are an admirable daughter. I met you when you were caring for your Dad in his final days. I hope that you and your sisters take solace in the fact that your parents no longer suffer and are happily reunited with Our Lord.
Bonnie Blanchard
Posted June 12, 2014 at 1:29 pm
Your mother was such an accomplished woman! And you, Diane, are one of her accomplishments!
Rudy Lowe
Posted June 16, 2014 at 1:02 pm
Diane,
Wow, what a Mom you had. To have lived such a full and exciting life is what I believe God wants us all to do. You and your sisters were very luck to have been the off springs of such a bright light .Her light will continue to shine in your lives through the grace in which she lived hers on earth.
Sera Bennett
Posted June 20, 2014 at 1:54 pm
What a impressive bio she has.
Strong mom, women and we all need to learn from her.
I will miss Diane's mom.
Walter Long

Dear Jeanne, Eileen, and Diane: I hope you get this message. I've just found out about your mother's passing. I want to express my profound gratitude to Pat here for her very faithful and kind gift of friendship to my mother over many decades. I would love to meet any of you if the opportunity arises. I know you're going through a great loss.
 
---